THE GREY WOLF
(Canis lupus)
The Grey Wolf, sometimes called the Timber Wolf, is estimated to have a population of between 8,000 and 10,000 individuals in the Province of Ontario, according to the Ministry of Natural Resources.
This figure could be wildly inaccurate as it is only an estimate which was made over 40 years ago!
Although once abundant over much of North America, Europe and Asia, the Gray Wolf now inhabits only a small portion of its former range.
This is because of widespread forest clearance and farmland development, the movement of humans into its habitat, and the resulting human-wolf encounters that spark fear and often the destruction of these animals.
It is also not known how many of these animals are living in the more populated, southern part of their range.
Although Wolves are more common in the North, there are sightings of Grey Wolves in Southern Ontario and small packs appear to have survived here or have made their way into the area in recent years.
In early February, on County Road 52, between Aylmer and Springfield, Ontario, I spotted a large, wolf-like animal running along the side of the road beside the snow-drifts - I'm not sure if this was a Coyote or not, but it was being chased by two large dogs, so I hope it got away.
There was nowhere for the animal to run to get off the road, until it came to a gap in the snow, when it bounded through the space and leaped over the snowdrift, and headed for the woodland nearby!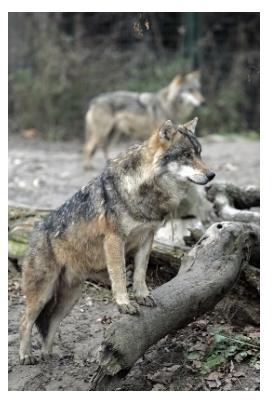 In Ontario approximately 500 wolves are trapped every year for the commercial sale of their pelts, but there are no accurate records of how many wolves are hunted every year or killed because they were viewed as vermin or a threat on private property.
Population figures alone are not the only indicator for the long-term survival of the Grey Wolf population.
Human activity, including hunting and trapping can affect wolf behavior and the social integrity of the wolf pack.

There are, however, protected areas for Wolves in the Province of Ontario, which are off-limits to hunters & trappers.

None of these are in the southern part of the province, so the Wolves which find themselves here, are on their own, so to speak!
Mating usually occurs between January and April, the farther north, the later it occurs, with a pack usually producing a single litter.
A pack usually only produces a single litter unless the breeding male mates with more than one female, however normally, only the dominant pair mate and produce pups.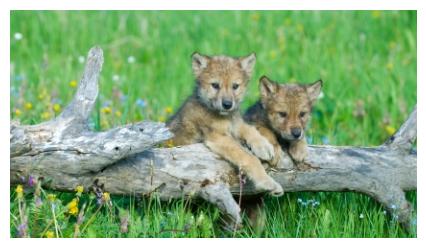 Today, the Grey Wolf is protected in some areas, hunted for sport in others and are subject to extermination as perceived threats to livestock and pets.
---
If you would like to read Coyote reports from previous years, you can read them below.
Archived Wolf Sightings from 2009 - 2012
---
Grey Wolf Info ...
Wolves Ontario Website - Grey Wolf info
Information concerning Wolves, Les loup, in Ontario
---
Have you seen Wolves in Southern Ontario?
Are there Wolves near where you live?

Have you heard Wolves howling in the night?

Do you have a story or picture that you would like to share with our readers?
What Other Visitors Have Said
Click below to see contributions from other visitors to this page...