SPRINGWATER CONSERVATION AREA


Orwell, Ontario

My family love camping and our favourite local place to stay is at Springwater Conservation Area, which is between St Thomas and Aylmer.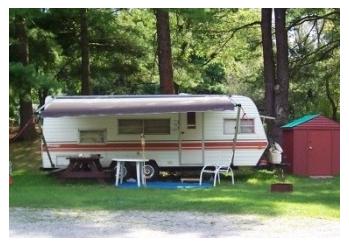 Turn south onto Springwater Road at the village of Orwell. The entrance to the campground is on your right and the Day Use area is on the left.
There are 150 hectares (about 370 acres) of mature Carolinian Forest here and over 8 km of trails, including one which is wheelchair accessible, it is the home of such rare bird species as the Hooded Warbler, the Tufted Titmouse and the Pileated Woodpecker.
This is our trailer at the campground, it's lovely in the summertime because the tall pine trees keep the trailers shady and cool.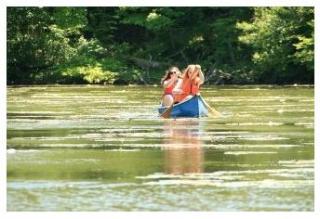 Springwater has a spring-fed lake (hence its name) with sandy beach and bathrooms, 180 serviced camp sites, 370 acres of Carolinian forest, over 8 km of walking and cycling trails, including a section of wheelchair accessible trail.
Registration is at the Gatehouse, where there is also a store where you can buy firewood, groceries, and ice-cream.
One of my family's favourite spring activities is to go to one of the many Maple Syrup Festivals which are going on around the region.
Our favourite is here at Springwater Conservation Area between St Thomas and Aylmer, south of highway 3 at Orwell.
Here's Becky and my hubby watching our breakfast being prepared.
For $7.50 per adult, $5 per child, you can have the Sausage and Pancake Breakfast.
After eating, we crossed the road to the Children's Festival, which was the best $12 we ever spent!
There, we took a horse drawn wagon ride through the beautiful woodland which is some of the last remaining Carolinian Forest in this area.
Later, we learned how the Native people of this area made Maple Syrup out of sap, watched a demonstration of the way the early Pioneers would have made it and then watched the modern up-to-date process in the Sugar Shack.
Included in the price was the option for each of us to make a Bluebird House to take home! WOW - what a deal - $12 for three of us!
We are going to paint our bird houses and hope that we can attract some of the lovely Eastern Bluebirds that are making a come-back in this area.
You can be sure that we will be going to the Springwater Maple Syrup festival again next year!
At any time of the year, taking a walk in the forest here is a wonderful way to relax and get back to nature!

In August, the Fred Eaglesmith Annual Charity Picnic is held here, and is attended by hundreds of people who come from near and far to take part in this great outdoor event.
The concert this year is scheduled for August 14, 15 and 16 so check out the Fred Eaglesmith website and plan to come on down to enjoy some great music for a good cause.
For those interested in Camping in the area, the Upper Thames River Conservation Authority also administers the lovely Pittock Conservation Area near Woodstock, and the beautiful Wildwood Conservation Area just west of the city of Stratford.
There are other Conservation Areas in which you can camp in this area, some of which are listed below.
Dalewood Conservation Area St Thomas
Lake Whittaker Conservation Area, Harrietsville
Fanshawe Park, London
Springwater Info ...
Springwater Conservation Area
This is one of our favourite camp grounds in the area, lots of hiking trails and a spring-fed lake in which to swim - easily accessible from London