SEASONS


in Southern Ontario

The Seasons in Southern Ontario are often gentler than in other parts of Canada.

Being in the Northern Hemisphere, the seasons in Southern Ontario are at the same time of year as Europe, however, I always find that the climate here is more extreme than in Europe and the UK.

SPRING in Southern Ontario is the months of late March, April, May and sometimes even early June.

These are great times to explore the area beauty spots at a quieter time and enjoy the lengthening days.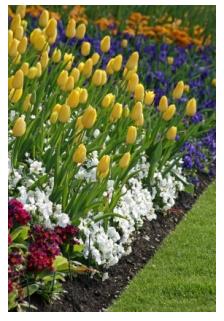 With Southern Ontario's many green spaces and parks, spring is one of my favourite seasons in Southern Ontario.
It is particularly attractive when trees and flowers are in bloom, such as this apple tree. If you have chance, take a drive through the countryside when the apple trees are blossoming.
Last year the orchards were at their peak during the middle two weeks of May and the beautiful blossom-filled orchards are part of what makes Spring one of my favourite seasons in Southern Ontario.
Around this area there are lots of orchards, so plan to take a drive during the late spring and enjoy their beauty while you can.
SUMMER – Our summers here can be hot, and sometimes humid for short periods of time, but air conditioning makes the heat tolerable.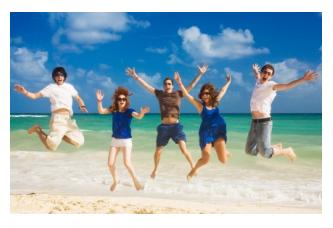 The average high temperature is usually in the low to mid 20's Celsius (70s Fahrenheit) and this temperature is perfect for enjoying the many outdoor activities that this area has to offer.
In all seasons in Southern Ontario, residents and visitors enjoy the outdoors as this area has many beaches, lakes and Conservation Areas where you can enjoy the outdoors.
In Summer-time, camping, fishing and Hiking are popular activities for families and also for those who like solitary pastimes.
During the summer months, Southern Ontario does not receive very much rain, although we do experience occasional thunder storms, but occasionally we do have several weeks without any measurable rain.
This effects the local farmers, as this is a major agricultural area of the country.
As someone who grew up in a rainy climate, I enjoy the warm, dry summers here so much and spend time outdoors whenever I can.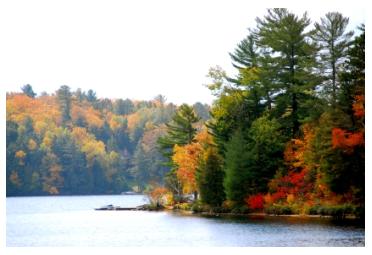 AUTUMN

- If you are planning a trip to Southern Ontario in fall, then you are in for a treat!
This area is renowned for the beautiful fall colours that are usually at their peak in the late September and the first half of October.
The shades of red, gold and yellow are breath-taking and have to be seen to be believed.
The lake above is at Dalewood Conservation Area in St Thomas, Ontario, during October.
Fall is one of the wonderful, spectacular seasons in Southern Ontario!
In fall, the air is crisp and fresh with the promise of winter, and yet the warm sunshine keeps daytime temperatures mild.
How long fall lasts and the intensity of the fall colours, depends a great deal upon the temperatures and amount of rain we receive.
WINTER - Winter generally starts here in late November and can run through to mid to late-March or even early April.
Winter here is cold by many standards, but it is not often that it snows for very long and it's still possible to have periods during the winter months when there is little or no snow on the ground.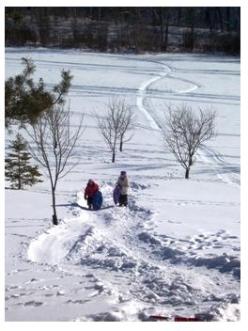 If you are spending time in Southern Ontario during the winter, don't forget to bring your sunglasses as we have brilliant, sunny days!
The average winter temperature here ranges from about -8 Celsius (18 F) to -1 Celsius (30 F) although, at times it can be colder, however, during the winter months we do have periods when the weather is kind and the temperature is considerably warmer than that.
If you are visiting Southern Ontario in winter-time it is best to be prepared for changes in temperature by bringing clothes that enable you to dress in layers.
This way you will be able to enjoy the outdoor activities that this area has to offer.
This part of Canada is a Wonderland in winter! For those adventurous souls who want to try some of our winter activities, you can ski, snow-shoe, ice skate and Snowmobile in Southern Ontario.
Canadians enjoy the outdoors in winter time, so get your woolies and toboggan out and head for the snow-hills!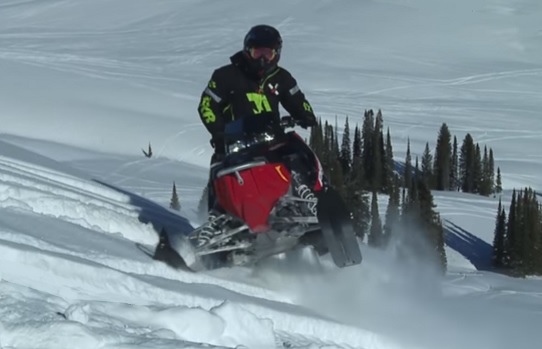 We hope you have enjoyed reading about the Seasons in Southern Ontario