SUNNYBROOK APARTMENT
Garden-level Guest Suite
on Hobby Farm
SUNNYBROOK APARTMENT WILL NOT BE OPEN THIS SUMMER SEASON 2023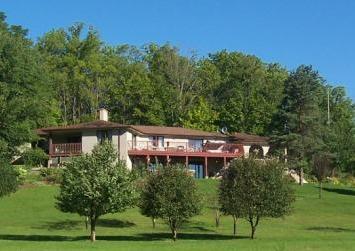 Set in 9 acres of beautiful Southern Ontario countryside, the Sunnybrook Apartment Garden-level Guest Suite
is tastefully furnished, has 2 bedrooms and sleeps up to 6 people.
Bedroom one has a queen size bed and doors out to the patio, bedroom two has a double bunk bed (single above, double below) and another single bed, and there is also a toddler bed or pack'n'play, if needed.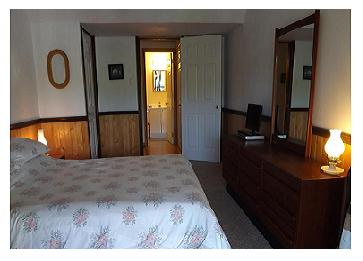 Both bedrooms enjoy views of the lawn, meadow, orchard, and the river beyond.
There is also a high-chair and playpen available.

CLICK MAPLE LEAF
for weather conditions at Sunnybrook Apartment
There is a fully equipped kitchen with a full size fridge and freezer, microwave and stove, toaster, coffee-maker, coffee percolator, slow-cooker, sandwich-maker and condiments, and free wireless internet access.
Click here to see more Pictures of Sunnybrook Farm Holiday Home
Sunnybrook Apartment is comfortable and convenient accommodation and is suitable as a Corporate Apartment as it is just 15 minutes south of London, Ontario, and has fast and easy access to highway 401, and is 5 minutes from the town of St Thomas.
We also make sure that guests who are staying for a week or more, have a supply of groceries upon arrival - coffee, tea, sugar, milk, fresh eggs from our hens, butter, cheese and a loaf of home-made bread.
The Sunnybrook Apartment is fully equipped with everything a family of 6 would need for a comfortable holiday in the country.
Bed linens, tea-towels, bath-towels, beach towels and table cloths are all supplied.
SUNNYBROOK APARTMENT WILL NOT BE OPEN THIS SUMMER SEASON 2023

Weeks run from Saturday at 4 pm, until the following Saturday at 11 am, however during the off season shorter stays and alternate check-in days can be arranged

Prices are in Canadian Dollars

| Season | Weekly Price | Daily Price | Weekend Price |
| --- | --- | --- | --- |
Here are some of the ameneties that our guests enjoy here
at our Garden-level Guest Suite
* 2 bedrooms
* full kitchen
* washing machine
* full bathroom
* dining area for 6
* living room with fireplace
* satellite TV
* free wifi
* use of swimming pool
* 7-person hot tub
* patio table for outdoor dining
* barbeque
* river for fishing
* secluded & private
* 5 minutes from St Thomas
* 15 minutes from London
* 2.5 hours from Niagara Falls
* 2 hours from Toronto Airport
There is also a full bathroom, and in the garden, a patio with table, chairs & BBQ, use of the family swimming pool and the Jacuzzi hot-tub.

The living room has a fireplace (we supply the fire-wood), a dining area for six, couch & chairs and doors to the patio and garden.
There's lots of seating for your family and plenty of room for children to play indoors and out.
From the living room and patio you can enjoy the lovely views of the orchard, meadow and the river beyond.
If your family enjoys playing board games, there's a selection of games and books for those quiet evenings in front of the fireplace - firewood supplied!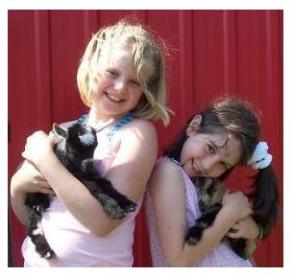 Here at Sunnybrook Apartment we have some small farm animals for your children to enjoy - our baby pygmy goats and ducklings are popular with all ages!
To see more pictures of our friendly animals, click this link - Our Animals. These two little girls think the baby goats are adorable.
These little twin female goats were just three days old when this photo was taken - baby goats love to be held and cuddled!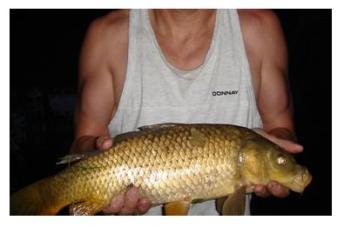 Did I mention that we have a river here?  We also have a supply of fishing poles for you to use.
Here is a picture of the one that didn't get away!
I'm told that this is a Carp and the river is full of them, we actually see large numbers of these fish as they congregate in the river whilst waiting to spawn in the Spring.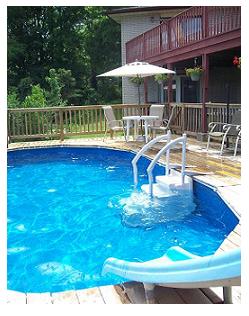 Personally, I am one of those people who prefer their fish on a plate with chips and a slice of lemon, or at least out of a can, but many of our visitors enjoy fishing in the river here.
Visitors can swim in our 24' pool and enjoy the lovely scenery from the pool or from the chairs on the deck.
We also have a 6-person hot-tub where our guests can relax and enjoy the outdoors all year round.
The hot-tub has a view of the meadow and the woods beyond - in the evening it is a great way to unwind and spend time with family and friends.
Our hot tub uses a wonderful new product that we found - Spa Marvel , which is great for sensetive skin, and is an enzyme based hot tub water treatment designed specifically for the spa and hot tub industry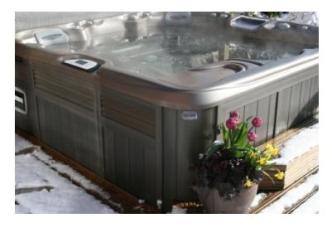 Weather permitting, while you are here you can have a campfire and toast some hot-dogs and marshmallows.
That is a lovely activity during the early summer evenings when the Fireflies are out!
We also have a supply of beach towels, lawn chairs, coolers and a picnic basket for you to use on those relaxing days at the beach or picnics at the lake.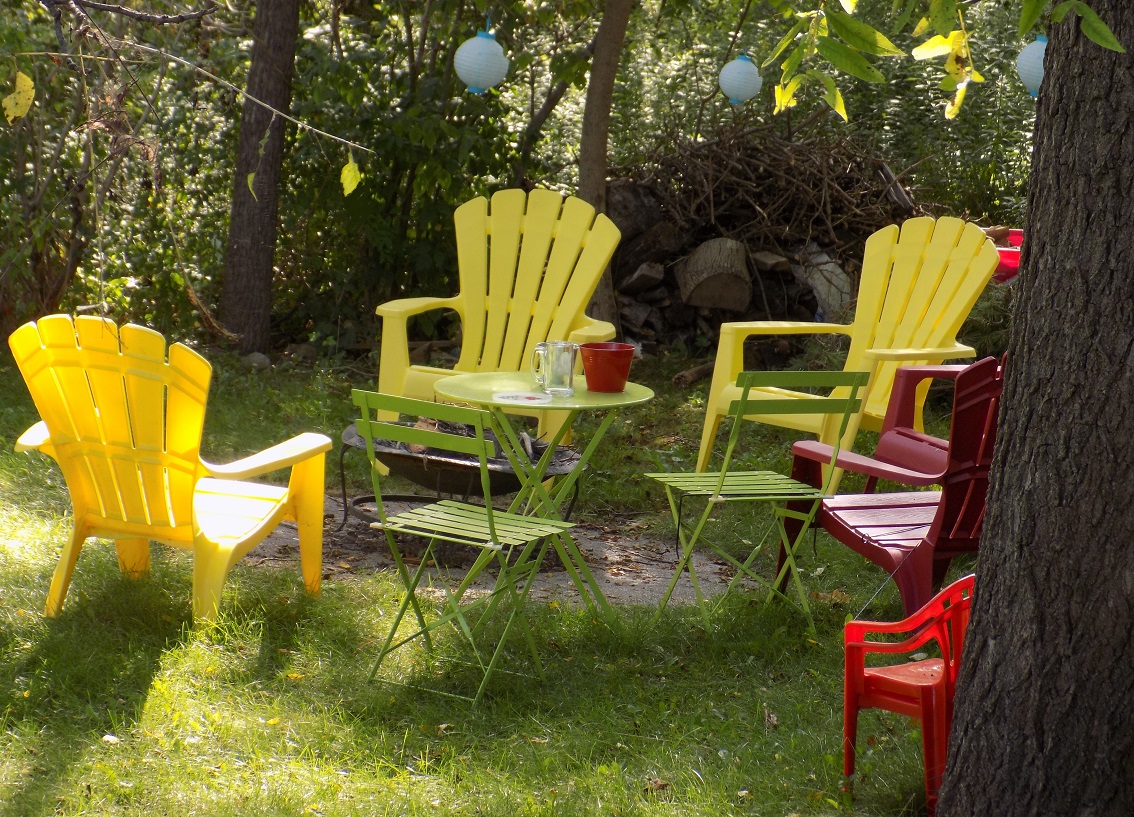 Our guests often enjoy our campfire area on summer evenings - roasting hot-dogs, toasting marshmallows and making s'mores!

More Information about Sunnybrook Holiday Home and Surrounding area
If you have never been to St Thomas before, you will be delighted to find that it has all the charm of a small town and is a community known for friendly people, easy, inexpensive living in safe neighbourhoods with abundant, accessible parkland and community facilities.
Pleasant Valley Golf & Country Club is just 10 minutes away and the Southern Ontario has around 80 Golf Courses, with London-St Thomas area having 17 Public and Semi-Private Golf Courses for your enjoyment. We are just 15 minutes from London, Ontario , (pop. 360,000), 1 1/2 hours from Toronto airport, 2 hours from beautiful Niagara Falls.
In 15 minutes you can be in the pretty fishing village of Port Stanley on the north shore of Lake Erie, Dalewood Conservation Area or the Conservation Area at Springwater Park, enjoying the peace and tranquility of some of the last remaining Carolinian forest in Ontario.
Port Stanley has one of the finest stretches of sandy beach on the north shore of Lake Erie and the village is a popular destination for both locals and holiday-makers.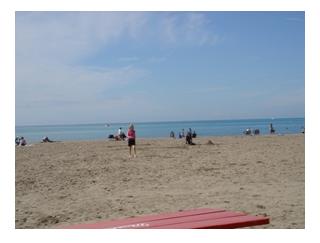 By using the Sunnybrook Farm Garden-level Guest Suite as a base, you can explore London and this beautiful area of Southern Ontario.
You will find clean beaches, wineries, quaint villages and weekly Farmer's markets at several nearby towns, including the Tuesday Market at in the town of Aylmer.
The accommodation is also convenient for guests attending the graduation ceremonies at the Ontario Police College in Aylmer.
Sunnybrook Apartment is a 5 minute drive from the centre of the town of St Thomas, with its Railway Museum, statue of Jumbo the Elephant (who met an untimely death here in 1885), visitor information services, beaches, shopping, attractions and restaurants are all conveniently nearby.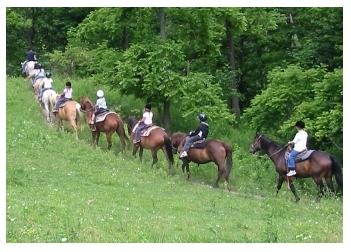 Many of our guests enjoy Horseback Riding while on holiday, and if you and your family enjoy horses, there are riding stables within a 10 minute drive.
You may want to check out the Horseshoe J Dude Ranch , where you can ride the trails through the lovely southern Ontario countryside with an experienced Guide.
The Dude Ranch is well known in this area and is a well-established family-run business.
In addition to trail riding, they also offer Summer Camps for children - check out their site for more information!
The nearby village of Sparta is the home of the St Thomas Dragway which is a great way for those car-racing enthusiasts to spend a summer day!
Click here for Information on London / St Thomas Golf Courses
This area is fortunate to have lots of Golfing - there are 17 Public and Semi-Private Golf courses within a 30 minute drive of St Thomas.
* Belmont Golf Club, Belmont
* East Park Golf Gardens, London
* Echo Valley, Lambeth
* Fanshawe Golf Club, London
* Fire Rock Golf Club, Komoka
* Forest City National Golf Club, London
* Hickory Ridge Golf Club, London
* Kettle Creek Golf Club, St Thomas
* Llyndinshire Golf & Country Club, London
* Maple Ridge Golf Club, London
* Oxbow Glen Golf & Country Club, Komoka
* Pleasant Valley Golf Course, St Thomas
* River Road Golf Club, London
* Riverbend Golf Community, London
* Thames Valley Golf & County Club, London
* The Bluffs of Port Stanley Gof Club, Port Stanley
* Westminster Trails Golf Club, London
SUNNYBROOK APARTMENT RENTAL RATES
Weeks run from Saturday at 4pm, until the following Saturday at 11am, however during the off season shorter stays and alternate check-in days can be arranged.

SUNNYBROOK APARTMENT WILL NOT BE OPEN THIS SUMMER SEASON 2023

Prices are in Canadian Dollars

| Season | Weekly Price | Daily Price | Weekend Price |
| --- | --- | --- | --- |
Please inquire about our monthly rental rates
this accommodation is ideal for those who are moving to this area
or emigrating to Canada from overseas.
ALL RATES QUOTED ARE IN CANADIAN DOLLARS