ST THOMAS
REAL ESTATE
If you are looking for St Thomas Real Estate or housing of any kind in Southern Ontario, or maybe you are seeking jobs in London, Ontario, then you may find what you are looking for!
This area is a growing real estate market with a wide variety of housing from which to choose.
Properties in Ontario fall into several main types.
The Single Family House which is a detached one or two storey house designed for a single family.
One storey buildings are called Bungalows or sometimes a Ranch style bungalow.
The majority will have a basement, and may be either finished as a recreation room, or unfinished, which will be a space ready for you to make into rooms.
Typically these single family homes will cost more than multi-family units and will generally be on a subdivision (commonly called an Estate in the UK).
The Semi (or Semi-detached) house is usually a house that shares a wall with another house, two houses side by side, and can be either one, two or more stories high.
They may or may not have a garage, depending upon the style.
The Duplex is normally a building with one unit above the other, often owned by one of the residents, who lives in one unit and rents out the other, however, two residences side by side are also sometimes referred to as a Duplex.
The Fourplex This particular one is an apartment building which has four apartments in it.  This one has a single front door and the units share a common front hallway.
Others may have 4 separate front doors.
Small apartment buildings, such as a 4-plex, 3-plex or 6-plex are often custom built for the purpose, however, sometimes an older, family home has been renovated and fitted to be made into a multi-family dwelling.
Townhouses are often two storey homes and are joined to each other in the same way as Terraced houses in the UK, sometimes in a short row of three or four houses, but often in a row of up to a dozen.
Because there is a wide variety of houses to choose from, take the time to check out the different styles of homes before you make your decision which to buy.
In Canada, a Lawyer is required to complete a real estate sale.
Many London and St Thomas Real Estate Agents have "Open Houses" at the week-ends and you are welcome to take a look around these houses and stroll in the gardens.
You will find these Open Houses listed in local newspapers such as the London Free Press and the St Thomas Times-Journal , both of which are published daily or online on Kijiji.
In Canada, homes are typically made of a wooden frame, with either siding or brick, or both, on the outside.
Here, many homes are also advertised in the local newspaper, which, in my community, is the St Thomas Real Estate pages of the Elgin County Market which is published weekly.
Open Houses are a great way to find out what you get for your money, as there can be a difference in price depending upon the location, size and age of the house.
These details are also advertised, and potential buyers are able to look around the house with no obligation to purchase.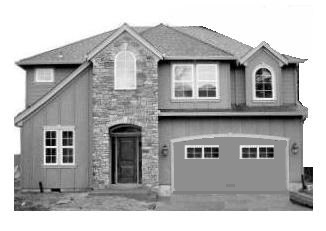 Whenever families or individuals are moving from one location to another, it can be a very stressful time for everyone as there always seems to be so much to do, and it is important not to forget anything!

Make sure that for selling your home and purchasing a new one, it is important to find a Realtor in your community that you can trust.
When looking for that new home you should enlist the help of an experienced and knowledgeable Real Estate Agent - typically called an Estate Agent in Britain.
There are older homes with larger lots, on streets with mature trees, which have a charm all of their own.
In the St Thomas Real Estate market in particular there are many single family homes (detached), either bungalows or two storey homes, that are within the budget for most young families.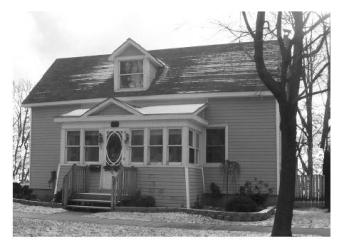 In the mls.ca listings in St Thomas area at present, are over 30 detached homes, which are priced at under $300,000 Canadian dollars, (£167,000)
This quaint home is typical of the kind of older homes that are available in this area.
Most Canadian homes will have a driveway, a basement, double glazing and central heating and they may or may not have central air conditioning.
For families moving to Southern Ontario from more expensive areas of Canada, they will truly be able to afford much more here than they could afford in Toronto, Montreal or Vancouver.
Over the years, despite the ups and downs of the economy, purchasing real estate has always been, and will continue to be, a good investment, whether you are purchasing property in which to live, or buying a house or multi-family property as an investment.
Today London and St Thomas real estate is still good value for money and it is still possible to purchase a brand new home for around $350,000 (£200,000) in St Thomas and it will be carpeted (or have laminate floors) have all light fixtures, your choice of paint colours, and will be landscaped.
For more info on the St Thomas Economic Development check out this site.
In particular, look at the average prices of homes in both London and St Thomas over the past few years - there is quite a difference in the figures for the two communities, and as an investment, St Thomas area is a great place to buy, as the cost of houses here is usually less than in Kitchener, Brantford and (of course) Toronto.
"Achat d'une Maison"
St Thomas Real Estate Links
St Thomas Realtor Sheri Lawrence
will help you with your housing needs