NATIVE CANADIAN ART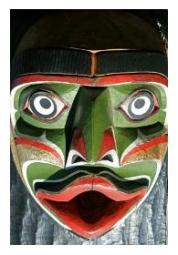 I remember most vividly from my early years in this country, the Native Canadian Art - from the hauntingly beautiful paintings, to the strong and bold carvings of the people of the Pacific Northwest.
Nowhere else in the world do you see the Art that we have in Canada.
I am not an artist, nor am I any kind of expert, but I do feel strongly that there should be more exposure of the Art of Native Canadians, around the world.
What I will attempt to do on this section of my website, is to make available to my readers, links to galleries and stores where these particular Art forms may be seen.
Please bear with me, as this on-going process,
promises to be interesting, but long.
The indigenous people of Canada are often referred to as our First Peoples, or First Nations, which are the terms I will use on this site.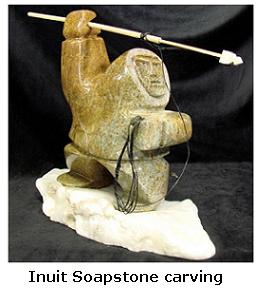 Artists in any country, whether in the Old World, or the New World, have for millennia used the elements available to them in Nature, as inspiration and as the medium for their art, and our First Nations Artists are no exception.
The desire to decorate and beautify their environment is strong in all peoples, and long before the arrival of Europeans, the Native Peoples of Canada were producing art, with each tribe having their own traditions for clothing, decoration, dance and music.
These groups were both widespread and diverse, and their art traditionally reflected those differences.
I believe that the worth and appreciation for Native Canadian Art did not begin until the mid 20th century when artists such as Bill Reid, Mungo Martin and Norval Morrisseau began to get the exposure that their art-forms deserved.
Currently there are indigenous artists practicing in all media in Canada and two indigenous artists, Edward Poitras and Rebecca Belmore have represented Canada at the Venice Biennale in 1995 and 2005 respectively.
A couple of years ago, I had the opportunity to visit Vancouver, British Columbia, where I learned more about the art of our Native Peoples - L'art des Canadiens autochtones.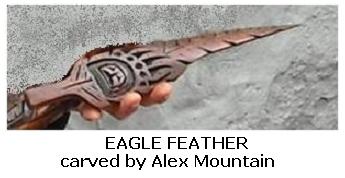 I watched street vendors on Water Street in the Gastown area, carve pieces of art from cedar - I even bought a couple for my husband.
The first one was carved by Alex Mountain and is an Eagle Feather - it is simple, and beautiful!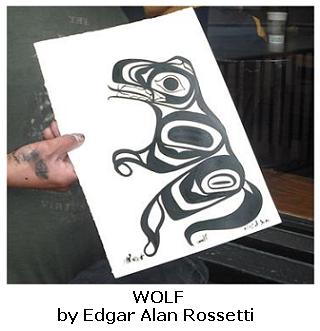 The second piece of artwork that I bought in Vancouver was also on Water Street, where we watched Edgar Alan Rossetti, paint a picture of a Wolf.
Well, painting is a skill that I wish I had, but this man painted this picture in about 5 minutes with deft, strong strokes, and then dried it using the hand-drier, inside the Starbucks store!
I'm going to frame and treasure this one, for sure!
When you purchase items such as these carvings and paintings, from the artists themselves, the cost is much lower than if you bought the same item in a store.
You can also negotiate with the artist because
you may be able to purchase an item you want
for less than the original asking price.
For example, the Eagle Feather carving (above) was originally priced at $25 however, I did get the price down to $20 which is a great bargain.
I also visited several stores which specialize in these art forms, Hill's Native Art on Water Street in Gastown, is a place you don't want to miss!
They have thousands of one-of-a-kind pieces of Native Canadian Art which range from small souvenirs for tourists to buy, to massive full size Totems for the serious collector.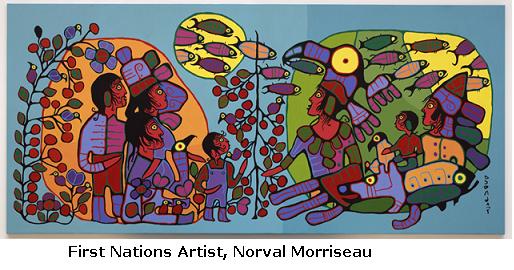 Native Canadian Art Info ...
Gallery Indigena - Stratford, Ontario, Native Canadian Art from across the country 
Upper Canada Native Art - Niagara on the Lake