BIG CATS
 in Ontario
Over the years we have had many reports of sightings of Big Cats in Ontario, often animals which remain unidentified.
Ontario is known to have populations of big cats, Lynx and Bobcat, and the occasional Cougar being sighted, but none of these animals should be seen in the wild in Southern Ontario.
Having said that, we have had numerous reports from across the province, of sightings of big cats.
Whether these sightings are of big cats which have spread into this area, or they are escapees from private zoo, is unknown, but there are too many sightings reported for them all to be hallucinations!

THE BOBCAT
(Lynx rufus)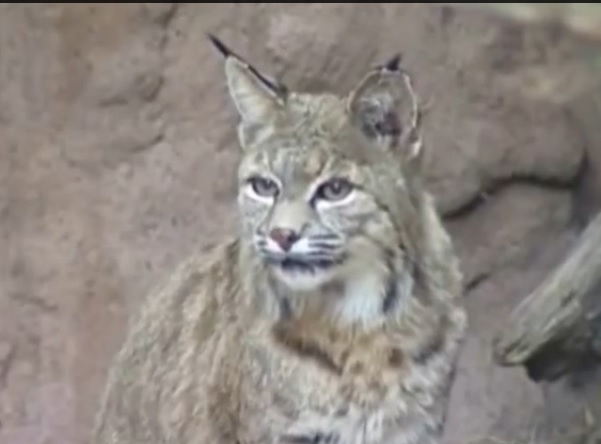 The Bobcat is the smallest of the three Canadian big cats, and is normally found farther north in Ontario, not particularly in Southern Ontario, however, that doesn't mean that it is never sighted around here. 
It is an efficient predator and prefers wooded areas where its primary food is rabbits and hares, but it will also eat geese and rodents.

This particular big cat is 18 - 48 inches long with a weight of about 21 pounds for an average male, but they can grow larger than this.

THE LYNX
(Lynx Canadensis)
Another of the Big Cats in Ontario is the Canadian Lynx which lives mainly in northern woodlands where its main diet is the snowshoe hare, and has a weight of 12 - 35 pounds, and length of 30 - 42 inches.  Males are usually larger than females.
Lynx, like other hunters in the forest, play an vital role. They are a medium sized carnivore and they target smaller prey species that reproduce quickly.
This big cat requires a mixed habitat that includes young forests with thick vegetation for hunting small prey, and older forested areas with a full canopy and good cover for building their dens.

THE COUGAR
(Puma concolor)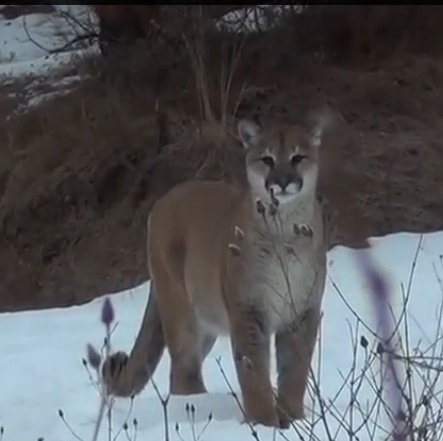 The Cougar, also known as the Mountain Lion or Puma in the USA, should not be in Ontario at all, as they are found mainly further to the south and west of Ontario, mainly west of the Rocky Mountains, but there have been sightings in Southern Ontario, which are probably escaped animals.
A full grown male Cougar can measure almost 8 ft from nose to tail and weighs in at an average of 125 lbs

We always love hearing from our readers, so if you have seen one of the Big Cats in Southern Ontario, please write to us and let us know all the details!  
Please tell us where and when you sighted the animal, what it was doing when you observed it, what time of day this was, and any other additional information that you think our readers will find interesting.
LINKS TO INFORMATION ABOUT THE BIG CATS IN ONTARIO 
Information about the Canadian Lynx, one of the big cats in Ontario, it's life-cycle and habits
Information about the Bobcat found in Canada and the USA
There are big cats in the Muskoka area - official sighting of a Cougar in Ontario
Have you spotted a Big Cat in Ontario?
Have you seen a big cat? Paw prints? We'd love to hear about it, and see a picture if you have one!
What Other Visitors Have Said
Click below to see contributions from other visitors to this page...