Bobcat sighting in Kitchener
by Lud Piron
(Hidden Valley, Kitchener, Ontario)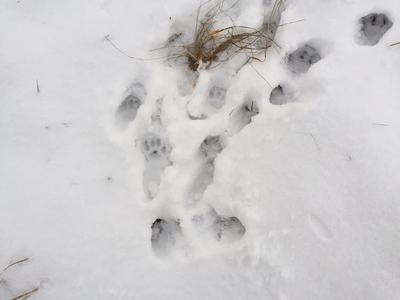 Big Cat prints

I caught a glimpse of a very large cat, tan to light brown in colour, estimated to be about 3 feet long.
The location was a new building lot in Hidden Valley, Kitchener, Ontario around 4:15 pm today.
I followed the tracks as far as I could but they disappeared. I've attached photos of the paw prints and also the incredible leaps that the animal made by running away.
I measured the leap to be 6 ½ feet. Added my size 10 gloves for proportion.
Clearly not that of a domestic cat.
Hopefully that helps a bit.
Thank you for sending us these pictures and all the information.I will also post this on our facebook page.