COTTAGES IN SOUTHERN ONTARIO


Many cottages in Southern Ontario are a small house, chalet, cottage or Cabin, near the beach, lake or on a working farm in the countryside, and they are available up and down the Lake Erie and Lake Huron shorelines - they are a great choice for families or couples who like relaxing at the beach, fishing, sight-seeing or Hiking, or as a base for touring around your favourite areas.
These can have one, two or three bedrooms, bathroom, a full kitchen or small kitchenette, and a living room, and they are usually well equipped with all the utensils, pots and pans, dishes, linens & towels that you will need for a comfortable self-catering holiday.
---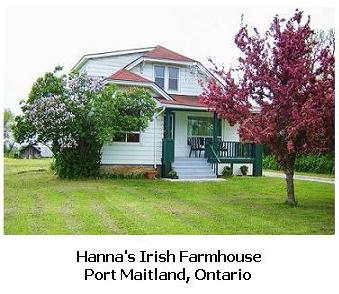 Hanna's Irish Farm Vacation House in Port Maitland, Ontario, is a 3-bedroom family owned farm house which was built in the late 1920's and is situated on 75 acres of farmland where Miniature Horses and Dexter cattle are raised.
The Hanna family, with roots in Ireland, has owned this working farm since 1937.
The farmhouse has been recently renovated and decorated with a "Touch of Ireland" and has three bedrooms, a full kitchen and living room and is only 500 metres from the beach! This is one of the popular cottages in Southern Ontario!
---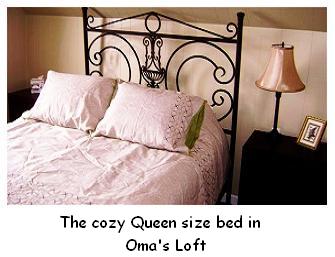 Oma's Loft is located just 20 minutes from the heart of London , Ontario, and is in a great location.
This 1-bedroom apartment, plus living room sofa-bed, is great for those looking for accommodation outside the city, for those visiting family or friends, or couples wanting a quiet get away for a weekend.
Located in the small village of Delaware, Oma's Loft is close to the Thames River where guests can enjoy great fishing, and is also just two minutes from highway 401, the Delaware Speedway, and horseback riding at the nearby Circle-R Ranch.
---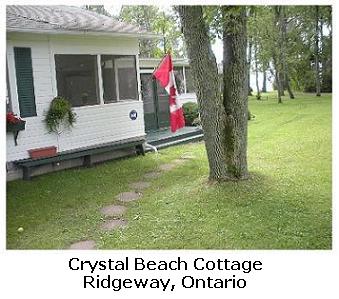 Crystal Beach Cottage which has four bedrooms and sleeps up to eight people, is close to beautiful Niagara Falls, Ontario.
This holiday home is located just 25 minutes from the Falls near the community of Ridgeway, Ontario.
If you are looking for an Ontario Vacation Rental property, close to the Lake, this holiday home may be just what you are looking for - a relaxing get-away or a family beach holiday.
Located just 35 minutes from Buffalo, NY, and 90 minutes from Toronto International Airport, this vacation rental is cozy and comfortable, and just right for your family vacation!
If you are thinking of taking a holiday in Southern Ontario or having a Great Lakes vacation this summer, you should consider both of the two Lakes that border this area.
To the south is Lake Erie with its quaint lakeside destinations of Rondeau, Leamington , and nearby Kingsville , Erie Beach, Erieau, Port Stanley , Port Bruce, Port Burwell and Port Dover.
To the north west is Lake Huron, where you will find Grand Bend, Goderich, Bright's Grove, Port Franks and Bayfield.
Thanks to Dreamstime and Adam Borkowski for the use of the picture, girl in green shirt with books  8406786© Adam Borkowski| Dreamstime.com 

Below are links to various sites where visitors to Ontario can view many Holiday Homes and Cottages in Southern Ontario for their vacations.
---
Cottage rentals Southwestern Ontario
---