FAMOUS CANADIANS
Actors, Athletes, Singers, TV Personalities
The list of famous Canadians is a long one, and when I first came to Canada I thought many of them were from the USA.
After living here for a while, I was pleasantly surprised to find out how many of my favourites were Canadians.
Some whom I had thought Americans, such as Raymond Burr and William Shatner, and some I thought were British such as Donald Sutherland and Christopher Plummer, were actually Canadians! Who knew!
Do you have a favourite Canadian Actor, Singer or Athlete? If so, please let us know on the form at the bottom of this page - we would love to hear about them, and so would our readers!
My Favourite Famous Canadians
My favourite Canadians, in order of importance are ... drum roll please ...

William Shatner
Actor of "Start Trek" fame /Author
Christopher Plummer
Actor

Donald Sutherland
wowed audiences in "The Eye of the Needle"
Keanu Reeves
Actor - "Speed" & "Johnny Mnemonic"
Lorne Greene
Actor - played Ben Cartwright on TV's "Bonanza"
Raymond Burr
Actor in "Perry Mason" & "Ironside"
Paul Gross
Actor - "Due South" & "Passchendaele"
Sir Frederic Banting
Physician co-discoverer of Insulin

John Candy
Actor / Comedian
Fay Wray
Actress in "King Kong"
Mary Pickford
Actress, film Producer, Pioneer in the film industry
Ron Fellows
Sports personality, Racecar driver
Bryan Adams
Canadian Singer-Songwriter and musician
Alanis Morissette
Singer
Drake - Aubrey Drake Graham
Rapper, Singer, Actor
Avril Lavigne
Singer

Justin Bieber
Singer
Michael Bouble,
Singer
Paul Anka

Singer - Songwriter, Actor
Megan Follows
Actress - "Anne of Green Gables"
Glen Ford
Actor
Colleen Dewhurst
Actress
Ryan Gosling
Actor
Ryan Reynolds
Actor 

Mike Myers,
Actor / Comedian
Jim Carrey
Actor / Comedian
Leslie Nielsen
Actor / Comedian - "The Naked Gun" movies
Margot Kidder
Actress - as Lois Lane in "Superman"
Helen Shaver
Actress "The Color of Money"
Rachel McAdams
Actress - "The Notebook"
Jill Hennessy
Actress - "Crossing Jordan"
Kate Nelligan
Actress - "Eye of the Needle"
Pamela Anderson
who could forget "Baywatch"?
John McCrae
MD

Anne Murray

Singer / Songwriter
Shania Twain
Country Singer / Songwriter
Michael J Fox
Actor - "Family Ties" & "Back to the Future"
Neil Young
Singer / Songwriter
Wayne Gretzky
Hockey player extraordinaire
Gordie Howe
Hockey player
Walter Pidgeon
Movie Actor
Raymond Massey
Movie Actor
Leonard Cohen
Writer / Poet / Singer / Songwriter
Celine Dion
Singer
Yvonne de Carlo
Actress
Gordon Lightfoot
Singer/Songwriter

Farley Mowat

Author
Lucy Maud Montgomery
Author
Pierre Berton
Author
Margaret Atwood
Author
Margaret Lawrence
Author
Emily Carr
Artist & Author
Peter Jennings
ABC News anchor
Jacques Villeneuve
Racing driver
John Roberts
News anchor & reporter CNN
Dr Roberta Bondar
First Canadian woman is space
James Doohan
Actor - Scotty on Star Trek
Art Linkletter
Famous children's radio/television personality
Joni Mitchell
Singer, songwriter, artist
Buffy Sainte-Marie
Norman Bethune

Physician - surgeon & early political activist, worked in China
There are many. many other famous Canadians on stage, screen and TV, but the above are my favourites.
Do you have a favourite Canadian who you would like to see featured on our website - just let me know on the form below and we would be happy to add your favourite to our list.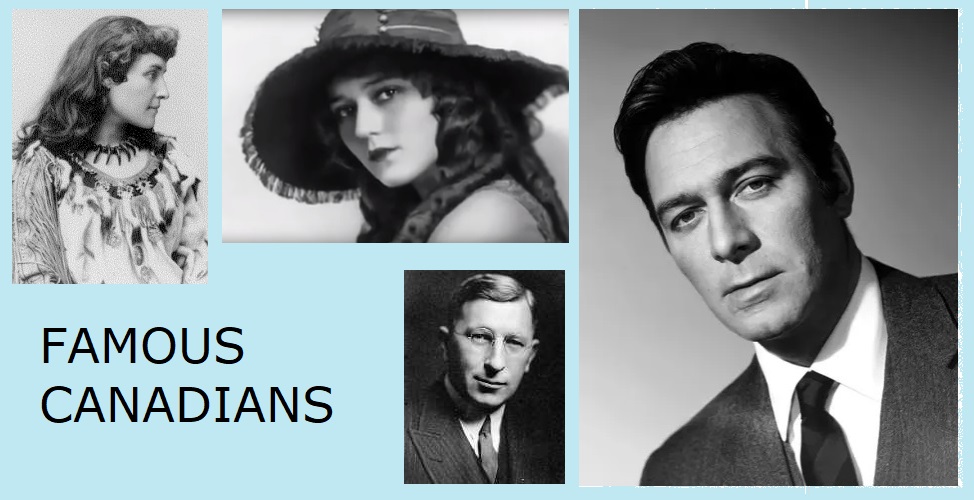 Do you have a favourite Canadian? Do you have a great story to tell?
We would love to hear about the kid you went to school with who is now a famous Canadian - share your story with us and we will feature it on our site!
Canadian Actors Info


Information about Canadian actors, their biographies and photo galleries
Famous Canadians Website - Canadiens célèbres
This site has everything you ever wanted to know about Canadians who made good - les Canadiens célèbres!