JOHN CANDY
The Canadian actor, John Candy, was born in Toronto on October 31st 1950, and started appearing in low budget films in the 1970's.
He is considered one of the greatest and funniest Canadian character actors.
Films such as "Class of '44", followed in 1976 by his appearances in the late night TV talk show "Ninety Minutes Live".

Also in 1976 he began appearing in Toronto's "The Second City Television" (SCTV), along with Joe Flaherty, Eugene Levy, Dave Thomas, Andrea Martin, and Catherine O'Hara.

There followed a variety of appearances on SCTV and by 1980, he began appearing in more films such as his role as a soldier in Steven Spielberg's comedy "1941" and had a supporting role as Burton Mercer in "The Blues Brothers".
"Armed and Dangerous" was released in 1986 in which John played the character Frank Dooley, an ex-cop.
Then followed the popular "Planes, Trains & Automobiles" in 1987, where two businessmen are forced to travel together from Wichita to Chicago, also staring Steve Martin - who could forget John Candy is that!

He played Harry Crumb in the movie "Who's Harry Crumb" in 1989.
In 1990 he played in the movie "Home Alone" as Gus Polinski and also that year he played the part of the Beer Truck driver in "Masters of Menace". 
My favourite character was "Uncle Buck" (1989), the hapless yet lovable, Uncle Buck Russell, of his nieces and nephew, who is left in charge while their parents are out of town, he was hilarious and wacky and everything worked out in the end!
"Cool Runnings" released in 1993 was also a hit in our family, as Candy played "Irv" Irving Blitzer who tries to coach the Jamaican Bob-sleigh team during the winter Olympics - which, funnily enough, was based on a true story.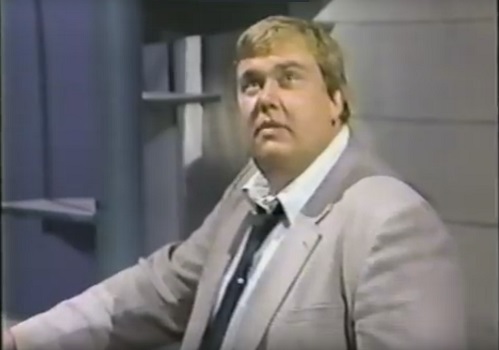 John Candy died in his sleep of a heart attack on March 4, 1994 in Durango, Mexico at the age of 43. He was survived by his wife, Rosemary, whom he married in 1979, and their children, Jennifer and Christopher. He is buried in the Holy Cross Cemetery in Culver City, California.
We still miss you John!
John Candy Info ...
John Candy Website
The home of everything about this great Canadian comedian, John Franklin Candy ....
Internet Movie Database - info
A comprehensive site full of info and bio about this great actor & comedian