TUNDRA SWANS
(Cygnus columbianus)
Spring Visitors to Southern Ontario
Tundra Swans are the most widespread and numerous species of swan in North America and there are two distinct populations of these birds. One is the the Eastern population and the other, the Western population.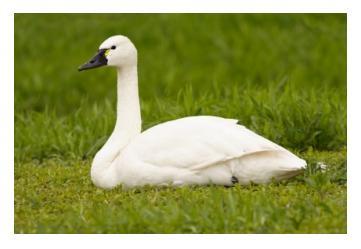 It is the Eastern Population only that travels through Southern Ontario, as they make their Spring migration between their Atlantic coast wintering areas and arctic coastline breeding grounds.
These birds spend their winters in Chesapeake Bay, Maryland, USA, and up to 60,000 of them fly through this area in spring.
The Tundra Swan (formerly named the Whistling Swan) is identifiable by its black beak and has a small patch of yellow close to the eye.
Mute Swans have an orange and black beak, and the Trumpeter Swan has a completely black beak.
The male Swan is known as a "Cob" and the female is known as a "Pen" and it is said that these birds mate for life.
The Tundra Swan is the smallest of the three species.

Here, the first Tundra Swans have arrived . . . . . . there will soon be more.
It is impossible to predict with certainty, the exact time of the beginning and the peak of the migration, however in my experience the swans are seen in this area from mid to late March and for about three weeks afterward.
The timing of the migration depends, I suspect, upon the weather conditions.
Mid-March to Early April
This should be the peak of the Tundra Swan Spring Migration


Watch this space for more information


AYLMER WILDLIFE MANAGEMENT AREA
The Main viewing stand to view Tundra Swans and other migrating waterfowl is behind the Ontario Police College.
There are paved trails where you may walk to look for other early spring birds.
Directions from London: take Elgin Rd 73 south towards Aylmer from Hwy 401, turn left (east) onto College Line, then right onto Hacienda Rd and watch for swan signs.
It is possible to observe many other birds, both migratory and non-migratory species at the Aylmer Viewing Area and I have seen Canada Geese , Mergansers, Teals, Mallard, Wood Ducks and many other water fowl.
There are always the more common birds too, such as Robins - which have also just arrived back in this area from wintering in the south and which have arrived here just ahead of the swans.

This picture was taken the following day . . . now there are a few more birds
The Swans stop over at several staging areas around Southern Ontario and can be observed by the public in these places.
* Long Point
* Wildlife Management Area - Aylmer
* Rondeau Provincial Park
* South of Grand Bend in the fields between the Lambton Museum and Northville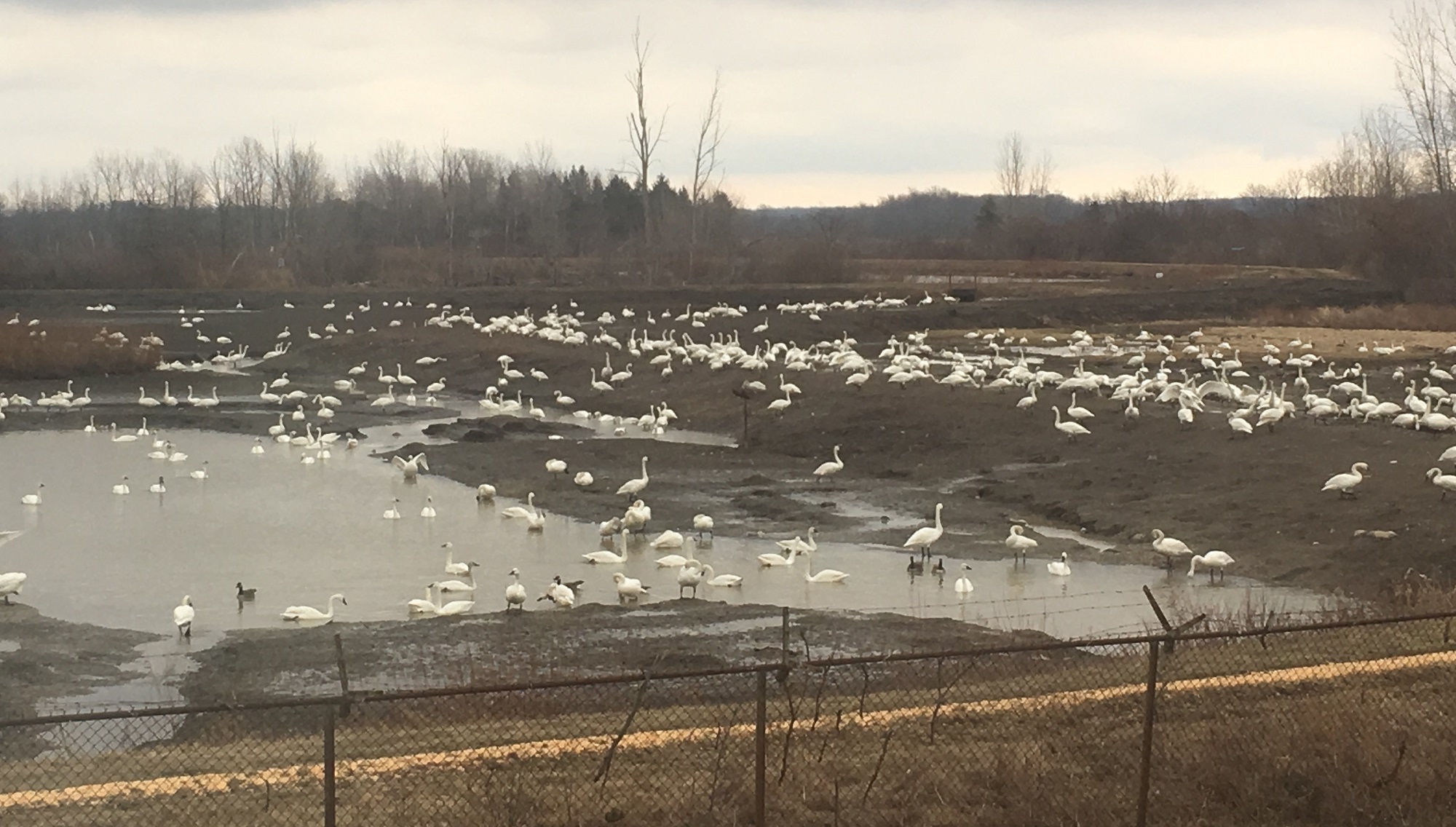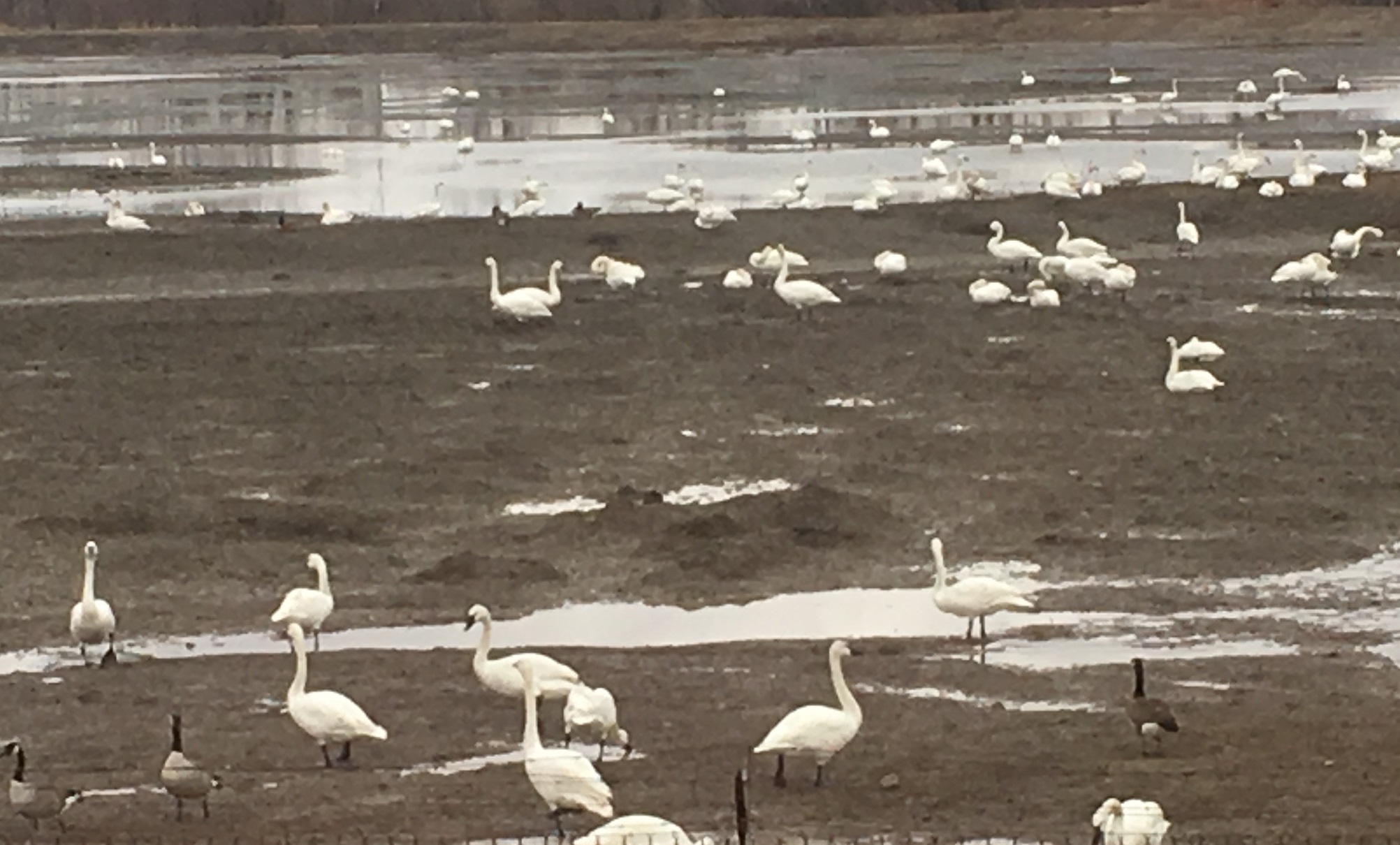 These pictures, above, of the migrating Tundra Swans near Aylmer, Ontario, was taken March 24, 2019

Call 519-773-7926 (773-SWAN) for Aylmer updates on the migration.
This mass migration takes about three to four weeks for all the birds to pass through and is a spectacular sight to see.
The Aylmer Wildlife Management area has bathrooms and a large parking area, and it is also possible to observe the birds from the "Hide" shown below.
In this picture most of the birds have arrived at the wetlands where they will stay for between a couple of days and two weeks before they leave to complete the remainder of their journey
The Wildlife Management Area is located beside the Ontario Police College on Hacienda Rd, Aylmer and has 25 acres of wetland habitat.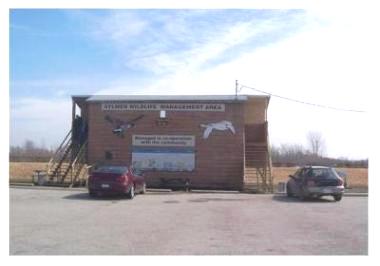 DIRECTIONS TO THE AYLMER WILDLIFE MANAGEMENT AREA
From Highway 401 follow Elgin Rd south towards Aylmer and watch for College Line on your left where you will turn east.
At Hacienda Rd turn right and watch for the Swan signs on your left at 10594 Hacienda Road.
From Tillsonburg and all points east, follow highway 3 until the curve at Hacienda Road, just before you reach Aylmer, turn right and watch for the right turn, just before the Ontario Police College entrance.
---
---
To read reports of Swan sightings from previous years, click here
Archived Tundra Swan Sightings
---
It's Spring - let us know when you see the Tundra Swans .......
When you spot them this Spring, let us know where and when - they should be arriving in Southern Ontario in early March ..... let us know - our readers would love to know when these magnificent birds arrive in this area.
What Other Visitors Have Said
Click below to see contributions from other visitors to this page...

---
Links to The Tundra Swan
Past Tundra Swan Sightings - 2006 - 2010
Tundra Swan sightings in southern Ontario in past years, check out the locations and dates where these beautiful birds were observed.
Naturally Elgin Website - Tundra Swans (les Cygnes)
Check out the Spring Migration information at the site of the Wildlife Management Area in Aylmer
Outdoors & Nature

Check out the wide selection of Nature & Wildlife books available through Amazon