SUMMER BIRDS IN SOUTHERN ONTARIO
North American Robin
(Turdus migratorius)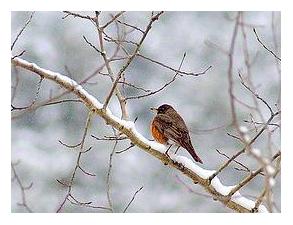 One of my favourite birds in Southern Ontario is the pretty Robin, with it's lovely song, which to me is one of the first signs of Spring.
I will be posting a few wildlife pictures of the familiar North American Robin (Turdus migratorius), which is a member of the Thrush family and one of the most easily identifiable birds in Southern Ontario.
This Robin stayed a little too late in Fall and got caught in a snow-storm. I'm sure he left soon after this picture was taken!
Did you know that when Robins are migrating north in the spring, they don't actually sing until they get to their destination?
To hear the Robin's song, click here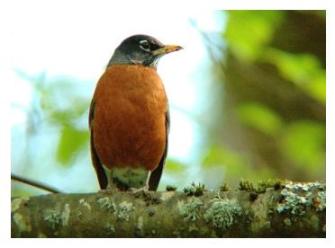 In addition there are a couple of sites listed at the bottom of this page where you can find great wildlife pictures of the Robin and other species.
Most mornings in the Spring and Summer I wake to their song and they are often heard singing before a rain-fall.
Their song is the Robins way of declaring it's territory to other birds, so when you hear Robins sing in your back yard, those are the ones who have made their home there for the summer.
When the Robins sing loudly, people here sometimes say that they are "singing for rain", perhaps they know when a shower is coming.
These familiar birds are easy to identify as they have a red breast which is brighter in the male. The female is of a duller shade of red.
In young juvenile birds it is easy to see from their speckled breast feathers, that they are members of the Thrush family.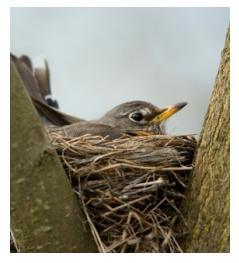 FACTS AND FIGURES
The Robin is a medium-sized bird which weighs, on average 75 g, is 25 or 27 cm long and has a wingspan of around 40cm. They can fly at a speed of 60 km per hour.
The female Robin builds the nest and lays between 3 - 5 small, blue eggs which she incubates for between 11 - 14 days.
It takes the babies two weeks to be fledged and fly from the nest.
Often, once the eggs hatch, the male will take over the duty of caring for the newly hatched chicks, while mother lays another clutch of eggs and begins the whole process again!
This mother bird is keeping her eye on us, she is careful not to draw any attention to herself while she has eggs or chicks in her nest.
Robins are known to fly during the day when they migrate and they feed on worms, insects and berries.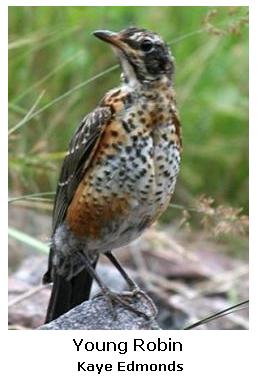 At dawn and dusk you will hear the pretty song of this bird.
The Robin keeps his eyes open for cats, Crows and Blue Jays who would love to make a meal of their eggs or nestlings and an adult Raccoon could eat a full-grown Robin.
We hardly ever see the Robin at the bird feeder as they seem happiest on lawns and open fields.
If you watch them carefully, you will see them cock their heads to one side - shh........ are they listening for worms?
Who knows!
But I do know that they find a lot of worms on our lawn after we have rain.
But I'm just glad that these cheerful little fellas are some of the beautiful birds in Southern Ontario!
---
Links for the North American Robin
Hinterland Who's Who - les oiseaux du Sud de l'Ontario

This Canadian site has lots of information about attracting Robins to your back yard, their habits and habitat
Return to the page where you will find information about more of the common birds in Southern Ontario - les oiseaux du Sud de l'Ontario
Flickr - great for Wildlife Pictures
Check this site for lots of Canadian Wildlife pictures, including the Robin, Cardinal, Canada Goose and more
Do you have a great story about Robins in your area?
Let us know where and when you sighted your first returning Robin of the Spring. It is interesting to see when and where the first Robins are sighted, so we'd be happy to hear about your Robins!

If you get a picture, we'd love to see that too!
What Other Visitors Have Said
Click below to see contributions from other visitors to this page...