SUNNYBROOK
ARTISAN SOAPS
If you have never tried natural, homemade soaps, you are in for a treat the first time you try them
Our artisan soaps are made with the finest renewable, often organic, ingredients, and are gentle for your skin.
Imagine washing with soaps made from ethically sourced Palm oil, gentle Olive, Grape-seed and Hemp oils - these oils do not make your skin dry, they enrich your skin.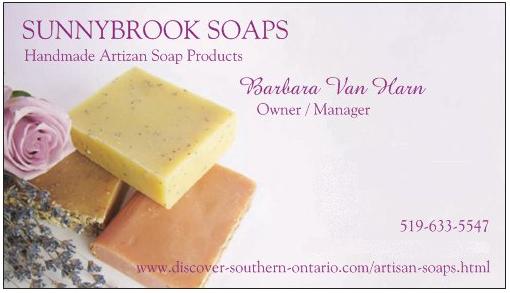 We are working on several new types of hand-made artisan soap and will post on this site when we are done, including varieties and prices.
CHRISTMAS 2021
Our Handmade Artisan Soaps are now Sold Out
Artisan Soap
Handmade Lavender Soap  - 110g      $5.50
Handmade Oatmeal Soap - 110g         $5.50
Handmade Calendula Soap - 110g       $5.50
Handmade Coffee Soap     - 110g       $5.50
* Lavender Soap contains dried Lavender and has a gentle, relaxing fragrance
* Oatmeal Soap is gentle, contains ground Oatmeal and is gentle, and is said to be soothing for those with sensitive skin
* Calendula soap is good for irritated skin and uses Grape Seed Oil infused with Calendula flowers
* Coffee Soap contains aromatic coffee grounds and is abrasive enough to remove oil and dirt from an auto mechanic's hands (I know this!) and yet the base soap is gentle and mild
Our handmade soaps are made using the Cold Process using pure oils and no artificial fragrances or colours
All prices include taxes but do not include shipping, shipping will be added at checkout
Currently we can only ship our soaps within Canada, and the rates are as follows ...
$6.00 for one bar
$11.00 for two bars
$16.00 for three bars
$21.00 for four bars
$26.00 for five bars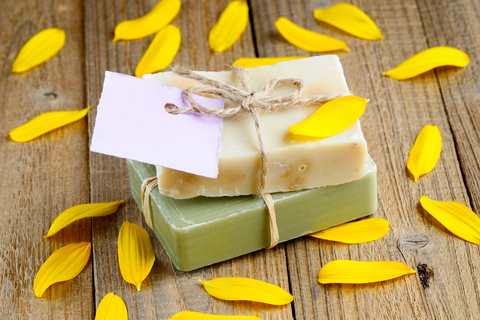 If there is a type of soap that you'd like to purchase?
We can make a batch for you ... just let us know and we'll make it for you!  We can make the ones listed above, but have also made Goat's Milk Soap, Lemongrass, and Rosemary Soap might also be lovely!