SPARTA ONTARIO
a pretty village with an interesting
Quaker history
Sparta Ontario - this pretty, historic village was founded by a group of Pennsylvania Quakers who settled here in 1822, led by Josiah Doan.
The descendants of those early settlers still live in the area today.
My hubby and I first discovered the village of Sparta Ontario one afternoon in the 1980's, when we were out for a ride on our motor-cycle - we were young and reckless then!
I was struck by the history of the village and although I thought it was quaint, what impressed me was that it was genuine and not an artificial quaintness - the buildings really were old, the Quaker Meeting House is actually used for Worship. I thought then that it was a lovely place, and I still do.
The YouTube video below is an "Introduction to the Quakers" and I hope you enjoy it as much as I did.
When you visit the village, you will see the Quaker Meeting House on the left hand side of Quaker Rd, just north of the village. This Meeting House is still in use and has a peaceful, restful atmosphere.
While you are here don't miss the lovely Sparta House Tea Room & Restaurant which is housed in the former Coaching Inn, better still, go inside and sample some of the delicious fare on their menu!
The owners have an impressive collection of Tea Pots - we tried to count them all, but lost count at 300! Perhaps you could count them all and see how many you find!
Many years ago I worked in this charming Tea Room and have always loved the atmosphere here - it is a wonderfully relaxing place to spend a Sunday afternoon and you can read about our recent visit to the Sparta House Tea Room Restaurant here.
Just beside the Tea Room you will find the Studio of local Sparta Ontario artist, Peter Robson. Spend a little time exploring his Aladdin's Cave of art! There is a selection of Original works, Limited Edition Prints and smaller Art Cards.
When we met, my hubby and I both owned a small collection of Peter Robson's Limited Edition Prints, which we have added to over the years of our marriage.
I love the local scenes and my Hubby's favourites always include snow scenes and horses as he loves the way the horses in Peter Robson's pictures seem so realistic - almost ready to start snorting and stamping their feet!
You can see some pieces of Peter Robson's Original Art here - Little Beach (Port Stanley) and December Morning - both are lovely examples of his work.
While you are still at the four corners, check out the delightful Anything Used & Sparta Country Candles store on the south east corner of the main intersection of the village - check out both levels of their establishment where they sell candles, potpourri, home decor, books and much, much more!
This unique family business was started in 1992 by Pat and Mary Muscat and their store is located in the historic general store which dates back to 1838.
The store is a great place to find interesting and unusual gifts for those special people on your list! Don't leave Sparta without checking them out!
The items below are available from Amazon.com - but why not check out Sparta Country Candles for their unique scented candles!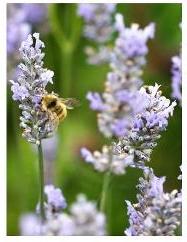 If you continue west along Sparta Line you will find Steed & Company, Lavender Farm - check their website for their location and hours.
If you like Lavender you will love their Lavender Harvest time, the lavender is in bloom from mid-June to mid-July and again from the end of August to mid-September.
You will find Lavender items for Bed & Bath, for cooking and for your home & garden - so why not plan to visit this summer and enjoy all that Steed & Company Lavender has to offer!
If you live too far away from Sparta Ontario to visit Steed & Company, you can find many Lavender products below at Amazon.com.
---
WINTER WHEAT HAS RECENTLY BEEN BADLY DAMAGED BY FIRE AND IS CURRENTLY CLOSED FOR BUSINESS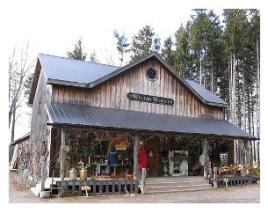 Just to the south of the village of Sparta Ontario, on the road to Port Bruce, watch out for the signs for Winter Wheat, Sparta Ontario , which is an amazing place to spend an hour or even an afternoon.
The owners, Mike Roberts and artist, Lucy Ogletree, opened this wonderful and whimsical store in 1996 and now have a thriving business.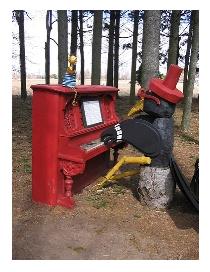 After you have wandered the grounds, and taken a good, long look around their store, peep inside one of the two cabins on the property.
Mike and Lucy provide complimentary tea, coffee and cookies – for their visitors - they are so good, I'm sure Mike gets up early each morning to bake them himself!
We try to spend some peaceful time there to listen to the soothing music and soak up some of the relaxing atmosphere before we move on.
---
---
Before you leave Sparta completely, take a drive north up Quaker Road – and turn left at Fruit Ridge Line.
Watch for the Quai du Vin Winery on your left.
This winery opened its doors, and bottles, in 1999 and has an excellent variety - White, Red and Specialty wines.
Each summer the Winery has Featured Events for visitors to enjoy – we love the Jazz Festival and other activities and wait eagerly for them to start in the summer time.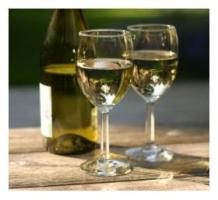 For our wedding in 1995 Hubby & I ordered our wine from Qui du Vin and were so pleased with the beautiful wines we had selected - they really helped to make our wedding perfect!
You can even get customized labels on the wine you order for special occasions - Weddings, Anniversaries etc - the staff work with you to make sure that the wines you select will be just right for you.
Their opening hours are Monday to Saturday, 10am until 5pm and Sunday, from noon until 5pm.
Along Union Rd, heading west out of the village of Sparta, you will see the St Thomas Dragway , which is a great place for those who like car racing. Just click on the link to their website for more information on schedules and races - check out their amazing Photo Gallery!
Accommodation in the Sparta - St Thomas Area
If you are looking for Cottages in Southern Ontario you should check out the cozy, comfortable accommodation at the Sunnybrook Holiday Home in nearby St Thomas, a great place to stay as you explore this beautiful part of the country. Your Hosts will make you most welcome!
4542997Anatoly Tiplyashin|Dreamstime.com Girl in red shirt with books

Sparta Ontario Info ...
Steed & Company Lavender Farm
A lovely place to stop and shop - there are Lavender items for cooking, the home & garden, bath & body products too
Anything Used & Sparta Country Candles
If you plan to spend time in pretty Sparta Ontario, then make sure you have the time to visit this quaint store
Winter Wheat
Canadian folk art and gifts - a unique style of expression, which shows in the whimsical paintings, inspired by memories from Southern Ontario 
Opened in 1990 and now producing 90,000 bottles each year, this winery is a great place to sample fine wines year round
St Thomas Dragway - Sparta Ontario
Check this site for a summer schedule