OUR VISIT TO ICELAND
DAY ONE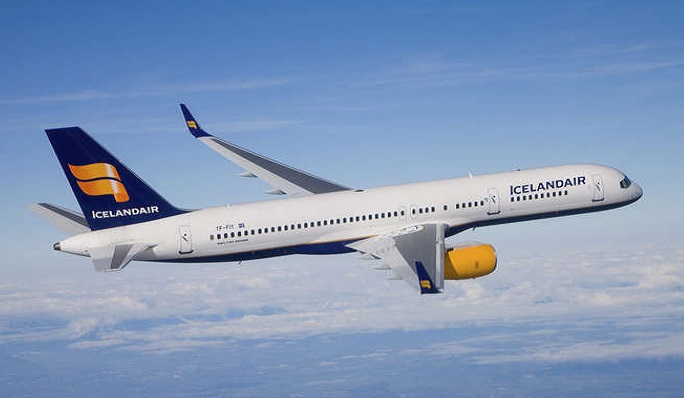 Welcome!
Let me tell you about Our Visit to Iceland!
This is Barb, webmistress of this website Discover Southern Ontario
My youngest daughter and I went on vacation and this is my blog about our visit to Iceland!
We enjoy travelling together and have visited England, Ireland, Norway, the Netherlands, Wales and parts of Canada and the USA, but this year, to celebrate her birthday, we decided that Iceland was the place to go!
We were also a Home-Schooling family so we had the freedom to travel when flights were cheap!
As we were there for a week we rented a car and travelled right around the whole island, which is possible, although I wish that we'd had an extra day or two because there were places and things we would have liked to visit for longer.
If you would like to skip ahead you can go directly to Day 2, Day 3, Day 4, Day 5, Day 6 or Day 7 of our visit to Iceland
The first thing I should tell you about our visit to Iceland is how beautiful it is.
The second thing I should tell you is how expensive it is!
Next, some basics ... the currency here is the Icelandic Krona and currently the exchange rate is around $1 Canadian for 100 ISK, so to put that in perspective, a cup of coffee was around 600 ISK or $6.00 Canadian dollars.
Iceland is a country where you can use a credit card for EVERYTHING - we were there for one week and, believe it or not, I did not see any actual Icelandic money, neither coins or notes.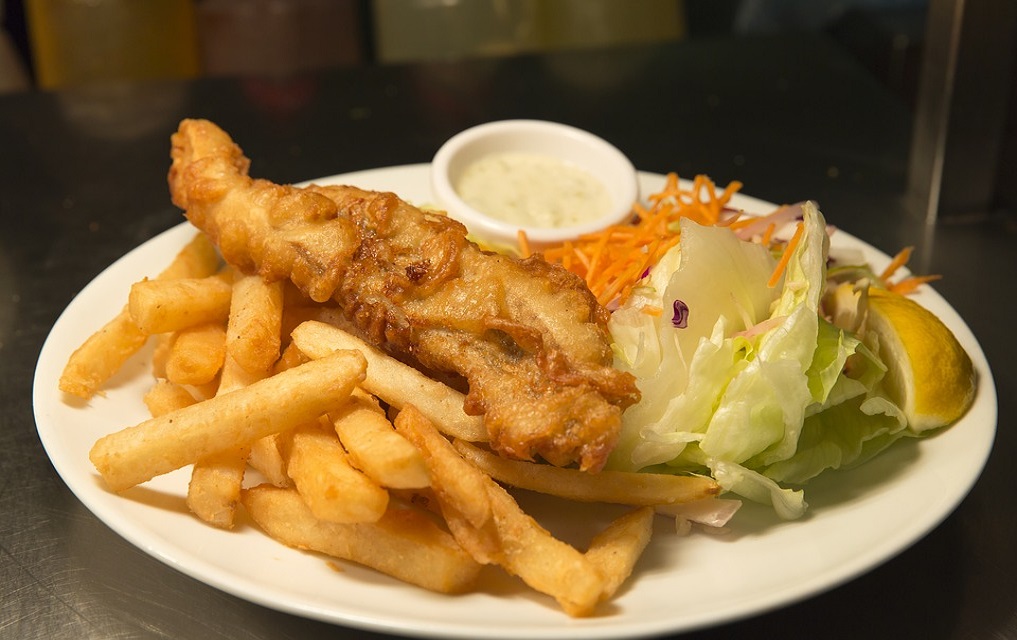 Anyway, I digress.
During our visit to Iceland a meal of fish & chips cost us 3225 ISK or about $30.00 Canadian dollars.  A nice steak or pork dinner with coffee and dessert could easily cost $85 - $95 Canadian dollars per person.
I should also mention that the meat which you will find most often on menus, is horse meat, as burgers, as steaks and in Icelandic Meat Soup (at about $18.50 Canadian dollars per bowl).
---
---
Living in Canada, we are used to the cost food being affordable, so the cost of eating out in Iceland can be a shock for foreign tourists.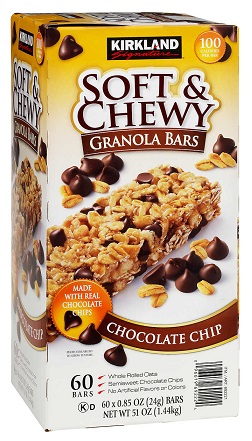 The way we dealt with the expensive food situation was to make a stop at the grocery store on our first day and purchase bread, cheese, fruit and vegetables so that we could make sandwiches each day for our lunch, and then we ate out for dinner. 
I figure we saved lots of money by doing that as our supplies for lunches cost about $45 Canadian dollars and we had enough food for five days' lunches.
We also took a box of 60 granola bars which we had for breakfast most days ... they cost about $8 from Costco in Canada.
The next thing I should tell you is that when you stay at a Bed & Breakfast for the night, it may not include breakfast!
It may, however, have kitchen facilities that you are welcome to use, so you can cook for yourself.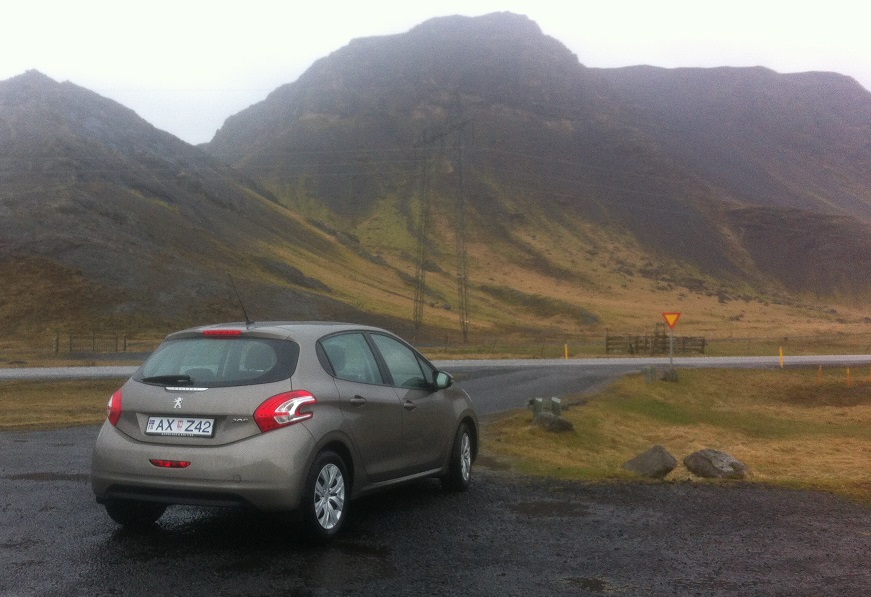 Our lovely new rental car
We landed at Keflavik Airport, Iceland's main airport, just outside Reykjavik on Monday May 1st, at 6 am and rented our car from Europcar, which was great - in Iceland they drive on the right-hand side of the road, which is good news if you are from North America, Russia, Scandinavia, most of South America and countries in Europe, but not so good news if you are from the UK, Ireland, Malta, Cyprus, India or Australia where they drive on the left-hand side of the road.
We decided to drive the 45 minutes into the capital, Reykjavik, and check it out to see what there was to see - the streets were empty and we hardly saw anyone at all ... no adults, no children - we were puzzled until we realized that it was May Day which is a national holiday and people had the day off from work and school!
We found the Northern Lights Centre or "Aurora Reykjavik" which was open and very interesting, has lots of gift items and ... free coffee!  They had virtual reality head-sets to wear, so we could see what the Northern Lights would actually look like, if it were dark and they were visible. Sadly, in May, the Aurora Borealis are not visible in Iceland because there are too many hours of daylight for them to be seen.
From there we went to the nearby Whales of Iceland Exhibition on Fiskislóð which was fascinating and had displays of life-sized whales and video information.
We were planning to go Whale Watching in Hauganes on day 6 of our visit to Iceland, so we found the exhibition very interesting.
---
---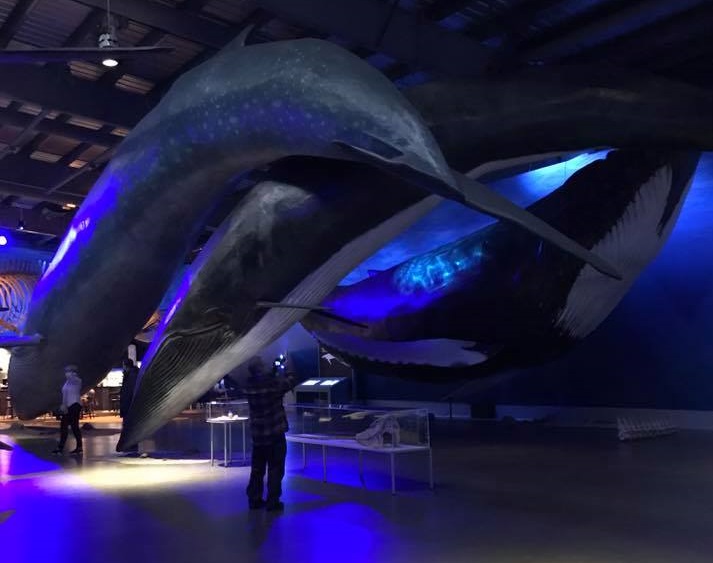 Whales of Iceland Exhibition
We realized that it was still pretty early and decided to go to see the Strokkur Geysir which is a geyser that "blows" every ten minutes or so.  This geyser is the one after which all other geysers in the world are named.  
To get there from Reykjavik head for the town of Selfoss and just before you reach the town, take road 35 which will take you north to Geysir.  If you want a different route on the way back, take road 37 which joins 35 closer to Selfoss.
We really enjoyed Geysir even though it was very windy and you do get sprayed when the geyser "blows".  There is also a strong sulphur smell to the area that we didn't mind, but that some people may find distasteful.  There is a hotel, cafe and gift shop there, so it is a nice place to stop and rest for a while.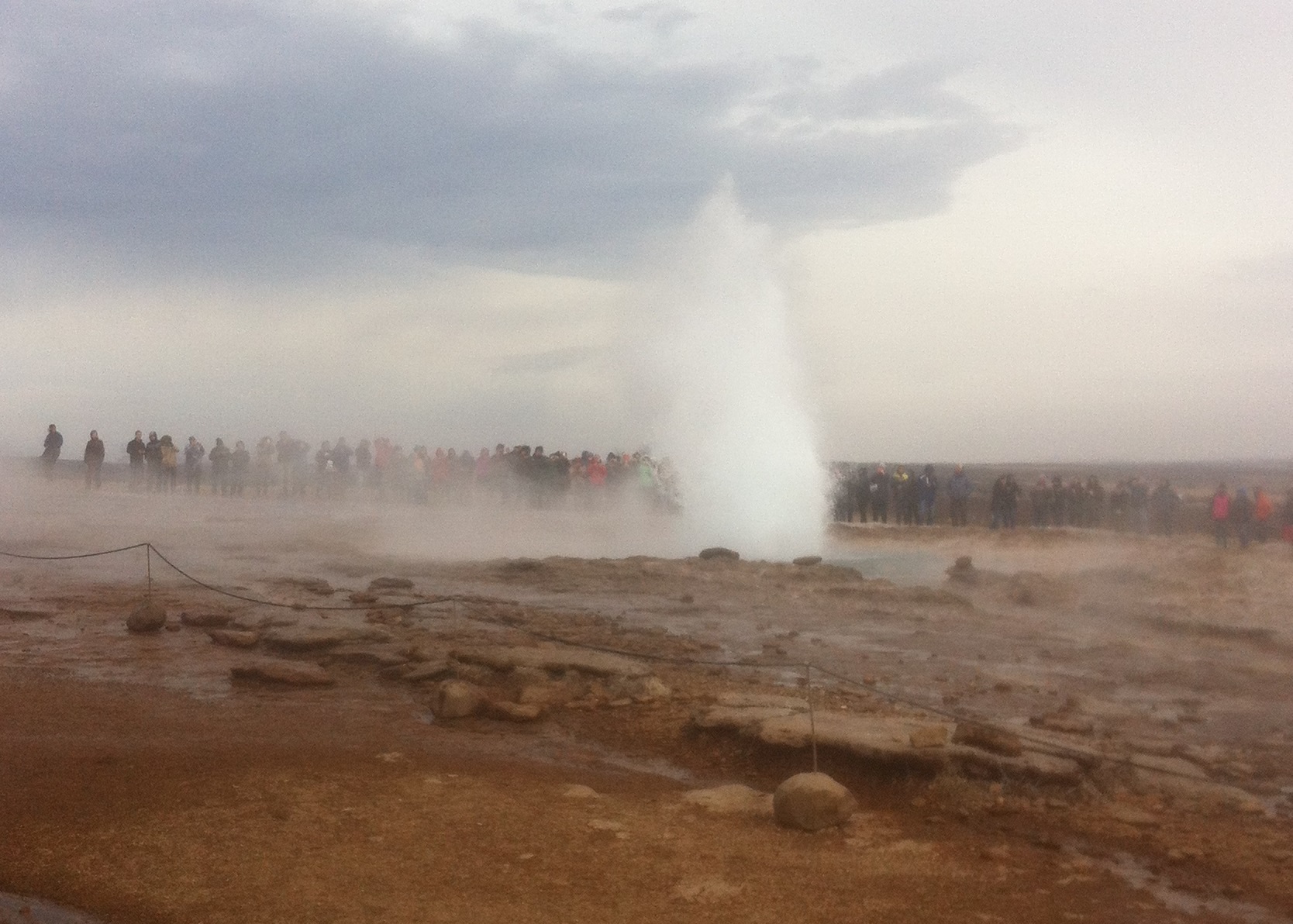 Here is the Geysir as it begins to blow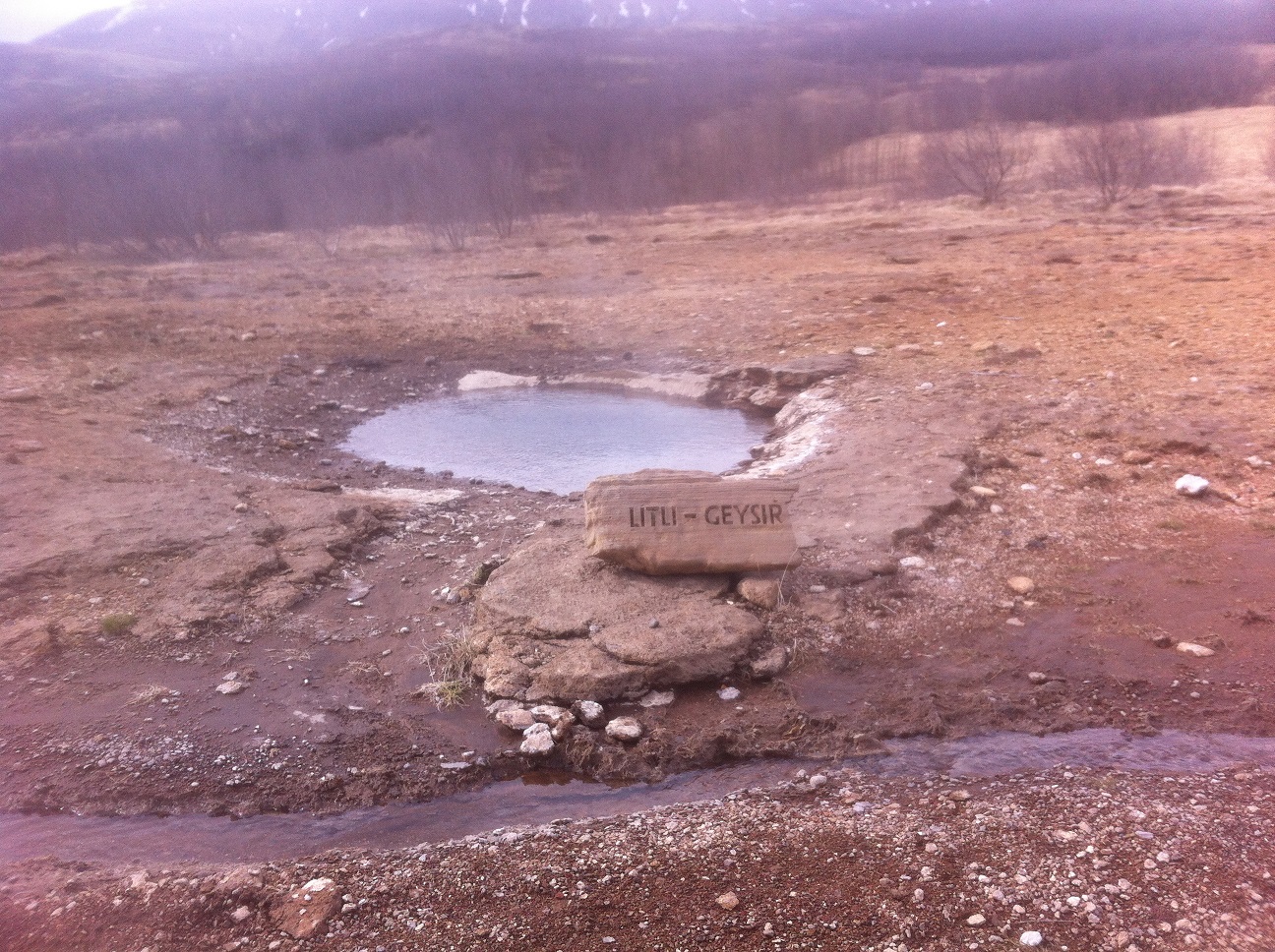 Little Geysir (Litli Geysir)
There are several hot spots close to Geysir where hot water comes straight out of the earth.  Due to the movement of the earth and the tectonic plates, the geyser that spouts, moves.
This small one used to spout, but now is just extremely hot water.  There are several others which also formerly blew out hot water, but which are now pools of almost boiling water.
One item of note is that the Geysirs and waterfalls are very accessible and have only a rope on sticks to prevent tourists from betting hurt, so be careful, especially if you have children with you ... the onus is on the tourist to keep themselves safe.
Our first night was spent about one hour east of Reykjavik at the Kálfholt Guesthouse which is  between Selfoss and Hella and the accommodation was fine.
There are four guest rooms which shared one bathroom, the rooms were clean and comfortable, and there was a full kitchen where we made breakfast (with the bread and cheese we had bought the day before).  Other guests were cooking a full meal for dinner during their stay.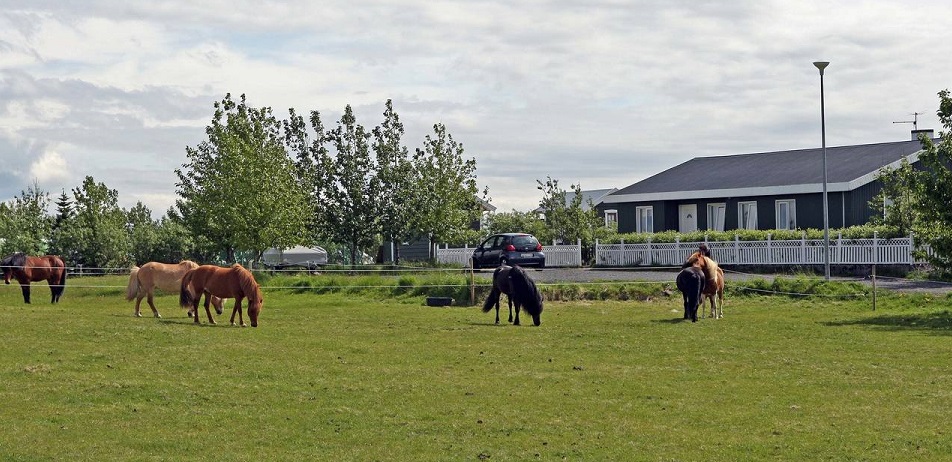 Kálfholt Guesthouse
Kálfholt is also a horse farm and riding centre and riding tours could be arranged.
We were pretty tired at the end of our first day of our visit to Iceland, so we called it a day and went to bed around 9:00 pm.
Interestingly, because we were so far north and the days are long at this time of year, at 11:30 pm it was still dusk and it started to get lighter at around 2:30 am.
We had to be up and on the road early for another exciting day of our trip to Iceland!
Check out our Visit to Iceland - Day 2 here, also Day 3, Day 4, Day 5, Day 6 and Day 7
Our Visit to Iceland Info ...