OUR VISIT TO ICELAND
DAY FOUR
Here is "Our visit to Iceland Day Four" but if you would like to see previous pages check out Day 1, Day 2 or Day 3 of our Trip to Iceland, click the links, or if you'd like to go to Day 5, Day 6 or Day 7
We were on the road early on the morning of our visit to Iceland day four, leaving Höfn behind us, as we had to reach Egilsstaðir before dark.
The main road, highway 1, takes you along the coast which has the most amazing views and we kept stopping to enjoy them and take pictures, but on this leg of our journey we planned to follow road 96 along the coast, so we would travel 267 kilometres on this day.
We had lunch on our visit to Iceland, day four, in the town of Breiðdalsvík in the Eastern Region of Iceland, which is known as the "tiny town".  It is a fairly young community, having been originally settled in the 1880's, but only grew in the 1960's with the development of the harbour and now has a population of 139 people.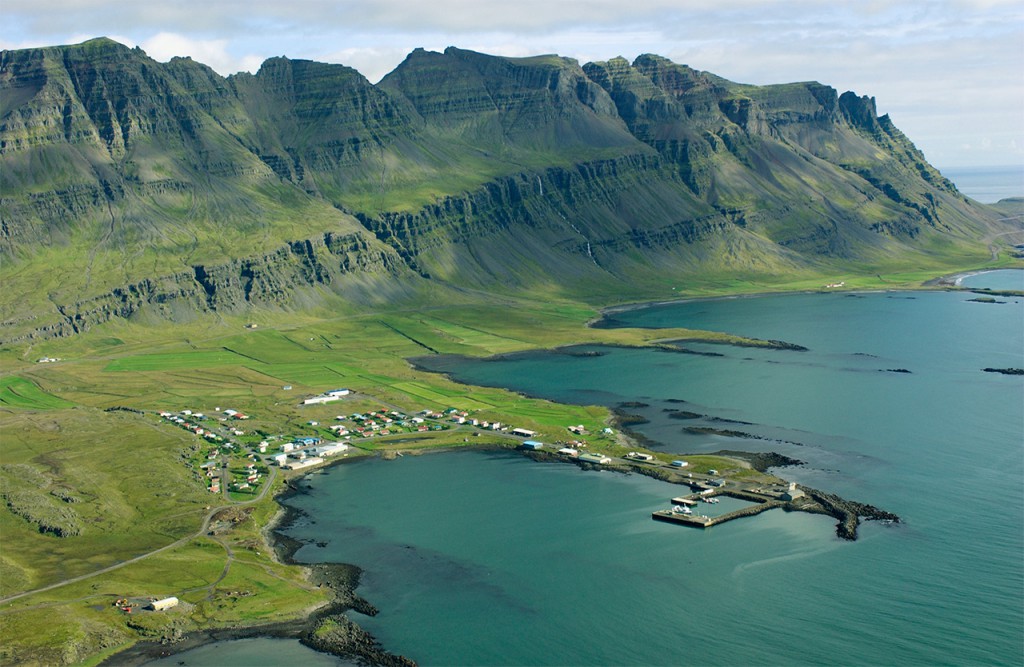 Breiðdalsvík
We had a good meal at the Hotel & Restaurant Blafell there, where they made a delicious bowl of Squash Soup with home made bread.
We chatted with two English ladies who have a business arranging tours for British people, to Iceland - check out Iceland Traveller.
After stocking up with groceries at the General Store, we left Breiðdalsvík and detoured off highway 1 and followed road 96 which took us round the fjords and there was even more beautiful scenery.
The spectacular view across the fjord from the town of Breiðdalsvík
Just look - no traffic!
I must say that of all the vacations I have had in my life, I have never seen such beautiful scenery - the mountains, fjords and glaciers of Iceland are so beautiful, along with the absence of crowds and the ease of driving, make this lovely country one I will certainly visit again!
The rugged North Atlantic Ocean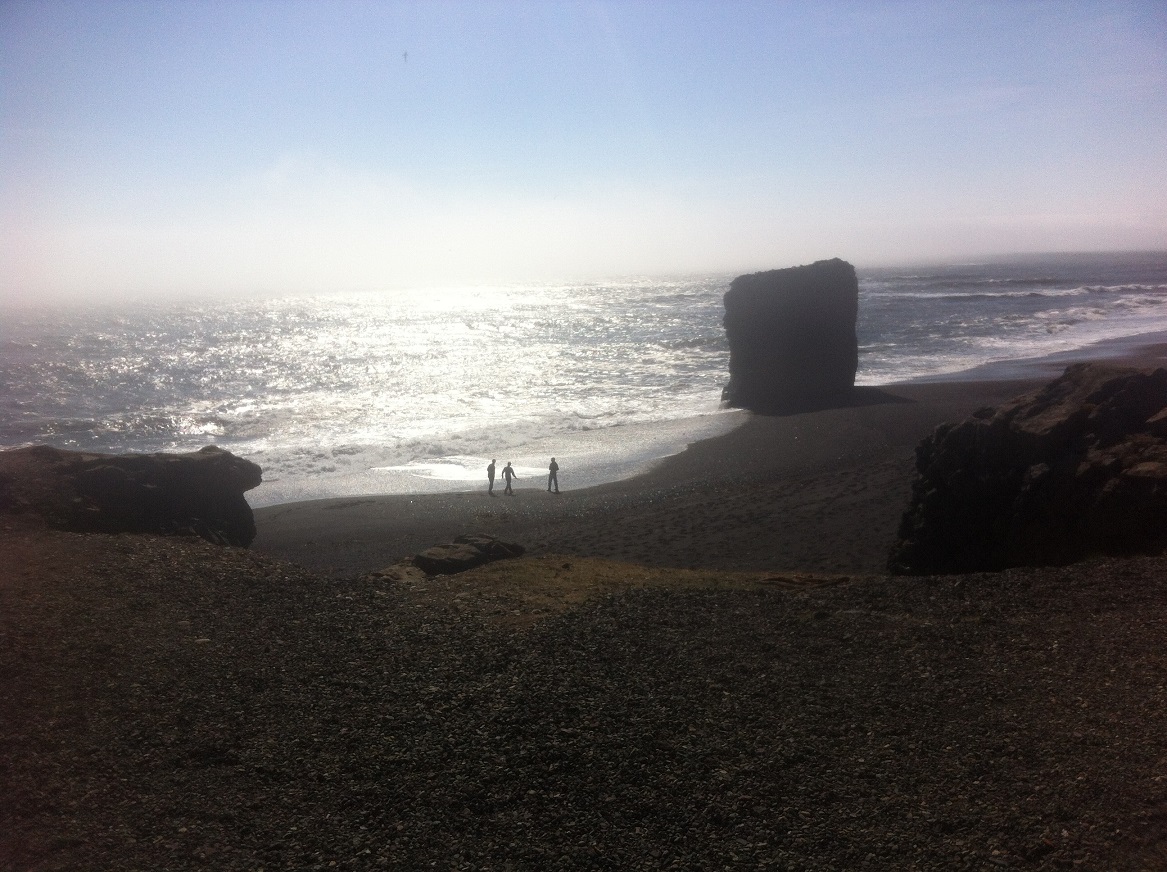 An almost deserted beach in East Iceland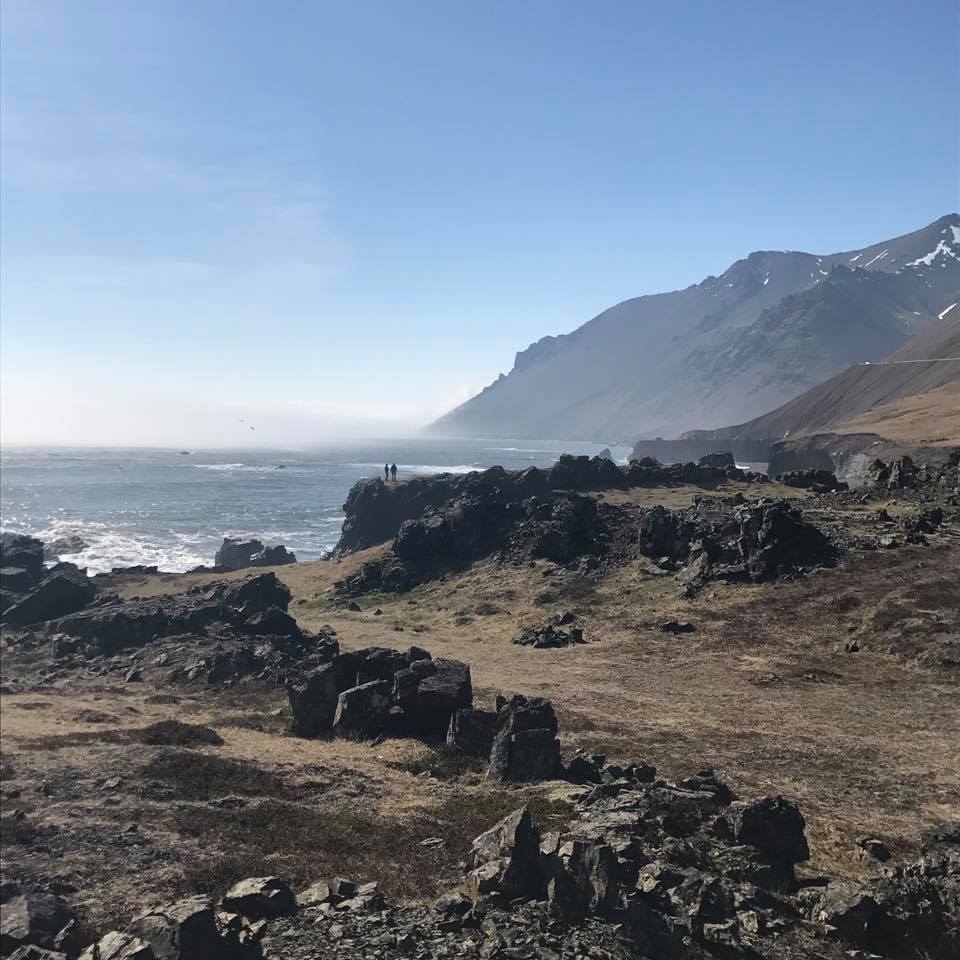 Rocky Shoreline - Southern Coast
We had to press on to get to the town of Egilsstaðir and left the ocean behind us and headed inland.
River and Mountains
On our visit to Iceland, day four, as we travelled toward Egilsstaðir we saw more Icelandic Horse farms, with sturdy little horses, like this one.
Some farms offer Pony Trekking, but many farms raise the horses for meat.
Icelandic Horse
Just in case I haven't mentioned it ... the scenery on our visit to Iceland, was absolutely breath-taking - one spectacular view after another.
We booked our accommodation for the night of our visit to Iceland day four, through Priceline.com and in Egilsstaðir we stayed at the Guesthouse Olga, also known as Gistihus Olgu which was delightful and we were very comfortable there!
We had the basement suite which was much nicer than the name would suggest, as our room was spacious, had two single beds, a bathroom with washbasin and toilet, and a small kitchen area with a fridge, microwave, kettle and toaster.
The accommodation was very cozy and we ate our dinner relaxing outside on the front deck.
Guesthouse Olga, (Gistihus Olgu)
Egilsstaðir
Upstairs in the main part of the house were more guest bedrooms, two full bathrooms with showers and also a fully equipped kitchen for guests to use, including an espresso machine and unlimited amounts of coffee!
We were most comfortable there and really liked the town of Egilsstaðir which seemed prosperous and well kept, with walking trails and museums, hotels & guesthouses, restaurants and public facilities.
Egilsstaðir has a population of around 2,300 people and is a young community, even by Icelandic standards as it was established in 1947.
It has become the largest town in East Iceland and is a centre of transportation, service and administration and has a college, hospital and airport.
There were several places I would have liked to have visited, if time had allowed, one of which is Skriðuklaustur, which is an ancient manor estate in Fljótsdalur, located south-west of Egilsstaðir on road 933. Between the years 1493 - 1552 it was a monastery and in 2002 an extensive archaeological excavation took place on the ruins, and they are now open to visitors. 
Thank you for reading Our Visit to Iceland, day four, if you missed Day 1, Day 2 or Day 3 of our visit to Iceland, or if you'd like to see Day 5 Day 6 or Day 7, you can see them by clicking the links