OUR VISIT TO ICELAND
DAY THREE
   Here is our visit to Iceland day three, and if you missed our pages Visit to Iceland - Day 1,  Day 2, or if you'd like to see Day 4, Day 5, Day 6 or Day 7 click the links

Tip from our visit to Iceland day three ...
When you are in Iceland, you will not be able to purchase alcohol at a supermarket or grocery store, they don't do that here!  You can only buy alcohol at the state owned stores called Vínbúðin, so if you would like to enjoy a beer or a bottle of wine in your room, ask at the hotel or accommodation, where the closest location is.
Early in the morning of our visit to Iceland day three we said "good bye" to the Edinborg Guesthouse at Eyvindarhólar and took the main road, highway 1, east along the coast.
Today, our visit to Iceland, day three, involved a lot of driving, about 312 km, along highway 1, and we quickly reached the town of Vik (population 318), where we stopped to see the beaches of black sand and interesting rock formations, and it is also a great time to make sure you have enough fuel to continue your journey.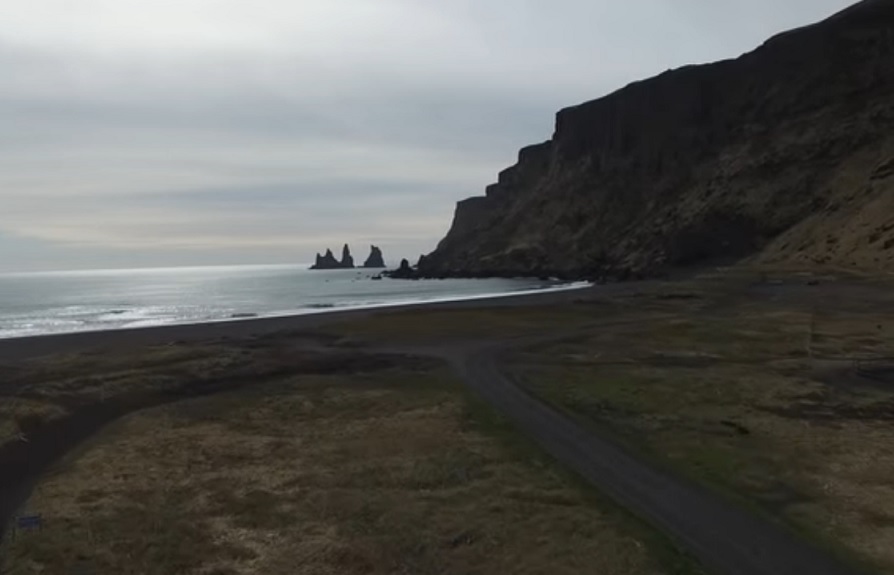 If you're a "Game of Thrones" fan, the black sand beaches and rock formations at Vik, seen above, may seem familiar to you, because some scenes were filmed here in Iceland.
We continued on, close to the community of Hof which is at the base of the peak, Hvannadalshnúkur, which is on the northwestern rim of the summit crater of the Öræfajökull volcano which is the highest volcano in Iceland.
I would have liked to take a look at Hof as it is a small farming community of about 100 people, but we had to press on and we continued on to Höfn where we had booked accommodation for our third night.  
There was some dramatic scenery during our visit to Iceland day three, and on the way ...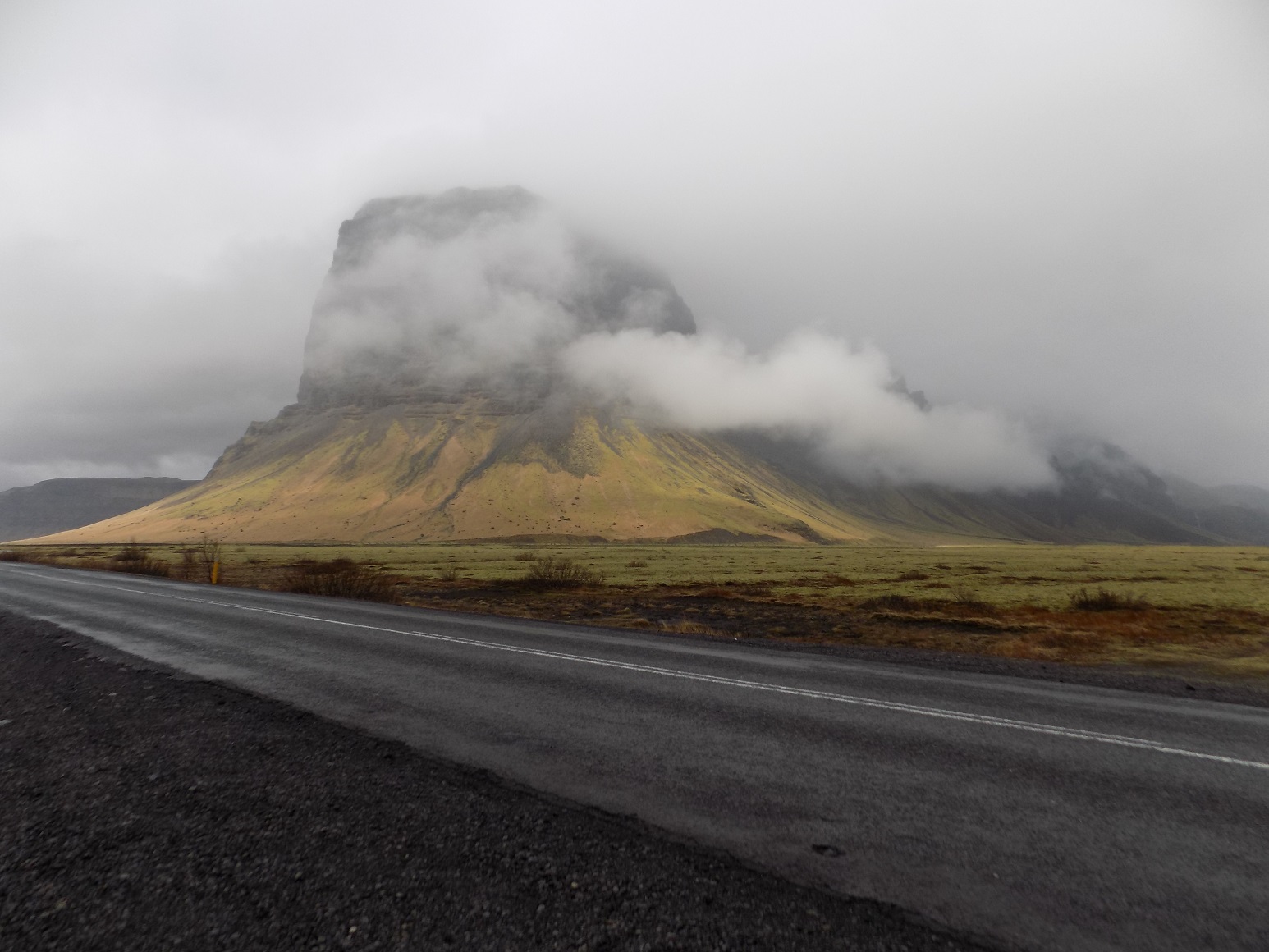 We passed through some amazing landscapes ranging from mountains, glaciers, and waterfalls, including the beautiful Seljalandsfoss shown below, black sand beaches and Jökulsárlón which is a glacial lake.
Seljalandsfoss from behind the falls
It is difficult to decide which pictures to include in this blog of our visit to Iceland day three, as we took so many, but the one below is one we took from the moving car because we had stopped so many times, we had to keep driving or we'd never get to Hofn!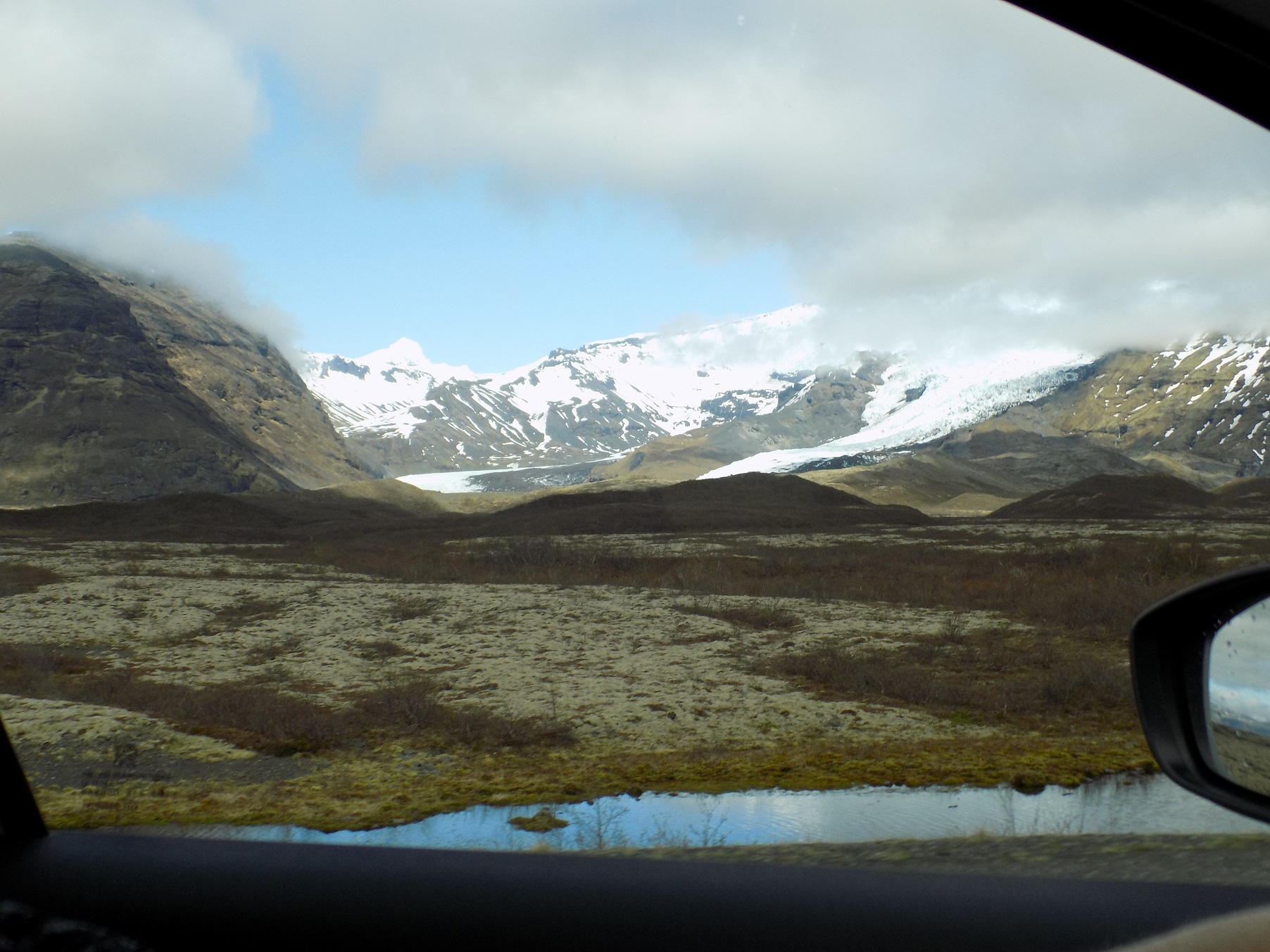 View from our moving car, unknown mountain and glacier
The blue, still, waters of the glacial lake Jökulsárlón, are full of melt-water and icebergs from the Breiðamerkurjökull Glacier, which is part of the larger Vatnajökull Glacier.
This lagoon flows through a short river into the Atlantic Ocean, where it leaves lumps of ice on the black sand beach.
It is possible to take a boat tour of the lagoon, one of which, Ice Lagoon Adventure Boat Tours, takes you out on the calm, icy water in a Zodiac.
We were told that in winter the lagoon fills with fish and attracts hundreds of seals.
Ice-filled Jökulsárlón lagoon
When we pulled into the parking area and walked to the top of the hills surrounding Jökulsárlón, there was absolute silence, no birdsong, no engine noise, nothing ... it was the most peaceful place I had ever been.
It was lovely to just sit and absorb the calm and peace on this, our visit to Iceland day three.
Later we drove further along to the larger parking lot where there is a gift shop and where you can get boat tours of the lake, and that was not quite so still and quiet!
Jökulsárlón glacial lagoon
The bridge carrying traffic on highway 1, over the river between Jökulsárlón glacial lagoon and the ocean
We had just rounded a curve and saw two glaciers far in the distance, which I thought were clouds at first, but as we neared them, I realized that they were glaciers!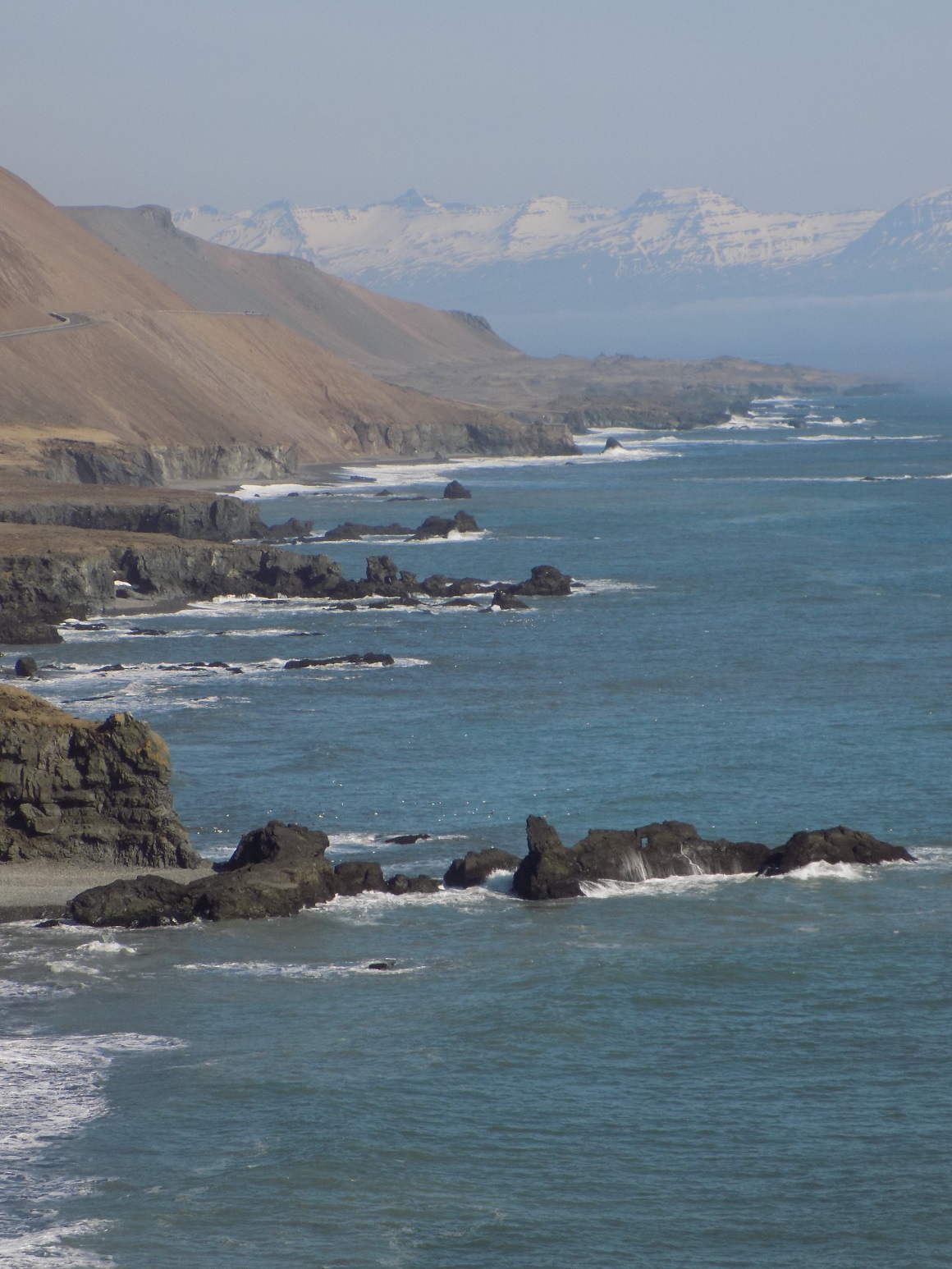 The beautiful scenery on the way east along the south coast of Iceland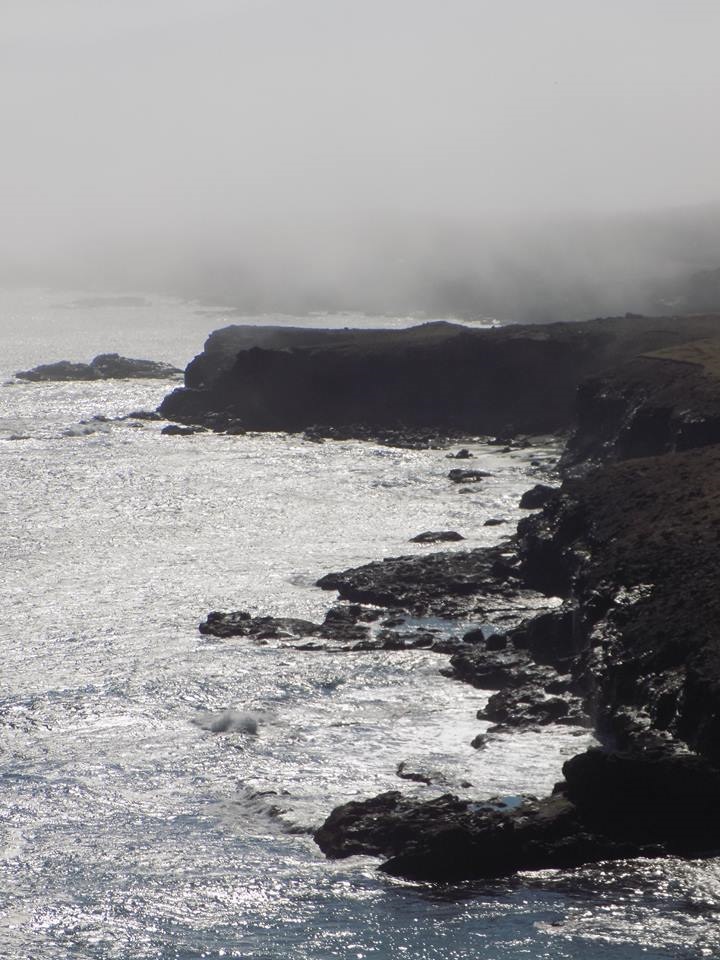 Breath-taking scenery along the rugged south coast
When we reached Höfn we stayed at the Guesthouse Hvammur which looked nice from the outside and was right on the harbour for the night of our visit to Iceland day three. We booked this, and other accommodation on our trip through Booking.com.
To get from our rooms down to the ground floor, it was necessary to take the outdoor stairs as there was no staircase inside the building, which was a little inconvenient if you wanted to get down to the kitchen to make tea.  
That wasn't a big problem in May, as the weather was mild, but could be a problem for guests staying in the colder months.
The rooms were small but clean, but the bathrooms were shared for the whole floor and were for both sexes.
Breakfast was available for an additional 1800 ISK ($22.00 each), which we declined.
One thing we did enjoy about Höfn was the hot springs we found about 14 km north of town, in a secluded spot.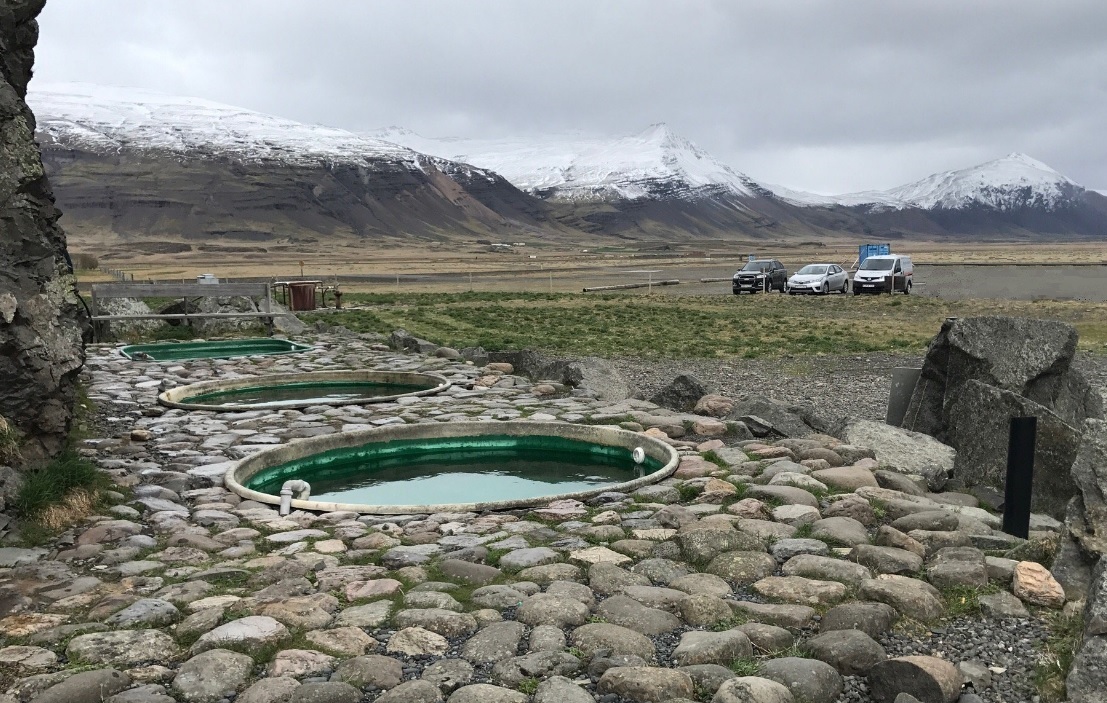 Hoffell Hot Pots with mountains in the distance
There are hot springs all over Iceland and some are free and some charge a fee - the one we visited suggested a 500 ISK ($6.50 CDN) donation, which we happily gave.
Here is the Tripadvisor info about the Hoffell hot tubs.
At this one there are changing rooms and in the hot pots there is a cold water hose so that you can make the water a little cooler, as it is extremely hot when it comes up from underground.
The Hot Pots at Hoffell, showing the changing hut in the background
Reindeer in the Mist at Hoffell
We went there in the early morning, before we checked out of the hotel, and there, in the mist, was a herd of wild reindeer which we watched as we sat in the hot water, simmering gently!
If you are interested in this and other natural hot-tubs in Iceland you may enjoy Hot Pool Hopping by the Frugal Frolicker!
Thank you for reading our Visit to Iceland day three, stay tuned for Day 4.
Thank you for reading about our visit to Iceland day three and if you missed Day 1 or Day 2 of our visit to Iceland, or if you'd like to see Day 4, Day 5, Day 6 or Day 7 just click on the links above!