TENNILLE ROSE WILL
Beautiful Artist ~ Beautiful Art
Tennille Rose Will was born in Leamington, Ontario, however, shortly afterward, her family moved to the small town of Aylmer, Ontario where Tennille spent most of her childhood.
She showed an interest and aptitude for Art from an early age, and Tennille spent her elementary and high school years drawing, painting, sketching, designing posters and doing sidewalk murals.
I have long been a fan of Tennille's art and remember 1996, when she enrolled at Brock University, in St Catharines, to study Fine Arts and Theatre.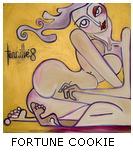 After returning from an exchange program to London, England, in her third year of university, Tennille decided, in the autumn of 1998, to set out upon a life of travel.
Once again, she crossed the Atlantic Ocean to London, England, where she earned her living through the sale of private commissions.
From London, she toured extensively throughout Western Europe before setting out for Australia, where she lived and worked for the next two years.
After several successful exhibitions and private sales, Tennille returned to Canada.
At the age of 29, Tennille was diagnosed with Type 1 (Juvenile) Diabetes and spent the following few months educating herself on this chronic disease, with the support of the staff of the Diabetes Education Centre at Toronto Western Hospital.
Would you like the opportunity to donate a small amount to Tennille, for her to purchase paint or canvas, so that she can continue her work of supporting the Diabetes Education Centre?
Paintbrush ...............$2.00
Set of Paintbrushes.......$9.50
Tube of Oil Paint ........$4.00
20" x 30" Canvas .........$18.00
Everything needed for one original oil painting ....$75.00
Any gift, great or small, will be received with thanks
Bless you for donating!

Part of her passion is to help raise money for those living with Diabetes through her Sugar Free Paintings Collection.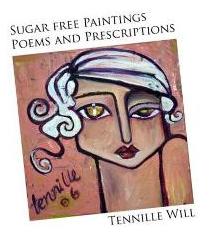 If you are interested in purchasing Tennille's book Sugar Free Paintings Poems & Prescriptions please click the link at the bottom of this page, which will take you to her website.
Sugar Free Paintings Poems & Prescriptions is her first book and contains both artwork that she created during her first year as a diagnosed diabetic, and also pages from the journal she kept as she learned more about the disease.
She created it to be used as a tool - to educate newly diagnosed diabetics, who often become overwhelmed with information.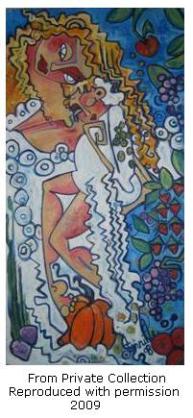 Tennille also hopes that it can serve as inspiration to them as well - although living with diabetes is difficult, it does not mean you have to give up on your life goals and dreams.
In purchasing this book, you are supporting the estimated 246 million people worldwide affected by Diabetes, and by educating yourself about this disease, and sharing this information with the people in your life, this is the first step in finding a cure.
You are also supporting the hundreds of Diabetics in Toronto, as the proceeds from the sale of this book go to the Diabetes Education Centre at Toronto Western Hospital.
Tennille currently lives and works in Toronto as a full-time artist, and her work is a striking array of emotion-filled female nudes, expressed through vivid colour and fluid lines.
Based upon her own experiences, Tennille's work is intriguing, and creates both excitement and serenity - hubby and I have a collection of her beautiful work.
Her belief is that we are influenced by animate and inanimate surroundings and she hopes her work will both contribute to and influence a more introspective society.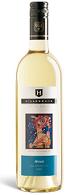 I have watched this talented young artist grow and develop her skill, since she was a little girl, and am awe-struck by her artistic ability - Tennille, you are an inspiration to me and I wish you even greater success in the future!
In 2009, the Hillebrand Winery of Niagara-on-the-Lake, chose one of Tennille's paintings to be one of a series used on their wine labels.
You can contact Tennille via her website for more information.

Tennille Rose Will Info ...
Tennille Rose Will - Canadian Artist This link will take to you the official website of Tennille Rose Will - this amazing young Canadian Artist!