AYLMER


ONTARIO
Home of the
Ontario Police College

Aylmer is the home of the Ontario Police College and is a great place for bird watching, and to view the annual Spring Tundra Swan migration.
The Swans rest in this area each year as they fly from their wintering grounds on Chesapeake Bay, to their Arctic breeding grounds.
Birdwatchers come from all over Canada to observe the mass migration of thousands of Tundra Swans in the Spring, and Birds of Prey in the Autumn.
This is a small Ontario town of around 7,000 people, is located in Elgin County, just north of Lake Erie and 20km south of Highway 401.
Named for Matthew Whitworth-Aylmer who was Governor General of British North America from 1830 to 1835, Aylmer is a pretty town with some interesting residential architecture.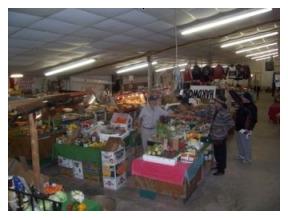 Let's begin our tour of this pretty town with a drive around the tree-lined streets to the south of Talbot Street, which is the main street, where you will see some beautiful homes.
Many of them are of styles that are typically Canadian, but there is also one that looks like it just stepped out of a Plantation in the Deep South! I think this house is lovely!
The market in Aylmer is on Tuesdays and is held between May and October from 8:00 am until 3:00 pm and is located at 51 Murray Street.
Market day is when you are most likely to see our Amish and Mennonite neighbours who live in this area and you will see their horses and buggies parked in front of the market alongside the cars and trucks.
The Amish women and girls dress very plainly, in their black, navy blue, or brown dresses, and always have their hair modestly covered by their caps.


This picture was taken on Market Day - the horses are waiting patiently for their owners.
The Old Order Amish community is located just east of the town of Aylmer and there, farm life continues the way it has for generations, as the Amish still maintain their horse-drawn farm equipment, and as you drive through the country roads the families can often be seen working in their fields and gardens, gathering the fruits of their labours.
If you are interested in finding out more about the Mennonites in this area of Ontario, then click this link for more information.
Aylmer is the home of the Ontario Police College, which is located north east of the town centre, on Hacienda Road, and is on the site of the former Royal Air Force Training Facility. The Ontario Police College, has been in existence since 1963, and on it's present site since 1976.
New recruits from all Municipal Police Departments in Ontario pass through the OPC for their basic training, and many of them return for Advanced Training later on in their careers.
Just a 5 minute drive south along County Road 73 from here, will take you to the beach at Port Bruce.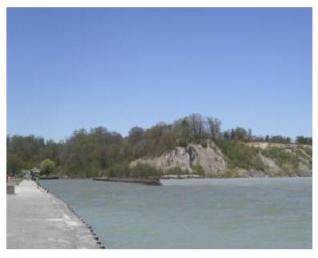 The beach here is a little pebbly and the water can be rough, but the view of Lake Erie is wonderful, with the cliffs towards Port Stanley on your right and a glimpse of Long Point in the distance to your left.
My brother-in-law, Bob, tells me that there is great fishing from the pier at Port Bruce - Pickerel and Perch - yummy!
The photo here on the right was taken from the pier at Port Bruce and shows the Bluffs which overlook the lake.
If you are driving around this area in spring, take a look at the Wildlife Management Area next to the Police College, just watch for the sign on Hacienda Road, to the south of the College. Drive along the lane and go to the back and look to see if the Tundra Swans are there.
There is a viewing area for the public to use, which gives you an excellent view of the pond and the birds.


I took this picture of the Tundra Swans in March and you can see some of the many the Tundra Swans and Canada Geese on the pond.
The Swans usually arrive in early March and the migration takes about three weeks to pass through this area. Each spring sees tens of thousands of them as they stop here to rest on their northerly migration from Chesapeake Bay to the Arctic Circle to breed.
There are usually great numbers of Canada Geese also to be found here in the Spring and Summer , and often there are many different species of Duck , Merganser and Teal resting and feeding here, so take your binoculars, you never know what rare bird you may see.
---
Pinecroft Pottery & Tea Room
is a wonderful, relaxing place to visit for a meal or just coffee and home-made dessert - try their mouth-watering Apple Dumplings, they are divine!
Plan to spend some time there exploring the property, where there is a working pottery, 54 acres of Pine Forest with a lovely lake, and a great Gift Shop.
Located on Rogers Road South, which is on the west side of Aylmer, follow the signs.
It is always wise to telephone first to check if a reservation is required, and note that they are open for light meals, only until 4pm - Phone: 1-519-773-3435
Although tobacco smoking is not the socially acceptable activity it once was, the Aylmer area has long been a tobacco growing area.
If you are driving along Lake Erie, to the south of town, watch for the fields of tobacco, which is grown in that area.
In 2005 the town's biggest employer, Imperial Tobacco, announced that the Aylmer tobacco processing plant would close in early 2007, which has effected the local economy and many local families.
In 2004 the East Elgin Community Centre opened it's doors and can accommodate 600 people in the banquet hall. In addition there are two skating arenas at the Centre and 13 changing rooms, making this a great asset to the community and the township of Malahide.
Springwater Conservation Area
, which is between St Thomas and Aylmer is a popular campground. Turn south onto Springwater Road at the village of Orwell, between Aylmer and St Thomas and the entrance to the campground is on your right and the Day Use area is on the left.
While you are in Aylmer you could try one of our two favourite restaurants. Johnnie's on the main street is a diner that serves good, wholesome food in generous portions. There is usually parking right outside, so you won't have to walk far.
If you are heading west from Aylmer, take a detour at the hamlet of New Sarum, and have dinner at the New Sarum Diner - we have been dining there for 25 years and have never been disappointed. We often order the Chef's Kitchen Salad, which is huge and has chopped boiled egg, chicken, cheese and ham - it is delicious and really good value for money (which is really important when you are English & Dutch!)
---
Aylmer Info ...
For Information about Police Training, check out their site
Check out their website for information about the annual Tundra Swan Migration and area bird life
Pinecroft Pottery & Green Frog Tea Room
Spend some time in this enchanted place, a great place to have lunch and to spend an afternoon, Pottery, Art Studio & Tea Room
Located on Springwater Road, south of Highway 3, Springwater Conservation Area is great for spending a day hiking, fishing, cycling or just sitting on the beach and watching the kids play! Good camping facilities for tents or caravans
Return to the top of Aylmer page