Oshawa Possum
by Charlene
(Oshawa, Ontario, Canada)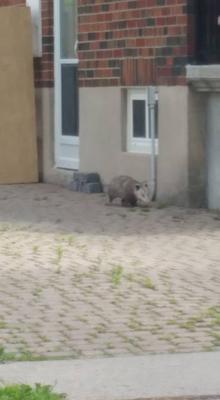 Saw one this morning in the area of the Oshawa hospital.
It took me by surprise as I was pulling out of my driveway.
I pulled over to take a picture and it stopped, looked at me, then decided I wasn't worth its time and it carried on down the boulevard.
That is a pretty big Possum!

I will post this on our facebook page so that our facebook followers can also enjoy your pictures.
Join in and write your own page! It's easy to do. How? Simply click here to return to Possum sightings 2016 & 2017.