Broken Hearts, New Beginnings and Still Hoping for a Miracle
by Gianna K.
(Toronto, Ontario)
NEW UPDATE - We now have more pictures of Gianna's baby Robin - On April 20th my children and I were thrilled to find a Robins's nest in the tree right against our front porch. We couldn't believe it was in the same spot as last spring,and are convinced that it is the same mother as last year. Last spring two beautiful eggs hatched into two even more beautiful babies. We watched their development every day until they flew away. Lots of tears, but we expected them to leave.


This time we had 3 eggs. They hatched without any problems on April 30th 2010. We took a picture of them each day to see how they were changing.
We had named the parents Jackie and Robinson (as my son's baseball league had started the same week)and the babies, Hank, Mickey and Joey D. We truly fell in love with them. Every few hours the changes in them were incredible.
Yesterday my children and I went out for a visit and to our horror, the nest was gone. We had had quite the wind storm the night before. Last year on windy days we tied the tree to our railing so it wouldn't bend. They picked the flimsiest most unstable tree in our front yard to nest in. This time their nest was much bigger and very deep. I was not aware of the wind until morning.
I looked over the railing and saw the nest on the ground. I started screaming and ran downstairs to the side of my porch crying and praying for some little miracle to have happened. The mother and father were watching from my neighbour's tree.
The nest was intact other than a loonie sized hole, but there were no babies. I finally found one way under the tree, he did not make it. One was missing completely. My husband came home and saw how devastated we were. We went outside again and the mother was standing beside the one baby. All of a sudden she flew away, but the chirping continued. There was this tiny beautiful baby sitting amongst all these sharp branches growing way deep underneath our tree. I called wildlife control. The story of human hands touching a baby bird is a myth. Thank g-d! I picked up the nest and planted it firmly into a 4ft tall very sturdy bush with some shrubs overhanging the top of the nest. I then reached into this mass of tangled branches and gently lifted our little miracle out. I put him in the nest and we all waited inside the house and watched to see what would happen.
The mother or father came within ten minutes with a worm,the baby opened his huge beak and they were together in the nest. I don't know where my tears began and where they stopped yesterday.
Today came another setback ..... RAIN AND COLD! I was really upset now. After everything this little angel went through, now we had to worry about nature's cruel elements yet again. I took out hedge clippers (there is a first time for everything) and in the pouring rain I cut two almost foot-long pieces of shrubbery from the same kind of bush at the front of my yard. I made a little tent or roof over the nest, enough to shelter our little one from the rain, but open enough for the parents to get in the
nest to warm him and feed him.
Again we waited.
The adult bird flew down from my neighbour's tree and fed him again. I have checked him every few hours but now this awful storm is getting worse (May 7th - 8th).
I don't know what else to do. He is sleeping, but the wind is blowing the rain in the direction of the open end of the nest. He is getting sprayed but not soaked. It is so wet out and cold and I am terrified as to what I will find tomorrow. I truly never thought I would become so emotional about a bird. I absolutely love animals, especially dogs, but this particular little family oddly enough became a big part of our family.
Yesterday we had a little funeral for the one baby we found. My daughter filled a little white box with tons of kleenex, we put the baby in it, attached a note to the front asking G-d to please bring him to heaven and to find his other little brother so they can be together. She is too young to understand the actual concept of what was actually going to happen. Burying him was unthinkable according to her. We left the box for G-d to take, and she was very happy in the morning that the box was gone and in heaven.
All I can say is I pray with all my heart, that this beautiful little baby bird born April 30 2010, gives us another miracle and survives this horribly cruel weather.
In just one more week he should start to fly and this time I will shed tears of joy at his healthy departure, and look forward to next years new little batch of miracles.
Please, please little precious one, be okay! I know this probably sounds crazy, but for some reason this little baby has really pulled on my heart strings more than I ever thought possible. The kids and I adore you, we hope for a miracle for you, and we hope for a new beginning for you, especially after all you have gone through. We love you!!!!!!! Be safe!!!!
I too, hope your little bird survives this cold, windy night - bless you for caring for these little creatures, and for teaching your children to nurture and care for animals who need care and assistance.UPDATE
Here are the photos of the baby Robins in Gianna's yard - thank you for sending them to us.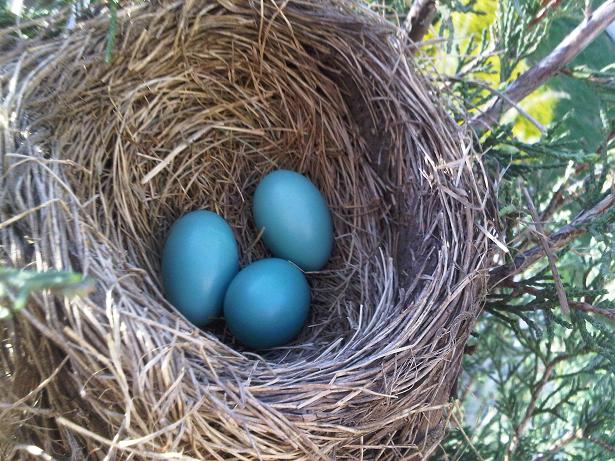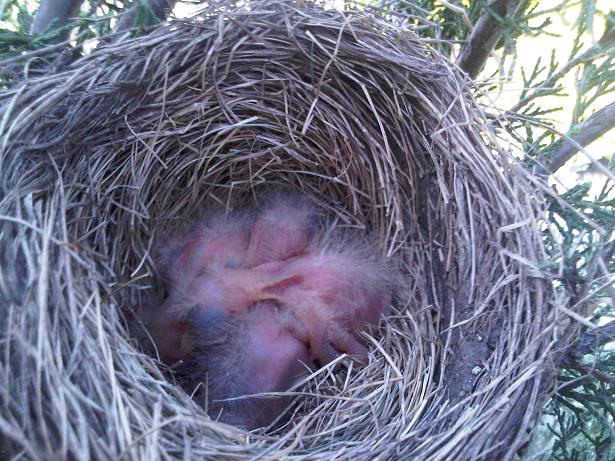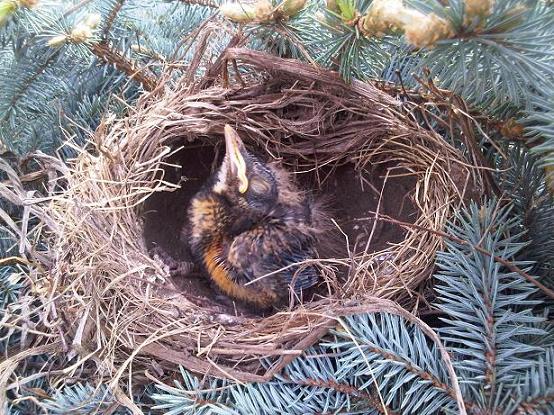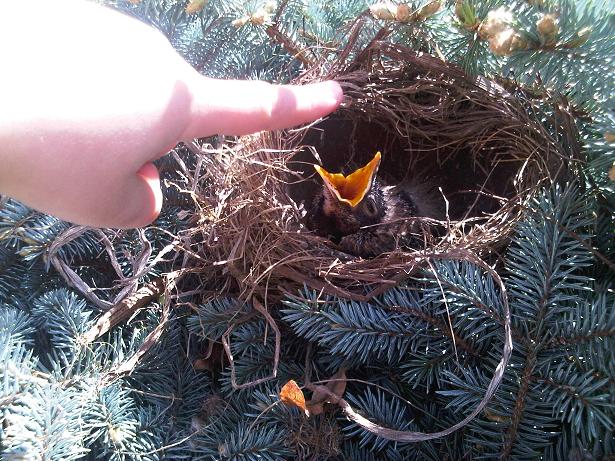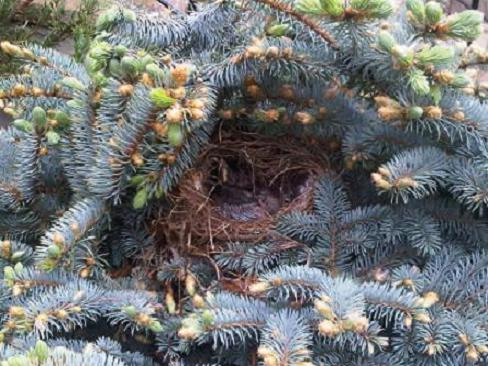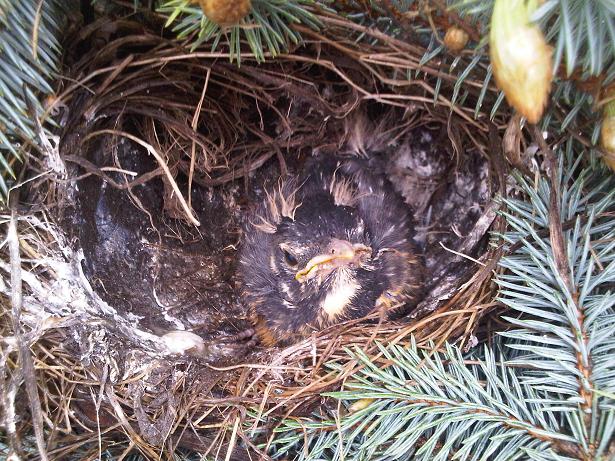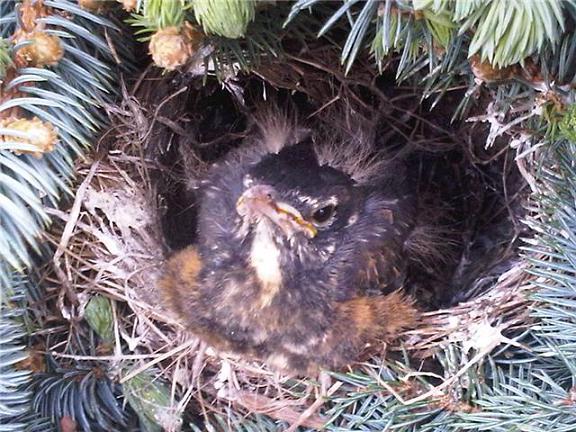 May 10th 2010 (Morning)
- This is our little guy this morning. He is getting bigger and sweeter every day. We had a rough couple of days, but he seems great. My only concern is that I haven't seen either parent around yesterday or today. Last night he hopped out of his nest and couldn't get back in. He was about to blow of the bush, but I let him jump on my finger and I tucked him to the back where he would stay warm. This is a picture of him just now.
May 10th 2010 (Afternoon)
You won't believe this...I just dropped my daughter off at school, came back , and one Robin (the father I thought) hopped in the nest with a worm. I was crying tears of joy. Two minutes later in hopped the Mom. I can't believe it. Never in my life did I think something would mean this much to myself and my children.