DONALD SUTHERLAND
Born in St John, New Brunswick, Canada
I have made sure that Donald Sutherland is close to the top of my list of favourite Canadians, as one of my favourite films is "Eye of the Needle" released in 1981.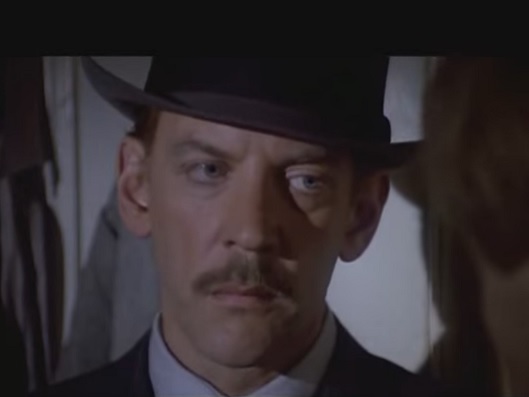 One of the most exciting scenes from the movie, is the scene where Faber is confronted by paralyzed RAF commander David, played by Christopher Cazenove, husband of the woman he loves.
He has appeared in over 150 different shows and films starting in the mid-1960's, when he got some small parts in British movies and television, including roles in horror films such as "Castle of the Living Dead" (1964) and "Dr. Terror's House of Horrors" (1965) with Christopher Lee.
He then appeared in two episodes of "The Saint"and then his big break "The Dirty Dozen" (1967)with Lee Marvin and Ernest Borgnine which was the first of three War films.
The next was "M*A*S*H" (1970)as the character Benjamin Franklin 'Hawkeye' Pierce - later played in the popular TV series by Alan Alda.
Eye of the Needle - Donald Sutherland and Kate Nelligan
Then came the movie "Kelly's Heroes", with Clint Eastwood and Telly Savalas, in which he played tank Commander Sgt Oddball.
Currently, he is in the TV series "Dirty Sexy Money" playing the role of Patrick 'Tripp' Darling III
There followed many roles including the character Lucien Wilbanks in "A Time to Kill" and Dr Norman Bethune in the movie "Dr Bethune", and Liam Devlin in "The Eagle has Landed"
One of my favorite roles is that of Mr Bennet in Jane Austen's "Pride and Prejudice", and more recently he played the role of President Snow in "The Hunger Games".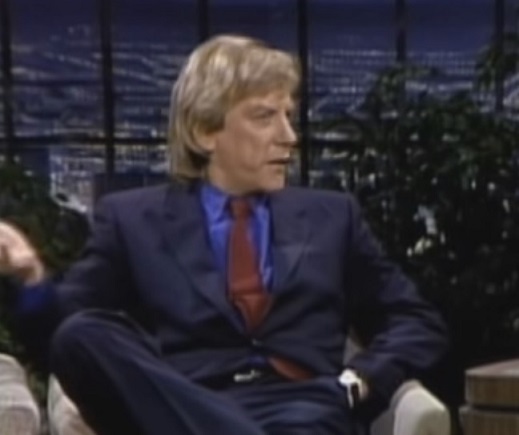 Mini Bio

Born July 17, 1935 in St John, New Brunswick
Graduated from University of Toronto with degrees in both Engineering and Drama
Father of actor Kiefer Sutherland
Measures 6' 4" tall
Awarded the Order of Canada on 18 December 1978
Inducted into Canada's Walk of Fame in 2000                                      2019, Companion of the Order of Canada
Donald Sutherland is the father of actor Kiefer Sutherland
DONALD SUTHERLAND INFO ...
Internet Movie Database - info
This site has lots of info about this great Canadian actor, biography and film & TV credits
Wikipedia - info on Donald Sutherland
Biography and information about this famous Canadian
Yahoo! Movies - D Sutherland A full list of Movies and TV series' in which this famous Canadian has performed.