RON FELLOWS
This article was submitted by Dan from St Thomas, one of our readers.
He tells us about Ron Fellows, one of his favourite
Canadian Sports personalities.
---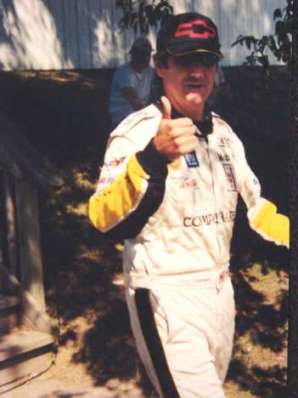 Here is something for your website - it is about one of my favourite Canadians.
Born September 28, 1959 in Windsor, Ontario, Canada, he became interested in racing as a child, becoming a follower of French-Canadian Formula One driver Gilles Villeneuve. 
He made his professional debut in 1986 in the Player's GM Challenge, driving a showroom stock Camaro. In 1989 he captured both the title at Mosport Park and his first SCCA Trans-Am Series race during the same weekend.
His career really took off as he became one of the most successful drivers in the history of Trans Am, with 19 wins in 95 starts.
He then had TWO starts in the famous Ferrari 333SP, including a 1997 win at Mosport Park in the Professional Sports Car Series.
He has also had various stints in the Craftsman Truck Series, Busch Series, and Nextel Cup Series, as a "Road Course Ringer".
He has 2 wins and 3 poles in the Craftsman Truck Series, and won twice at Watkins Glen. He has had even greater success in the NASCAR Nationwide Series, where he has 4 wins and two poles in 6 starts.
He was also the first non-American to win a NASCAR Nationwide Series event - Yeah Canada!
In 2013, Ron bought the Canadian Tire Mosport racetrack, located east of Toronto, north of Bowmanville, Ontario.
According to Wikipedia he lives near Toronto with is wife and three children and is an avid Toronto Maple Leafs fan!

This is why Ron is MY favourite Canadian!
---
Thanks for your article Dan!
---
Ron Fellows Info ...
Ron Fellows website
Here is a link to a really great website about this great Canadian Race Car driver