WILLIAM SHATNER


Actor and Author

During the early 1970's I tuned in to "Star Trek" to hear William Shatner say "This is Captain James T Kirk, Commander of the Starship Enterprise" - those were the words which opened the program, which is now a cult classic.

You can watch a Youtube tribute to Captain James Kirk below!

Even in England, we were glued to the TV for our weekly Star Trek episode, and frankly, I watched it mainly to see Bill perform!
Early in his career he trained as a classical Shakespearean actor and, along with Christopher Plummer, performed at the Stratford Festival in Stratford , Ontario, where he played a range of roles in their Festival productions. Those included Shakespeare's "Henry V" and Marlowe's "Tamburlaine the Great".
He made his Broadway debut in Tamburlaine and in 1954, he was cast as Ranger Bill on the Canadian version of the "Howdy Doody Show".

In addition to the hugely popular "Star Trek" TV series, between 1979 and 1991, he also played Captain Kirk in the first six Star Trek films, and directed the fifth, and in 1973, returned to the role, by being the voice of Captain Kirk, in the animated Star Trek series.
Between 1982 and 1986 Shatner played a Police Sergeant in the TV show T J Hooker as well as hosting the series Rescue 911 which won a People's Choice Award for being the favourite new TV dramatic series.

William Shatner is also an author of Science Fiction literature, and wrote the "Tek War" series of books, and has many movies to his credit including "Airplane II: The Sequel" (1982), "Loaded Weapon 1" (1993) and "Miss Congeniality" (2000).

In addition, he is has performed in many TV series's, from T.J. Hooker between 1982 - 1986, the latest of which are "Boston Legal" and "The Practice".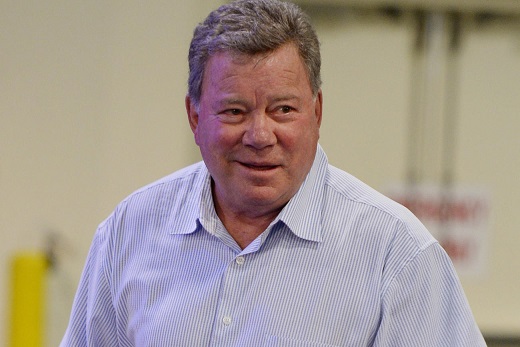 Mini-Bio
Born - March 22, 1931 in Montreal, Quebec
Has been married four times
Has three children
Earned his Bachelor's degree in commerce from McGill University
Breeds Horses
Speaks fluent French

William Shatner Info ...
IMDb website
the most informative website I have found with information and trivia about this great actor.
The official William Shatner website
This is the website williamshatner.com - Bill's own website where you can get the latest up-to-date information about this actor, author - links to his Fan Club
Canadians.ca
This Canadian website has information about this actor and links to other websites