ALANIS MORISSETTE
Canadian Musician, Singer, Songwriter
Alanis Morissette was born June 1, 1974, in Ottawa, Ontario, Canada, the third of three children, younger than her twin brother by 12 minutes!
Her parents were teachers in a Military School and the family often had to move and so the Morissette family lived in the Black Forest area of Germany when she was between 3 and 6 years old, at which time they returned to Canada and when she was six years old she  started to play the piano and at the age of seven, she began dance lessons.
Alanis Morissette recorded her first demo called "Fate Stay with Me", produced by Lindsay Thomas Morgan at Marigold Studios in Toronto, and a second demo tape was recorded on cassette in August 1989 and sent to Geffen Records, but the tape was stolen in a burglary at the label's headquarters in 1989, and has never been heard.
In 1991, MCA Records Canada released her first album, "Alanis" which was only released in Canada. Morissette and the album's producer, Leslie Howe, co-wrote every track on the album. The album went platinum and its first single, "Too Hot", reached the top 20 on the singles chart.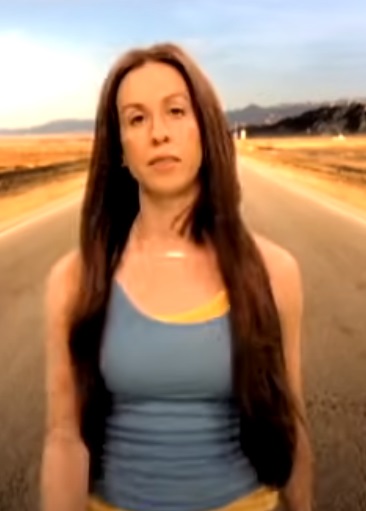 Subsequent singles reached the top 40 and her popularity grew. She was a concert opening act for rapper Vanilla Ice. 
Morissette was nominated for three 1992 Juno Awards, including "Single of the Year", "Best Dance Recording" and "Most Promising Female Vocalist of the Year", which she won!  
In 1993, her publisher, Leeds Levy, introduced her to manager Scott Welch.  
Welch told HitQuarters he was impressed by her character, lyrics and her "spectacular voice".
At this time she was still living with her parents and it was decided that it would be best for her career for her to move to Toronto and start writing with other people, so after graduating from high school, Alanis moved from Ottawa to Toronto. 
She met producer and songwriter Glen Ballard who had faith in her talent and let her use his studio. The two wrote and recorded Morissette's first internationally released album, "Jagged Little Pill".

By early in 1995 she had signed a deal with Maverick Records and that was the year she learned to play guitar.

Back then, according to her manager Scott Welch, apart from Maverick, every label they approached declined to sign Morissette.