PORT DOVER


Ontario

Port Dover is located in Norfolk County and is on the shore of Lake Erie at the mouth of the Lynn River.

This quaint resort town has experienced great growth in last few years and now has a population of around 6,000 people.

In 1794 the area was first settled by a group of United Empire Loyalists, and at that time the town was known as Dover Mills and during the War of 1812, American soldiers burned the community down.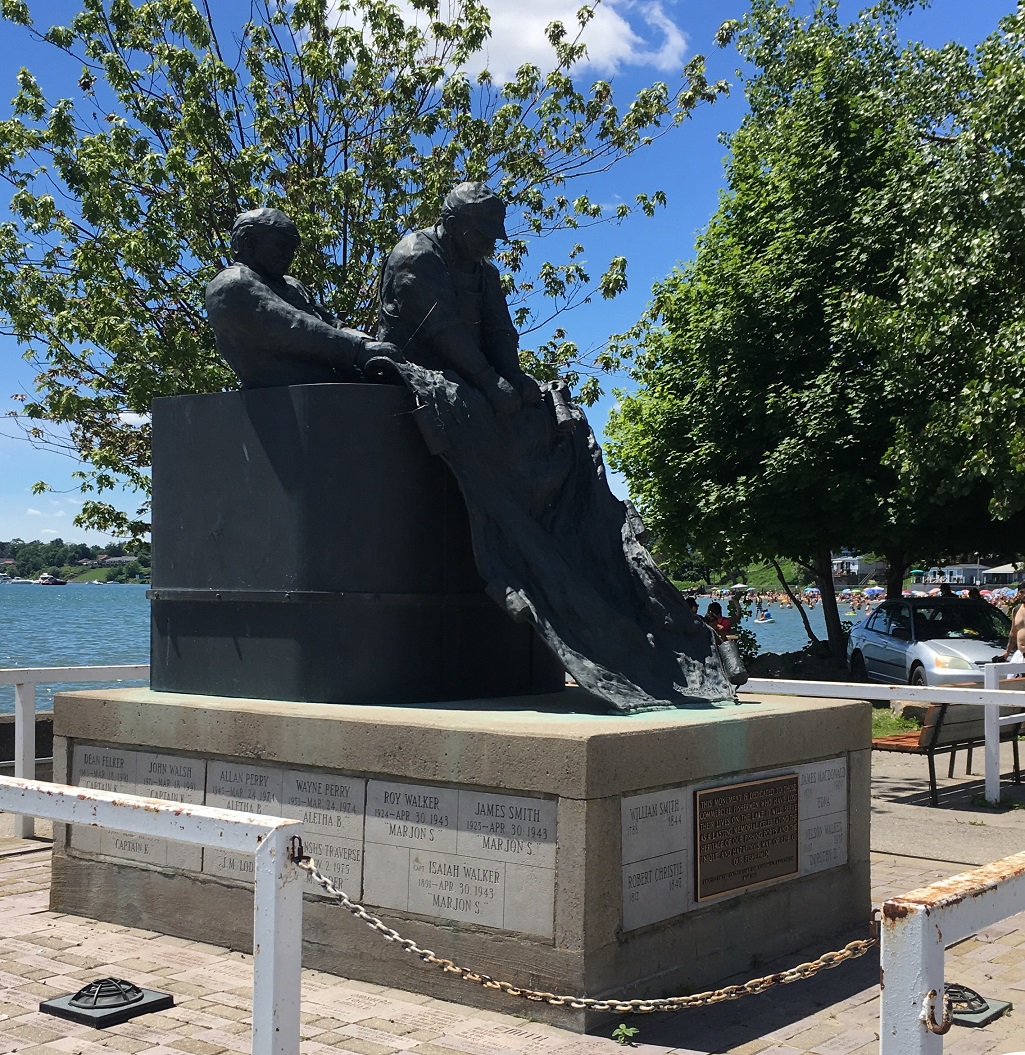 Fishermens' Memorial Port Dover

Port Dover was once a principal Harbour on Lake Erie at one time had the largest fresh water fishing fleet in the world.
There is an interesting Fishermens' Memorial on the Pier in memory of all those who have lost their lives in the fishing industry.
I think that we often overlook the dangerous conditions under which the brave fishermen work, to provide us with the bounty of the Lakes. When you are in Port Dover, take a moment at the Memorial to remember them.
To the uninitiated, like me, who know that fish comes deep fried in batter - fishing is a mystery, but apparently those who love to fish, can find excellent fishing around here!

On a recent visit to this village, hubby and I spent a lovely, restful hour on the River Rider scenic river tour - a relaxing hour-long ride up the Lynn River where you can see the beautiful riverside homes, the Port Dover Yacht Club and the wild beauty of the reed beds and natural areas of the river.
Each Friday 13th throughout the year, thousands of Motorcycle riders and enthusiasts gather in Port Dover - the Bikers' gathering attracts tens of thousands of people from all over Canada and USA. sometimes as many as 75,000 bikers and spectators at a time!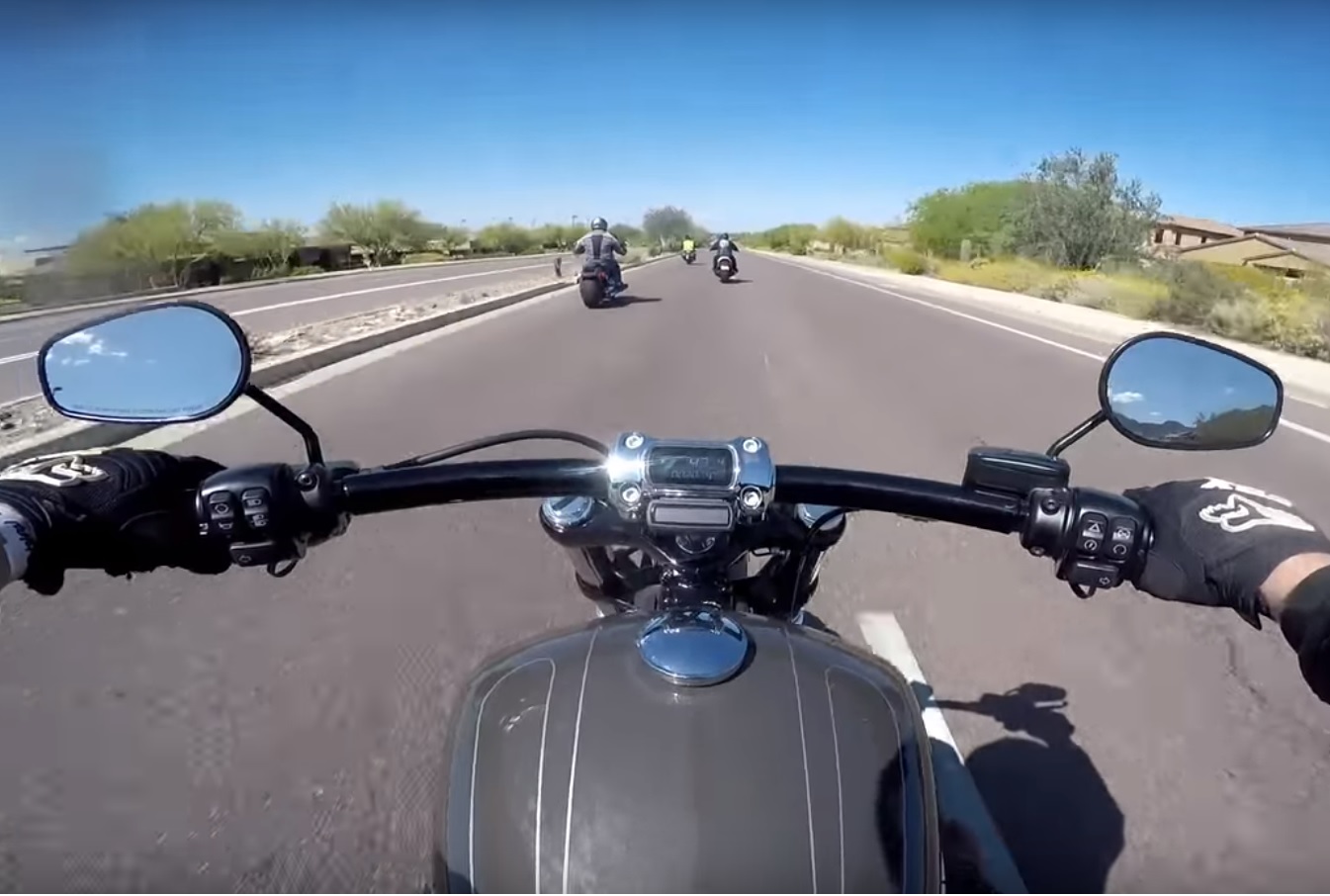 Friday the 13th Motorcycle get-together at Port Dover

Usually when my family head for Port Dover, we go for a fish dinner at Callahan's Beach House Restaurant on the beach. Their fish dishes are superb and we always have an enjoyable meal.
The waiters and waitresses are all wearing Tee-shirts ... I love the slogan "Keep Calm and Eat Perch"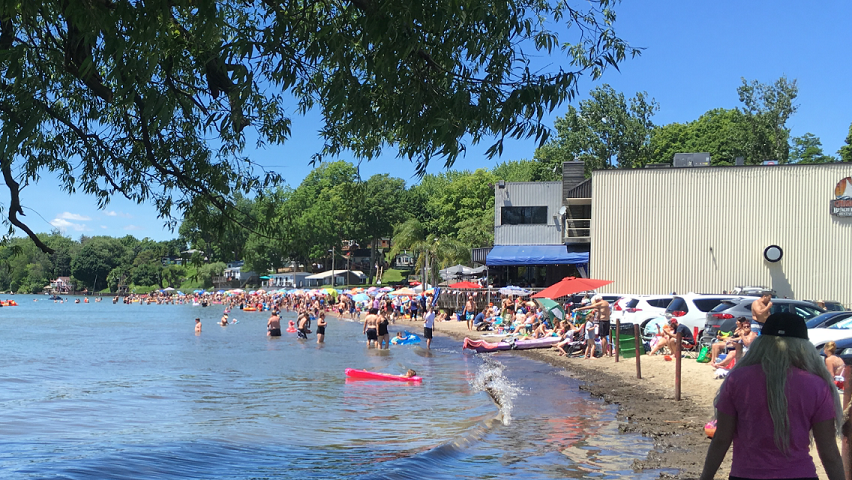 Callahan's - The Beach House, 2 Walker St, Port Dover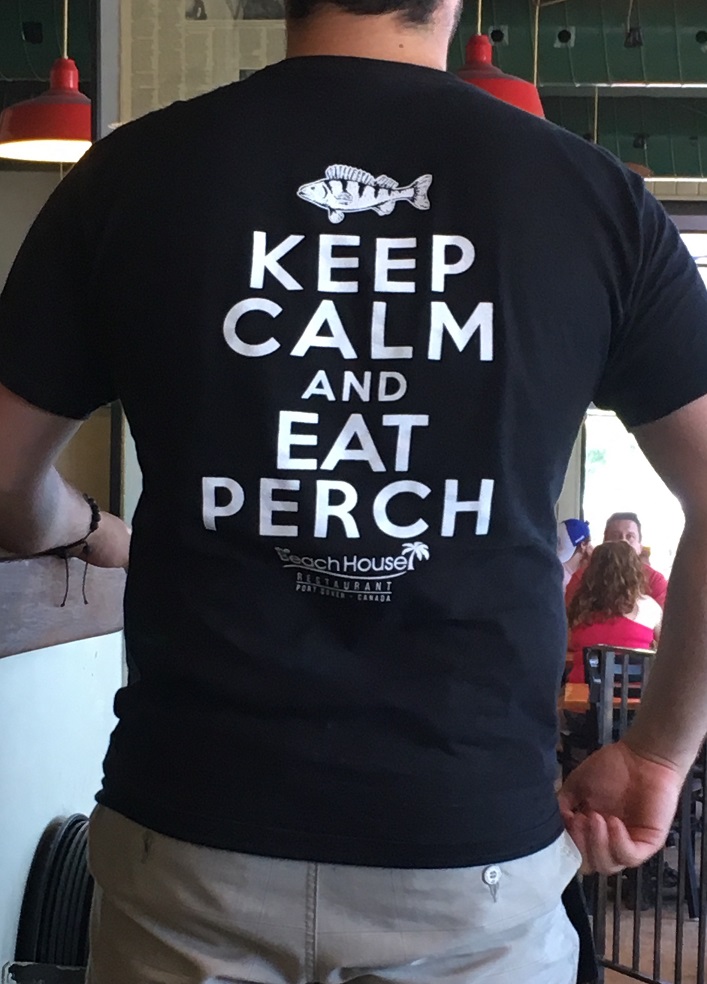 You may dine in the restaurant or outside on the patio, where you have lovely views all summer long.
In summer, Port Dover can be incredibly busy with day trippers and people taking their annual vacation. 
On Canada Day we took a drive there and the little town was packed and we couldn't find anywhere to park, but we did eventually and had a leisurely walk along the pier and on the beach.
The beach and lake front area were busy with Seadoos and pleasure boats of all sizes, families with children and senior's out for a stroll.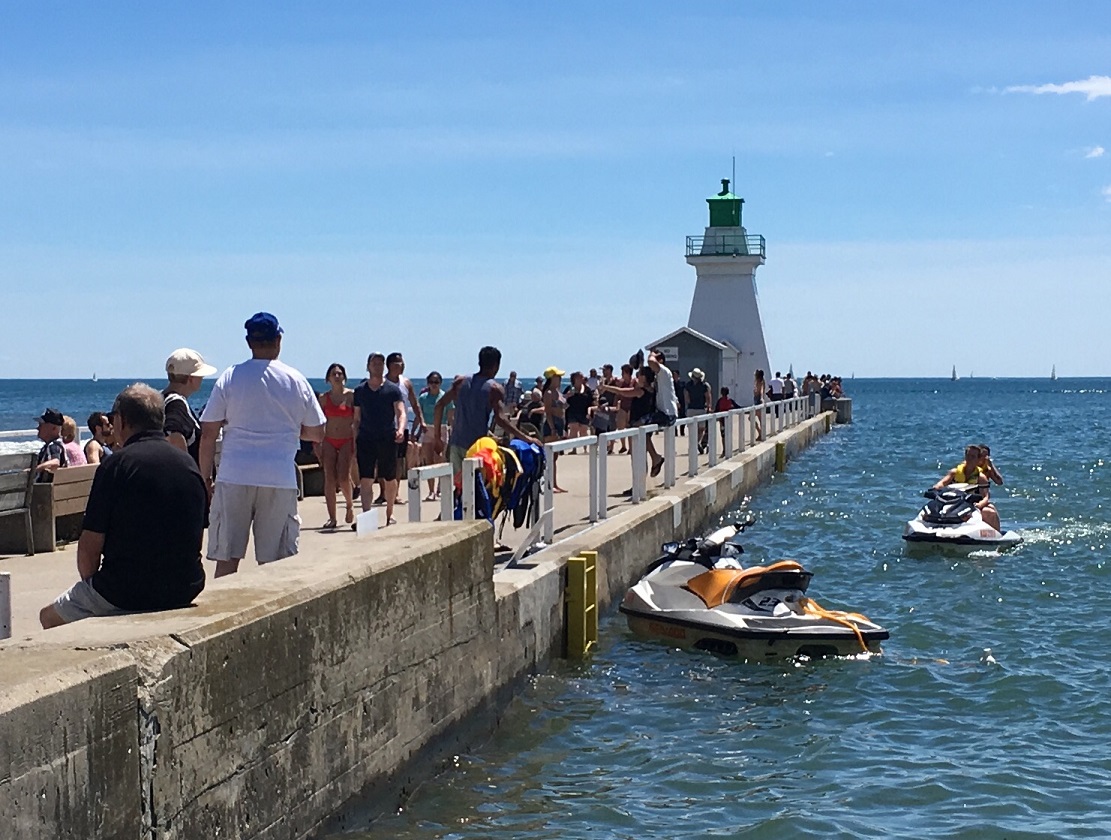 Port Dover Pier
Summer Stores near the beach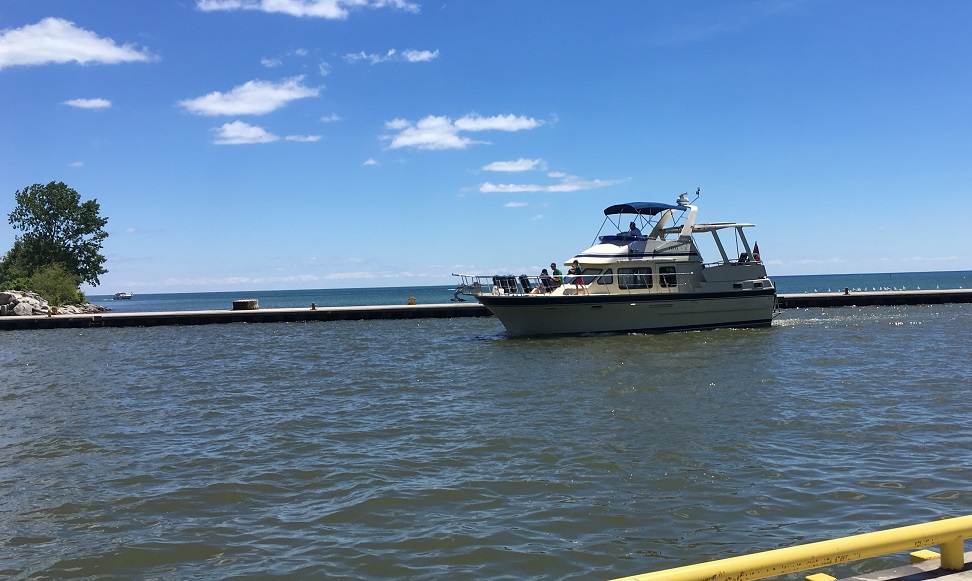 Pleasure boat coming in off the lake
There is a Summer Festival in town held at Powell Park, you will find Arts, Crafts, gift ideas and games - this annual event is held in August. As soon as I know the dates of the Summer Festival next year, I will post them here on this site. 
Also in Powell Park you can enjoy the Summer Evening Band Concerts each Sunday evening at 6:30 pm throughout July & August.
In nearby Simcoe you can catch the Norfolk County Fair & Horse Show, where they are proud to be celebrating 169 years of their Fall Fair.
On November there is an unusual Santa Claus arrival - I have seen lots of Christmas Parades, but this is the only one I have ever seen where Santa arrives by fishing boat!
The jolly fellow arrives on a tug boat then parades through town where there is a community bonfire, Christmas Caroling and fireworks.
After the Santa Claus parade, the local merchants have Moonlight Madness shopping until late in the night and this is the official start of the Christmas Season in town!
Hubby and I recently spent a delightful couple of days here in Port Dover, and we stayed at a quaint Bed & Breakfast.
The Dover House Bed & Breakfast was a peaceful haven of rest for us, and we were so comfortable there, thanks to our hosts, Jane & Peter, who made sure we were most comfortable!
Port Dover Info ...
Port Dover Friday 13th Motorcycle Information

Photograph of the Fishermen's Memorial on this page
is reproduced by kind permission of
Jeff Rozema