COOPERS HAWK
(Accipiter cooperii

)
The Coopers Hawk is a North American bird of prey found  across the continent.
They were first observed and described by Charles L Bonaparte in 1828 and identified as a member of the Goshawk genus, Accipiter, and then named for the naturalist, William Cooper who was one of the founders of the New York Lyceum of Natural History, which later became the New York Academy of Sciences.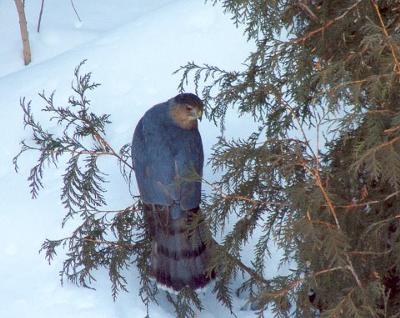 Adults have red eyes and have a black cap, with blue-gray upper parts and white underparts with fine, thin, reddish bars. Their tail is blue-gray on top and pale underneath, barred with black bands.

Cooper's Hawks are faithful mates, not necessarily for life, but they pair bond and raise their young together.
As in other birds of prey, the female Cooper's Hawk is larger than the male, weighing between 12 - 24 ounces and has a length of 17 - 20".  Males weigh around 7.5 ounces and 15 ounces and measure between 14" to 18" from beak to tail-tip.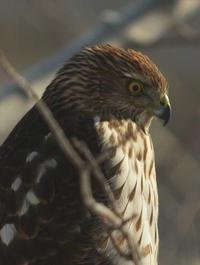 These raptors have a wingspan which ranges between 24" to 37" and their wings have a rounded tip and a fairly long tail and are smaller than a Red Tailed Hawk.

Couples perform a mating ritual which, according to Wikipedia, includes stylized flights with the wings positioned in a deep arc. During their flight displays the male will begin by diving toward the female. A slow speed-chase follows involving the male flying around the female exposing his expanded under tail coverts to her. The male raises his wings high above the back and flies in a wide arc with slow, rhythmic flapping. Courting usually occurs on bright, sunny days, in midmorning.
They typically raise one clutch of eggs each year.
They build their nests of sticks in large trees, preferably in forested areas, and lay between 3 and 5 blue eggs in a nest made of sticks, usually high in the branches of pine, oak, beech or spruce trees.
The eggs are incubated by the female for around 30 days or more, and the little hatchlings are fully fledged (feathered) by 30 days old and by 8 weeks of age are fully independent.
A similar, but smaller, raptor is the Sharp-shinned Hawk and they are both often observed at bird-feeders where they are looking for an easy meal.
Coopers Hawk Info ...
Cooper's Hawk - All About Birds
Picture of girl in red shirt with books  4542997Anatoly Tiplyashin|Dreamstime.com 

---
Have you sighted a Cooper's Hawk? Let us know!
Do you have a report or pictures of a Cooper's Hawk in Ontario? We would love to see them!
What Other Visitors Have Said
Click below to see contributions from other visitors to this page...