WHITE SQUIRRELS
Cute and Unusual
North of London, Ontario, in the town of Exeter and the surrounding area, there are found rare White Squirrels.
These appear to be an unusual colour variation of the more common Grey Squirrel which is widespread in Southern Ontario.
Some readers have reported seeing white squirrels with red eyes, which makes them likely to be albino squirrels.
Below are the reports from many of our readers, of their sightings across the area, so if you have seen them, have taken a picture of them, or know where to find them, please share your story (and any pictures you may have), as we would love to include these cute little animals in our website.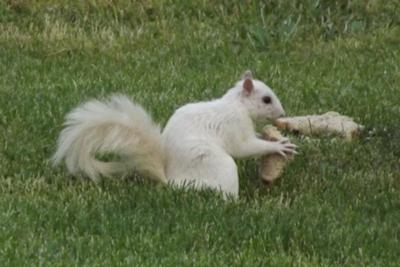 ---
Thanks to Dreamstime for the use of the picture of girl in red shirt with books  4542997© Anatoly Tiplyashin| Dreamstime.com 

---
Do you have a picture of White Squirrels or know where to find them?
We would love to have a section of our website with information about the rare White Squirrel of Southern Ontario ....... this is where our readers can contribute to our site.
What Other Visitors Have Said
Click below to see contributions from other visitors to this page...