White Morph Squirrel in Gatineau, Quebec
by Marty, Mike B, Fred
(Gatineau, St Catharines, Trenton)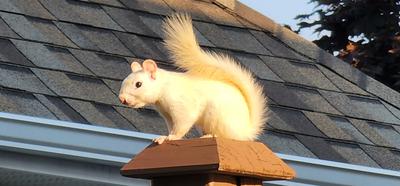 White Squirrel seen in Gateneau
Marty wrote to us from Gatineau, Quebec to report ... this past summer we had a visitor - a social one, it comes in our backyard regularly to visit. It hops to us as if it wants to socialize - but just wants us to leave the patio table and....eat..... :-)

Mike B from St Catharines said ... White Squirrel seen April 24 7:45 am Central St Catharines area

Fred from Trenton, Ontario, wrote ... 29 October ... we were lucky to see a White Squirrel. The contrast of the white in the fall leaves was beautiful.

Thank you for your reports of your white squirrel sightings, and thank you Marty for your fabulous pictures!
Join in and write your own page! It's easy to do. How? Simply click here to return to White Squirrels.