THE GREAT HORNED OWL

(Bubo virginianus)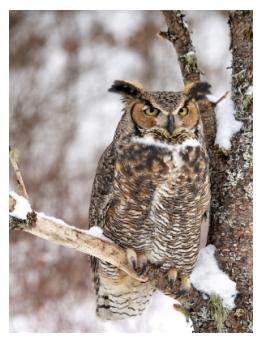 The Great Horned Owl, is native to the whole of North, Central and South America.
According to Wikipedia, these are adaptable birds with a vast range and are the most widely distributed true Owls in the Americas.
In this area, these birds nest in trees, both deciduous and coniferous, often in mixed forests and sometimes in urban areas.
A mated pair of Great Horned Owls remain in their own territory, but younger and individuals without mates, often move around within their territory as they search for companions - they may leave their areas in winter in search of food.
In these birds, the male is not as large as the female and they are often between 18 and 27 inches long, with a wingspan which can reach close to 5 feet.
They may weigh up to 3 lbs, however, in the northern part of their range, in the Arctic, for example, larger individuals may be found.
These birds are identified easily by their large ear tufts which give them their name, although these are not actually ears at all, but feathers.
They often have a brown or gray face and white patch on their throat, their eyes have a yellow iris and their feet and legs have feathers up to the talons.
These birds breed early in the year, usually in January or February in Ontario, having found a mate in December and often can be heard calling to each other in a duet!
Their favoured nests are those left by birds such as Red Tailed Hawks Crows, or even Squirrels, but they do build their own nests in trees, cliffs and empty buildings.
Laying 2 - 4 eggs each season, a pair will incubate these eggs for about 4 - 5 weeks and at 6 weeks old the little owlets can sometimes be seen out of the nest and sitting on nearby branches.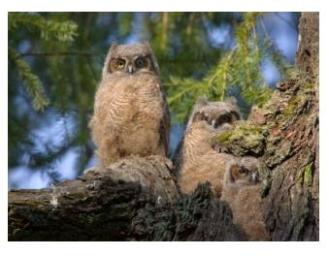 Within a week of leaving the nest, the little fellas will be trying to fly, although they are dependent upon their parents for food for the remainder of the summer and well into Autumn.
Most young Great Horned Owlets stay with their parents until they themselves are ready to breed, or until their parents are ready to again reproduce.
These three young Owlets are waiting patiently for their parents to come home with dinner!
Their call is a loud, low-pitched "Ho-ho-hoo hoo hoo", although it is sometimes only four "Hoo's" instead of five.
They hunt at night by perching in wait on a high branch, and swooping down on their victim. Their prey is varied, but is often small mammals such as hares and rabbits, rats, squirrels , mice and moles, voles, shrews, bats and weasels, and even other birds.
These birds do have some natural predators including Red Foxes, Coyotes and cats, which may catch and eat their young and eggs, but there are hardly any animals which prey upon the adult birds, other than other Great Horned Owls and occasionally Eagles and Snowy Owls.


Below is a short video, courtesy of YouTube, of the Great Horned Owl which I hope you enjoy as much as I did!
Great Horned Owl Info ...
The Great Horned Owl - All about Birds
Hinterland Who's Who - the Great Horned Owl
Lots of information about these wonderful nocturnal birds of Southern Ontario

---
Thanks to Dreamtime and Adam Borkowski for the use of the picture of the girl in green shirt 8406786Adam Borkowski|Dreamstime.com
---
Have you had a Great Horned Owl encounter you'd like to tell us about?
If you've had a Great Horned Owl sighting in Southern Ontario, we'd love to hear from you ... send us your pictures too!
What Other Visitors Have Said
Click below to see contributions from other visitors to this page...