Ontario Vacation in 2012
by Morag McDonald
(Edinburgh, Scotland, UK)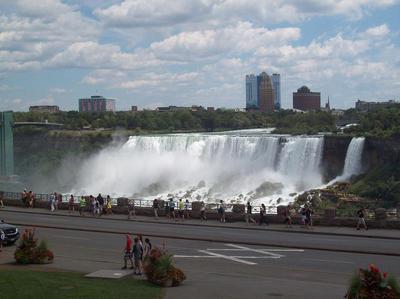 The American Falls, seen from the Canadian side
Here is my story about my visit to Ontario a few years ago.

I was travelling with my husband and two children from the U.K. and we visited family in the Kitchener area.

Whilst we were there we visited old friends from Scotland who now live in Stratford and we were able to spend time with them in that lovely city where we enjoyed eating "al fresco" on the main street, and also checking out the book store opposite.

We loved St Jacobs and Elmira - such quaint old-fashioned villages, and the market in St Jacobs was well worth the visit.

Fergus and Elora were two other places we went to that we really enjoyed, especially Fergus which is so Scottish!

We were in Fergus during August and were able to enjoy the Fergus Festival & Highland Games and thoroughly enjoyed the Dancing, Tug-o-War, The Caber Toss and the Pipe Bands.

We also visited Niagara Falls for three days which we enjoyed very much, and we went to the Butterfly Conservatory, saw the Floral Clock, enjoyed the Botanical Gardens, and of course the Falls themselves.

We are planning another visit to Canada in the next year or so, it is a great place to visit!

Thank you, Morag, for writing to tell us about your visit to Ontario.

I am glad that you enjoyed yourselves while you were here, and hope you visit again soon!