VENISON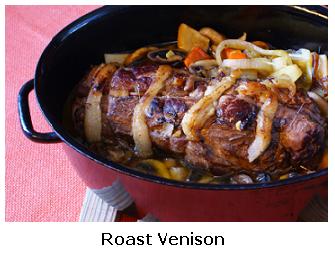 Delicious Venison!  When my dear son-in-law, Dave, hunts in the Autumn, he often bags a deer and brings home Venison.
Now, I have a dilemma - I love to watch the graceful deer that live in this area, and yet I am also open to a dinner of delicious roast wild meat!
At our monthly family get-togethers, Dave often brings an offering of this delicious meat, cooked in the Crock-pot, cooked as steaks or roasted in the oven, or even marinated and barbequed.
It has a flavour a little like beef, yet has a finer texture and very little fat, making it low in calories, and so it needs to be cooked carefully, with added oil, cheese or some other fat, making sure that it isn't overcooked.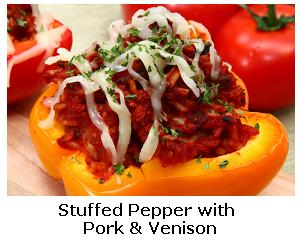 This delicious red meat is low in fat, calories and cholesterol, and yet high in protein.
Because of increasing health-consciousness, and its low fat content, this tasty meat has become more popular in recent years, resulting in an increase in Deer Farms in this area.
This meat can also be ground and added to beef or pork, and used in your favorite recipes, such as tasty Lasagna, Cabbage Rolls, Stuffed Peppers and Spaghetti Sauce or made into Jerky.
Dave's Haunch of Venison Recipe
5 lb haunch of venison
1 tbsp cooking oil
1 lb sliced bacon
1/2 cup water
1/2 cup dry red wine
1 tsp juniper berries
1 tsp dry thyme
1 tsp peppercorns (optional)
1 tsp garlic powder
1 tsp salt
1 tsp brown sugar
First, trim all fat from the roast. Then heat a large cast iron Dutch Oven until it smokes, add the oil and sear the roast on all sides to seal in the juices.
Remove from the pan and wrap with bacon slices - you may have to use toothpicks to hold them in place.
Return the meat to the pan, and add other ingredients.
Cover and roast in a 350 F oven for about 12 minutes per pound.
Add more water if needed. Remove the cover 15 minutes before the roast is done and increase the temperature to 400 degrees F.
This recipe will serve 3-4 people per pound.
Venaison est délicieux!
Dave's Sweet Venison with Bacon
2 lbs venison tenderloin
1/2 lb bacon
3 cups dark brown sugar
2 cups soy sauce (Regular, not low-sodium
1/4 cup white sugar (Optional)
Mix brown Sugar and Soy sauce together in a bowl

Put meat in a cooking tray and pour Brown Sugar/Soy Sauce mixture over the meat, and roll tenderloin in mixture, completely covering it

Let the meat marinate in mixture for at least 3 hours or overnight in fridge

Remove loin from tray, and place on a slotted bake sheet with a drip pan or aluminum foil below to catch dripping - keep the marinade
Wrap slices of bacon around the tenderloin, securing the bacon strips with a toothpick
Repeat this process until the entire loin is wrapped

Pour the rest of the marinade over meat, you should baste the loin with the marinade as the meat cooks
Bake at 350°F for 35 - 45 minutes, if you like your meat "Medium", less if you like your meat a little "Rare"

When the meat is ready you can crisp the bacon under the broiler for a few minutes, taking care it doesn't burn!
This is delicious the following day served on a crusty bun, with Barbeque Sauce

Enjoy!
Ted's Venison Stew with Tomatoes Recipe
Venison on the bone or boned
1 can of peas
1 can of carrots 
1 large onion, sliced or chopped
2 - 3 cloves of garlic, chopped or crushed
2 - 3 potatoes, cubed 
1 can of stewed tomatoes, don't add this until the end 
Layer everything and add salt & pepper between layers, and then put can of tomatoes over the top.  Cook in slow cooker. 
Ted's Second Venison Recipe 
2 lb venison, cubed
1 -2 onions chopped 
2 - 3 cloves of garlic, chopped 
2 - 3 sticks of celery, chopped 
1/4 cup beef bullion 
1/2 cup red wine 
1 can stewed tomatoes 
1/2 cup barley 
2 - 3 carrots, chopped
1/4 tsp cayenne pepper
Method: Braze the venison, onion & garlic then add celery, beef bullion, wine, then tomatoes. Add 4 - 6 cans of water, salt & pepper to taste. Cook until meat is tender.
I will soon be adding more of Dave and Ted's favorite recipes to this section of our site, so check back soon!
Venison Links ...
According to the Hinterland Who's Who, the White Tailed Deer is the most widespread and most numerous of all North America's large animals
If you are in the St Thomas, Ontario, area you can find Venison in the freezer section at Briwood Farm Market at 1030 Talbot Street East, St Thomas (opposite the Royal Bank)
Recipes for this lean meat which is high in protein, contains iron, zinc and many of the B vitamins, and yet has only 5% body fat, whereas other domesticated animals have up to 25%