DELHI
Ontario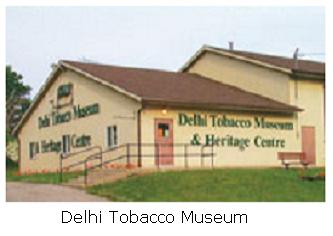 Don't mistake the town of Delhi, Ontario, for the city in India with the same name - this town is pronounced "Del-high" and is in the Ontario Tobacco Belt!
The town was originally named Fredericksburg, after Frederick Sovereign, who settled the area in the early 1800s, but the name was changed in 1872.
Located at the intersection of Highway 3 and Highway 59, this is a small multicultural community with residents of Dutch, Greek, Belgian, Polish & Ukranian, Hungarian & German descent.
If you continue along highway 3, heading east, you will reach the town of Simcoe in about 15 minutes, and if you were to continue along highway 3 you will eventually reach Fort Erie, passing through Cayuga and Dunnville on the way.
Highway 59 will take you north to Norwich and Woodstock, and if you continue north you will come to the Stratford, Ontario, area.
The Tobacco Museum is found here which shows the strong bonds of this crop to the local economy.
Since the world-wide decline in tobacco use, many farmers in the area are now growing alternate crops, the main one being Ginseng , soy beans, blueberries and others.
This good quality Ontario-grown herb is in great demand on the world market and is grown extensively in this area.
Ginseng plants require shade, and the fields of this crop can be seen as you drive through the area.
Today, local farms employ migrant Mexican and Jamaican workers who come here each year in Spring to work on farms, only returning to their home-lands at the end of the Autumn harvest season.
The community has two Elementary schools and one High school - all within walking distance of residential areas.

This is a small Ontario town with good health care facilities, a temperate climate and a rural environment, this would be a great place for families to live.
I recently read ... "The citizens of Delhi enjoy an excellent quality of life. There is plenty of affordable housing and property taxes are reasonable. When the work day is done, you won't be spending your time stewing in a traffic jam.
You could take in a round of golf at Delhi's own 18-hole golf course, go for an invigorating bike ride with the local cycling club, play soccer or baseball, work out in the fitness centre, visit the nearby beaches of Lake Erie, go fishing, attend a meeting of one of the many service clubs, take a leisurely stroll through town or enjoy the peace and quiet in your own back yard.
In winter the area is popular for snowmobiling and ice fishing. The community arena provides a fine ice surface for hockey and skating.
Next time you're passing through this small Ontario town, stop for a visit - it is the location of the friendliest Grocery Store this side of who-knows-where ... Wilkinson's Independent Grocers at 227 Main Street, Delhi.
I stop by there about once a month, this clean and well organized store, and friendly staff are great, and the Manager Matt Wilkinson is helpful and welcoming.
I like to shop there to support smaller, local grocery stores, and this one is great!
Picture of Ginseng © Dave Willman | Dreamstime.com
Delhi Info ...
Norfolk County Tourism - Delhi, Ontario