WINDSOR


Ontario

An International city of great
cultural diversity
When you go to Windsor Ontario, you go to the southernmost city in all of Canada, although, Kingsville holds the honour of being our most southerly community.
Windsor Ontario lies at the western end of highway 401, which runs all the way from Quebec City, over 800 km (500 miles) away.
With a population of 208,500, Windsor is the second largest city in Southwestern Ontario, after London , and is located directly across the Detroit River from the city of Detroit, Michigan.
Settled first in 1748 as a French farming settlement, today the French heritage is reflected in the street names and there is still a sizable French-speaking minority in the Windsor area today.
Because of it's early history Windsor Ontario is the oldest continually inhabited settlement, west of Montreal, in the whole of Canada.
I know that by European standards, for a town to have a history going back to 1748, would make it fairly new, but in North America, that is OLD!
One interesting snippet of information that I just learned about the city of Windsor, is that it is the fourth most culturally diverse city in Canada with over 20% of its population having been born outside of Canada - this Ontario community is a truly International City!
The Automotive Industry has always loomed large here, and the Canadian headquarters of the Daimler-Chrysler Corporation is here, along with several Ford Motor Company engine and casting plants, and smaller tool & die manufacturers, although in recent years the problems in the North American Auto industry, has affected Windsor's economy, deeply.
This city is home to the University of Windsor which has a student population of 15,000 and is also home of St Clair College, which is a Community College serving this area.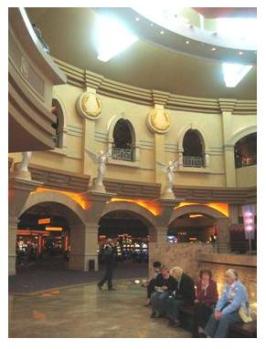 The Windsor Casino - Caesar's Palace is a great tourist attraction and brings thousands of people daily into the city - I was in Windsor recently and took a sneak-peek inside - it is opulent and gorgeous, and it made me wish I gambled!
Everything was beautifully done, the decor and music, and they also have some big-name performers at the Colosseum - we went to see Randy Travis perform, and coming up this year are Paul Anka, Tony Bennett, The Temptations and Cesar Millan aka "The Dog Whisperer"! Actor / Musician David Cassidy performed here in June 2009.
---
The St Lawrence Seaway, which allows ocean going ships to sail from the Atlantic Ocean all the way to Lake Superior, passes here and to watch the shipping from the lovely Dieppe Gardens is a wonderful way to spend a summer afternoon in Windsor Ontario.
These beautiful gardens are named for the members of the Essex Scottish Regiment who lost their lives during the Normandy landing in France in 1942.
St. Lawrence River and Seaway (Wonders of the World)
---
The Canadian Club Whiskey distillery is located here and tours are available to the public year round and take about an hour to complete. For info call 519-561-5499.
Another interesting spot to investigate is the Sculptures which are on display in Assumption Park along the waterfront. Made of a variety of materials these steel, bronze and aluminum sculptures are a must see for modern art lovers.
Theatre Intrigue at the Capitol Theatre & Arts Centre, has performances throughout the summer months. Call 519-253-7729 for information.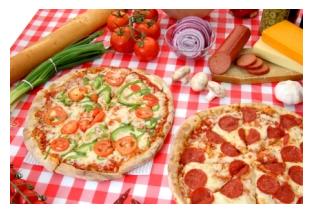 Each summer, in the middle of June, Windsor experiences its annual Carrousel of the Nations international event.
Across the city there will be 18 locations where visitors can see the foods, native costumes, customs and events of many different cultures. Phone 519-255-1127 for info.
At the Canadian Transportation Museum , in nearby Essex, the "Fun on Wheels" car show takes place in early summer - this is always a great day, cost is $5 per person.
Each Thursday night from May to October there is "Cruise Night" from 5pm to 9pm at the Transportation Museum and Historic Village.
Why not dust off your Classic car and join the enthusiasts for Cruise Night!
How to Restore Classic Car Bodywork (Veloce Enthusiast's Restoration Manual Series)
---
A variety of Leisure and Recreation workshops and programs are conducted at Mackenzie Hall. Located on Sandwich Street, Windsor Ontario, this classic hall is in one of the most historic areas of Windsor and is available for rent for special events.
Willistead Manor is a place of historical interest here in Windsor. Built by Edward C Walker, a son of Hiram Walker, this 36 room mansion is located in a beautiful 15 acre park and has accommodations for weddings, receptions, and other special events and meetings.
For families with children who action and adventure, take a look at XS Family Fun Centre - at two Windsor locations, either on Lauzon Road or Ambassador Drive. There is Laser Tag, Go-Carts and Batting Cages and Arcade, so when the kids need to release some energy, or if you are looking for something to do on a rainy day - try XS Family Fun Centre.
---
Have you ever wondered what One Million Dollars of fireworks would look like? Wonder no more - watch the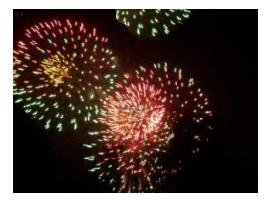 Freedom Festival Fireworks - they're one of the biggest in the world!
The city of Windsor Ontario, in collaboration with the city of Detroit, Michigan, produces a fireworks display from barges in the Detroit River, to commemorate each country's National Day - Canada Day on the 1st of July and US Independence Day on the 4th of July.
---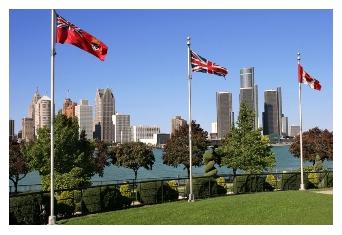 During the summer, music lovers can take in the Blues-Fest International event in Windsor Ontario. This 4 day event was held July 16 - 19, 2009 at the Riverfront Festival Plaza opposite Casino Windsor - downtown on the banks of the Detroit River.
Another popular destination for visitors to is the Windsor Raceway where there is Horse Racing, Slots and lots more!
For Nature lovers, Ojibway Nature Centre on Matchette Road, is a fabulous place, for children and adults alike, to learn about the diverse wildlife in this area.
Take a look at their site before leaving home, as there is so much to learn about the many species of plants and animals - you'll want to do your homework before you go!
If you're looking to relax and rest, or to spend a day with the grand-kids, check out Lakewood Park on Riverside Drive East, Tecumseh. It's a 65 acre park with walking trails, disc-golf, a beach and a picnic pavilion.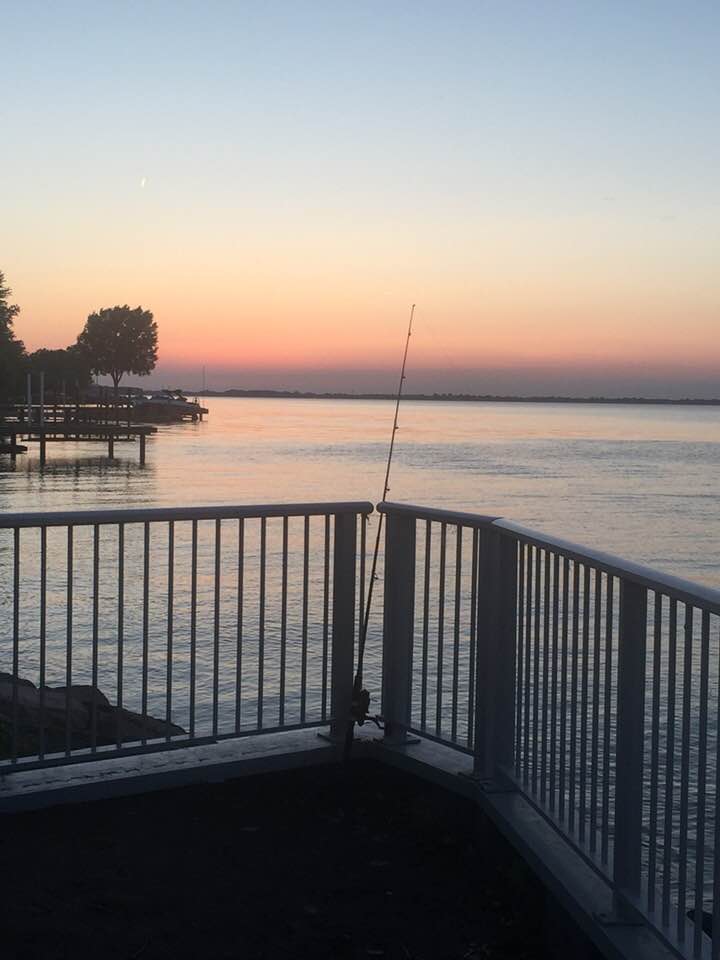 Lakewood Park Sunset, Windsor, Ontario
Reproduced with kind permission of Susan Ottrin
Thanks to Dreamstime for the picture of girl in purple dresss8273185Lanak|Dreamstime.com 

---
Windsor Ontario Info ...
Willistead Manor - see the Paul Martin Gardens here
Ojibway Nature Centre, Windsor Ontario - an area of Natural Beauty, well worth visiting