TOMATOES
If you have never tasted fresh, delicious tomatoes
picked straight from the vine you are missing
a wonderful summer-time treat!
"Tomatoes, Tomates, Los Tomates, Tomaten, Domates, Tómatar
in any language, they are delicious, raw or cooked!"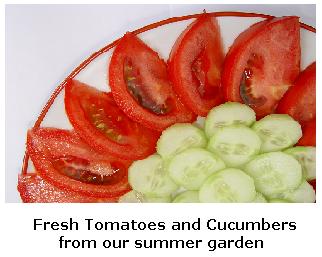 During late summer here in Southern Ontario, we enjoy a wonderful harvest of delicious summer fruits, including these luscious beauties.
In the Leamington area, these are grown in fields for the French's company, for their ketchup, which is manufactured in that area.
Have you ever wondered what kind of vegetable these are? Well, you may or may not be surprised to find that it is actually a fruit!
These fruits are rich in Vitamin C, the chemical Lycopene which is an important antioxidant, vitamin A, vitamin B, magnesium, phosphorus and calcium. They are also a good source of fibre, folate and chromium.
If you would like to increase your consumption of this versatile food, you can do that by adding some canned or fresh tomatoes to your favorite soup or stew.
Perhaps your family might enjoy a salad of sliced sweet tomatoes, basil leaves and sliced mozzarella cheese. Just sprinkle with salt and pepper and drizzle with great olive oil for a delicious treat.
In the summer, when they are sun-ripened and sweet, eat them raw, just like an apple, for a snack, delicious with just a sprinkle of salt if you like.
You can add chopped, raw tomatoes to guacamole and hummus for colour and added nutrition, and enjoy those with crackers or raw vegetables.
---

Tomatoes - Recipes & Info ...
---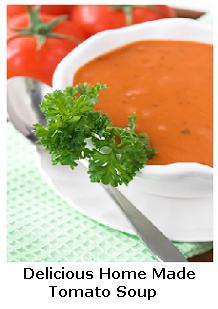 My favourite Tomato Soup Recipe
2 lbs fresh tomatoes (*skinned)
1 large onion (chopped)
2 cloves garlic (minced)
3 - 4 bay leaves (optional)
1 tbsp dried basil or 6-8 large leaves fresh
1/8 tea-spoon of ground cloves
3 tbsp brown sugar
salt and pepper to taste
2 15 ounce cans of vegetable broth
1 large can of tomato sauce
8 tbsp olive oil
Into a large stock pot, put olive oil and heat. Chop tomatoes and discard seeds, add to pot with chopped onions and garlic, and stir.
Add bay leaves, ground cloves, basil, brown sugar and salt & pepper and half of vegetable broth.
Simmer gently, stirring occasionally, for about 30 minutes or until the onion and tomatoes are cooked.
Remove Bay leaves and then allow to cool, then use a blender or food processor to puree the cooled soup.
If you would like a chunky soup just blend half the soup, then return to the pot, but if you would prefer a smoother, creamy soup, strain back into pot through a sieve.
Now add the can of tomato sauce and the remainder of the vegetable broth, making sure that you only add enough to make the soup the consistency you want.
Return soup to the heat and cook for 5 more minutes.
* To skin them, imerse the whole tomato in a pot of boiling water - just for 5 - 10 seconds, then remove with a fork, and plunge into cold water. After a few moments, remove from the cold water and the skin will slide off *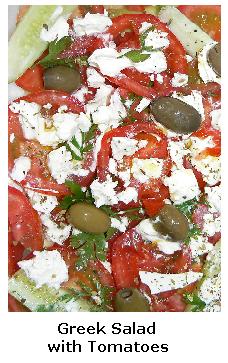 Casey's Favourite Greek Salad
3 medium or 2 large tomatoes, sliced or chopped into bite-size pieces
1 - 2 small cucumbers, sliced (peeled if you like)
1 small red onion, thinly sliced
20 Kalamata olives (or more)
200 grams of Feta cheese, crumbled (I add more!)
Capers (if you like them)
pinch of salt
1/3 cup of Extra Virgin Olive Oil
2 tsp of dried Oregano

Wash and dry the tomatoes and cucumbers, then cut and slice and place in a large salad bowl.
Add the Olives and crumbled Feta cheese (and capers if using), sprinkle with salt and olive oil, add oregano and toss gently.
The salad is ready to be served and is wonderful in the late summer when these red beauties are abundant!