RHUBARB
(Rheum rhabarbarum)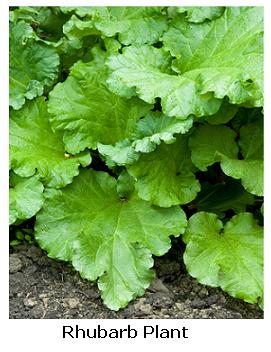 Some say that Rhubarb, or as the French say "Rhubarbe" is a vegetable, others consider it to be a fruit, but I don't care, it is just delicious!
It is a perennial plant which means that once you have planted it, it will survive the winter, and come up and produce every year.
Each Spring the plant buds from rhizomes underground, and produces stalks bearing large leaves.
You can eat the stalks but not the leaves, as they contain a toxin, and when stalks bearing flowers appear, they should be removed.
During the first year after planting, you should not harvest it, and should just allow it to grow as the food produced by the leaves, is needed to nourish and strengthen the roots underground, ready for next year's crop.
If you love Rhubarb and will be in the Shedden, Ontario, area in early June, try to get to the Rosy Rhubarb Festival which is held in the Keystone Complex, and all through the Village!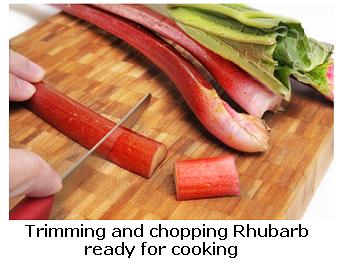 This plant prefers cooler weather and will produce in the spring, then slow down in the heat of summer, and then begin producing again in the fall as the weather cools.
Before winter, preparing your plants is not difficult as all they require is that the last remaining stalks be picked as winter approaches, and then covering with a 2" - 3" layer of compost (leaves or hay also work well) to protect the roots from the drying action of the cold winter winds.
In the garden, this plant grows well when well rotted manure, or an all purpose compost, is applied around the plants in fall, avoiding putting the manure on the tender crowns of the plants.
---
---
Our rhubarb plants were planted in a corner of the garden, so that we can pick the stalks when we need them, and yet when they are not producing they are out of the way.
When needed for cooking, grasp the stalk firmly, twist gently and pull steadily upwards until the stalk comes away from the crown.
Then trim off the leaf and discard it.
Usually, washing and chopping the stalks gets them ready for cooking - usually we make Rhubarb Crisp, and Strawberry & Rhubarb Pie.
Just recently we were given a delicious plate of Rhubarb Bars, by our friend, Barbara G, which were so wonderful that I am giving the recipe to our readers, below.
This recipe is for Wendy!
Barb's Rhubarb Bars (bet you can't say it three times, fast!)
For the crust
1 cup flour
5 tablespoons of sugar
1/4 cup of butter (not margarine)

For the topping
2 eggs (beaten)
1 1/2 cups sugar (I use brown sugar)
1/4 cup flour
3/4 tsp salt
2 cups of Rhubarb, cut fine

First, mix the ingredients for the crust, and when mixed spread them into a 9" x 9" pan, and press down firmly until smooth.
Next mix the ingredients for the topping, stir all together and when well mixed, spoon over crust.
Bake for 30 - 40 minutes at 350 degrees, or until the top is browned and the top looks "set". Allow to cool, then cut into squares.
These are really delicious.
---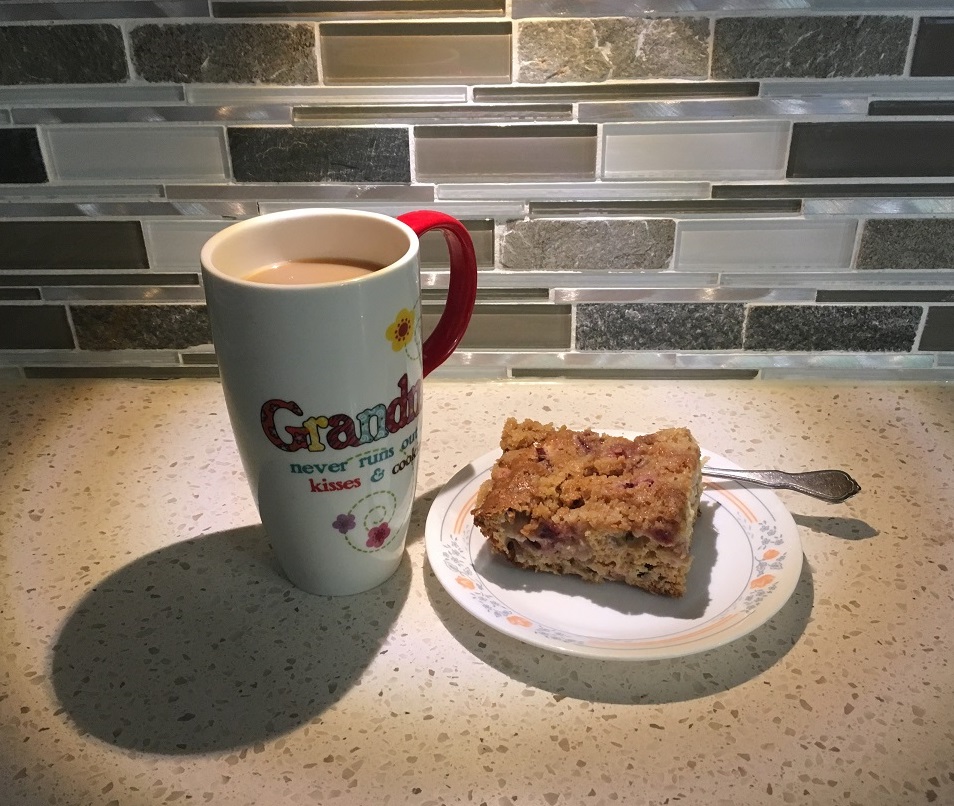 I have sampled this cake personally, and I can vouch for it's deliciousness!  You can see my piece of Julie's Rhubarb and Strawberry Cake in the picture, on the left.
It was delicious on the day it was made, but in my opinion, it improved the following day and became moister and more flavourful, and I think this one will become one of our family favourite recipes!
Julie's Rhubarb and Strawberry Cake
Ingredients
3/4 cup white sugar
1/4 cup Brown sugar
1 teaspoon baking soda
1/2 teaspoon salt
2 cups all-purpose flour
2 eggs, beaten
1 cup sour cream
3 to 4 cups diced rhubarb
Just a few strawberries (Optional)
1 cup white sugar
1/4 cup butter, softened
1/4 cup all-purpose flour
1-2 teaspoons of Cinnamon (depending on taste)
Directions
Preheat the oven to 350 degrees F (175 degrees C). Grease and flour a 9x13 inch baking dish.
In a large bowl, stir together 1  cups sugar, baking soda, salt and 2 cups flour. Stir in the eggs and sour cream until smooth, then fold in the rhubarb. Pour into the prepared dish and spread evenly. Top with chopped strawberries.
 In a smaller bowl, stir together the remaining 1 cup sugar and butter until smooth. Stir in 1/4 cup flour  and cinnamon until the mixture is crumbly. Sprinkle the mixture on top of the cake 
Bake in the preheated oven until a toothpick inserted in the center comes out clean, about 45 minutes.
Rhubarb Info ...
More info on Rhubarb cultivation
Great information about planting, growing and harvesting your crop

---
---