The story from Doreen of Oldham, Lancashire her story about her Ontario holiday!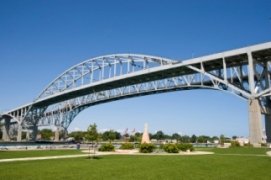 Thanks to one of our readers, for this story from Doreen, of Lancashire, England
---
This is my story from Doreen.
I am 80 years old and this is my story. About 15 years ago I was visiting my daughter in St Thomas, near London, Ontario, when we decided to go cross-border shopping for the day. We set off for Port Huron, Michigan, planning to cross over at the town of Sarnia, Ontario.
My 15 year old grand-daughter and her friend came with us and we were looking forward to a great day.
We drove for about an hour to get there and just as we were crossing the beautiful bridge to the USA I realized that I didn't have my passport with me.
My daughter told me not to worry - we would see if they would let us in anyway - we didn't think there would be a problem, I'm a Pensioner, not a Terrorist!
When we reached the American border, the guard would not allow us into the USA because I had no identification, and he told us to turn back and go back over the bridge and return to Canada, which we did.
However, the problem really started when we got to the Canadian side of the bridge - at the border, because I had no identification with me, they would not let me enter Canada either!
I was in limbo - stuck on the bridge between the USA and Canada!
My daughter had to leave me and the two teen-agers in the Customs Office at the border, drive over an hour back to St Thomas to get my passport, then hurry back to pick us all up.
It took about two and a half hours for her to drive to St Thomas and back, during which time my grand-daughter, her friend and I entertained ourselves watching the many people coming and going through the Canadian Customs office.
Once my daughter returned we were then able to pass through the border into Port Huron, Michigan and spend what was left of the day, shopping for bargains

I have been to Canada and the USA several times since my most memorable visit to Canada, but I have always remembered my passport if I was planning to cross the border.
I should also mention that I needed my passport when we travelled to Kingston, Ontario, and took the boat trip to Boldt Castle in the Thousand Islands, because, even though we caught the boat in Gananoque, the destination, Heart Island, is in the USA.
I hope you enjoy this "story from Doreen" - I have enjoyed telling it!
Doreen