RIVER RIDGE             BED & BREAKFAST
Paris, Ontario

THE RIVER RIDGE BED & BREAKFAST WILL BE CLOSED FOR THE 2021 SUMMER SEASON
On a recent visit to the Paris, Ontario, area, hubby and I stayed in the lovely River Ridge Bed & Breakfast on West River Road.
Our room was amazing - we stayed in "The Pinery" - an exquisite jewel of a suite which is in the upper level of this fine old home.
We had our very own sitting room, complete with TV, fireplace and a small refrigerator to keep our drinks cold, our own bathroom with cozy bathrobes & slippers - WOW!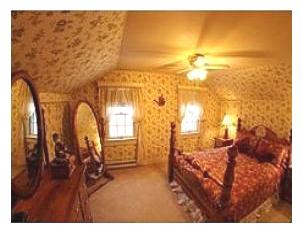 Our Pine bed was cozy and comfortable, breakfast was delicious, and all in all, we had a wonderful stay.
Our hosts, Cathy and Paul Dawson, were welcoming and did so much to make our stay special, and one we will never forget!
Before turning in we spent time in the hot-tub in their beautiful grounds, where we relaxed under the stars for a while before heading for bed.
The Dawson family home also has "The Master's Den" which is located on the ground floor and has a Queen size bed, fireplace, beautiful views of the grounds, and a private bathroom.
We also want to try "The North Wing" when we have our daughter with us - this suite is larger and will accommodate up to six guests in it's elegantly Victorian rooms - the lovely bed-linens and towels make me sigh with contentment as I enjoy my plush surroundings!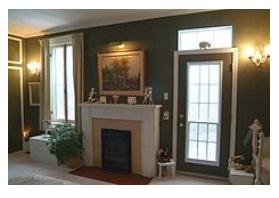 We can't wait to go back and visit River Ridge Bed & Breakfast again!
The peace and tranquility there beckons us to return and enjoy a slower pace of life in pretty Paris, Ontario.
When I first visited Paris, over thirty years ago, I thought it was a lovely town, a belief which is shared by many, as this town has been described as "the prettiest town in Ontario" - and Paris certainly earns that description.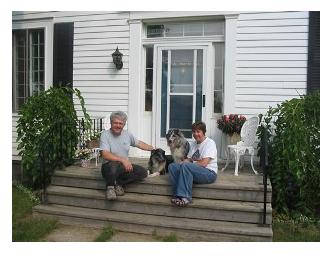 THANK YOU CATHY & PAUL - SEE YOU AGAIN SOON!
For those families or groups who enjoy cycling or hiking, the River Ridge B & B is a great place to stay as it is within easy reach of the trail system. The section of trail from Paris to Cambridge is 18km long, has beautiful views and there are benches and rest-rooms along the way.
Trails Ontario
Check out this link which will connect you with information about the entire trail system in Southwestern Ontario - some short trails for beginners and Seniors, some trails are wheelchair accessible, others are longer more challenging trails for the more experienced hiker or cyclist