THE CARDINAL
(Cardinalis cardinalis)
In Canada, one the most distinctly plumed red birds is the Cardinal.
Of all the birds in Ontario, this brilliantly coloured bird is so spectacular that it is almost unmistakable.
This is one of our non-migratory species so it is around the bird-feeders all year long, and shows up so well against the snow, in the winter time.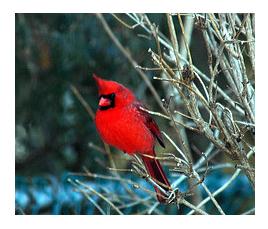 This male has feathers of an almost unbelievable brilliance which he is showing off so well in this picture.
To view a charming short YouTube video of a male Cardinal
(courtesy of Zach Glenwright) just click here.
These shy birds are found in and around woodland, brushy swamps, gardens and hedgerows, but they do not like thickly forested areas.
They can be found across the eastern USA, from the southern parts of Canada, south to the Gulf Coast and west to Arizona and parts of Southern California.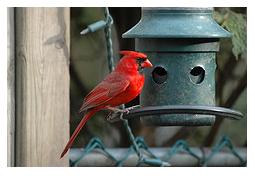 This male at the feeder looks expectantly for food!
These birds seem to be currently extending their territory Northward, deeper into Canada.
The Cardinal's range has actually expanded dramatically since 1886, when it was hardly ever seen north of the Ohio River.
Did you ever wonder how they got their name? Well, they were named after the Roman Catholic Cardinal's red robes.
These lovely birds average 15 - 16 cm in length and are easy to spot, as the males are a brilliant red colour with a crest and black around their beak.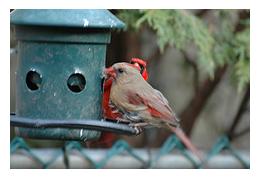 The crest is raised at the first sign of danger.
In this picture you can see that the female in the foreground, has more of an olive-brown body with a touch of red on her crest, wings and tail.
Juveniles have a brown body, a black bill and no black on the facial area.
Cardinals are territorial birds and easily become one of the dominant feeders at the bird feeder.
I have seen many occasions in my own garden when even the sight of their own reflection can trigger a fight!
One male that frequents our garden, spent the whole of one Spring attacking himself in the side mirror of one of our cars - he was quite determined that the other bird was not going to get the better of him!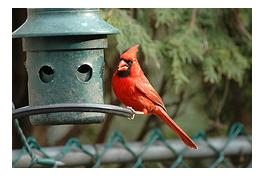 These birds search from the ground up for seeds, fruits, and berries of several species of plants, as well as insects, during breeding season.
They do like sunflower seeds when friendly humans supply them at bird-feeders.
Females usually lay 3 to 4 pale green eggs, spotted with red-brown, in a nest of woven twigs and plant fibres, which is mainly built by the female.
The nest is usually well hidden in thick brush between 3 and 10 feet from the ground.
Often a pair will lay two clutches of eggs each summer. Incubation takes around 12 to 13 days and the female incubates the eggs.
You can see more reports of wild bird sightings on our Facebook page
Discover Southern Ontario on Facebook!
The photographs on this page are reproduced by kind permission of Mary A Wilson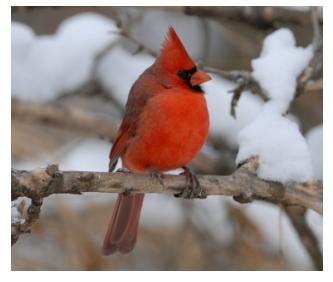 Cardinal Info ...
The Cardinal - info and pictures
A Field Guide to the Birds: Of Eastern and Central North America (Peterson Field Guides) 

---
Do you see Cardinals in your area?
Do you have a report or pictures of Cardinals? We would love to see them!
What Other Visitors Have Said
Click below to see contributions from other visitors to this page...