BEES
(Apis mellifera)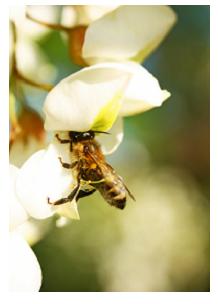 Bees , "les Abeille", are members of the insect family, and are well known for their useful work in pollination of crops and flowers, honey and wax production.
These flying insects are valuable to the farmer, orchard owner, and home gardener, as they pollinate many of the crops in this area.
Without them there would be no corn crop, tobacco, tomatoes , cucumbers, squash and melons, nor would there be any delicious strawberries each June!
Their anatomy is perfect for their work - they have a long proboscis (or tongue) which allows them to reach the nectar in flowers.
These insects feed on either nectar or pollen, with nectar being consumed as a source of energy, and pollen supplying them with protein and other nutrients.
These creatures also have two pairs of wings, the larger fore-wings and the smaller hind-wings.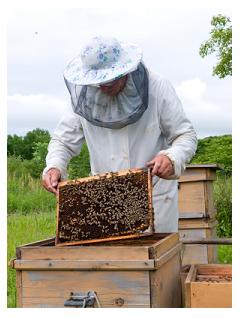 Interestingly, both males and females have antennae, however the males have 13 segments and the females, only 12.
When the Keeper decides it is time to harvest the crop of honey, he dons his protective suit, sedates them with a smoker, and removes the honey-filled frame.
He then scrapes off the wax and removes the honey, often in a centrifuge.
World-wide there are nearly 20,000 species, in 7 to 9 families, although many have not even been described, so the actual number is probably higher.
Other than the Antarctic, they are found on every continent and inhabit everywhere which has flowering plants that require insects to pollinate them.
Worldwide there has been a dramatic decrease in the number of these insects, and it is already having an impact on crops.

In recent years there has been considerable concern about
the fate of the Honey Bee and Apiculture

There is a phenomena known as Colony Collapse Disorder (CCP) and is economically significant because many agricultural crops worldwide, are pollinated by these industrious little insects.


The cause of this phenomenon is not understood at this point, however, experts speculate that mites on the insects may be a cause of their demise, and others suspect environmental changes including pesticides and malnutrition.

Information on Bees

Clovermead Apiaries - Bees & Honey production
Located on Highway 73, Clovermead has 24,000,000 workers - but they're not human! Their store is open year-round and you can sample and purchase honey, wax and other gift items.
HoneyWorld
Honey contains life supporting vitamins & minerals, naturally occurring enzymes & natural sugars in bio-available glucose and fructose form, which provide slow release, sustained energy lasting for hours. Honey glucose boosts the absorption of essential minerals such as zinc, calcium & magnesium. Honey can rightfully be considered a living food which contains a whole host of nutrients intrinsic to its natural production.
Everything You Need to Know about Saving the Bees
Info from EcoWatch
Here is a short video about Honey Production
courtesy of YouTube.