Be careful with your Dog!
by Tracy Patterson
(Algonquin Highlands, Ontario, Canada)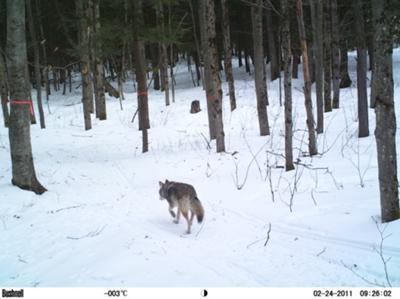 One of 3 wolves on our trail last winter
I too live near Algonquin Park, in Algonquin Highlands, Ontario. On January 4, 2012, Wolves killed our male, 8 year old, 42 pound Sheltie, Buddy.


We also allowed him freedom to roam our 23 wooded acreage property, like Lucas, who wrote
Howling? Almost every night!
does, and we regret it terribly now.
I hope in telling this, it can help to protect somebody's pet, better than I protected mine.
We had let Buddy out that evening and when he hadn't returned later, we tried calling him and also starting the ATV, he couldn't resist that sound as he loved to chase it and it always brought him home. But this time, it didn't and there weren't any answering barks from him.
We searched for 2 hours for him on our snowmobiles throughout the trails on our property, shining flashlights into the woods. We thought maybe he had hurt himself and couldn't get home.
Next, we searched by car (it was now about midnight) along our road and parked in front of a lane way across the road to a 100 acre property that is just woods and not lived on. My husband shone the headlights down the lane way and I walked a little ways down looking at the tracks in the snow, thinking maybe they were Buddy's. My husband told me to come back, it was deer tracks, but I went a few feet farther and shone my flashlight into the woods and then onto the lane way ahead of me and Buddy was laying on the lane ahead of me. I yelled to my husband that he was there, and I ran ahead thinking he was hurt but that we had found him ..... I was happy for a split second until I saw what had been done to him.
Buddy was dead. I don't remember getting back to the car, but my husband said I screamed the whole way and that he had to support me to get there. He drove me home, a couple hundred yards away to our driveway and told me to call our neighbour to come and help him get Buddy. I was hysterical, but I called them and he came with his wife. She came inside with me and tried to comfort me although she was terribly upset herself, she loved Buddy too. Her husband went to help my husband bring Buddy back. They took him to his garage and wrapped him in a blanket. Our neighbours stayed with us until the wee hours of the morning, trying to comfort and support us as well as themselves. They are truly wonderful people.
Buddy had come across deer carcasses that our neighbour, a hunter, had buried across the road that the Wolves had also been eating. We believe the Wolves were protecting their food source and not stalking our dog, but it still is devastating and I am wracked with guilt and sadness.
The MNR (Ministry of Natural Resources) attended the site where Buddy was killed and examined his wounds and confirmed he was killed by Wolves, they estimated it was 2 or 3 wolves and that it was quick, if not instantaneous for Buddy. They said there was no fight and that Buddy did not suffer long, if at all.
The MNR called the property owner where we found Buddy and got permission to go on his property. The property owner also told them that he had buried deer carcasses there just a couple weeks before and where the burial site was located. He had buried them to honour the deer he said. They were buried about 200 yards from the road, about 500 yards from our home.
It was determined by the MNR, and we agree, that Buddy had come across the deer carcass burial site and that this was where Buddy had been obtaining the deer pieces that he was bringing home during the previous week. Unfortunately, the wolves had also found this. There were wolf tracks and Buddy's tracks all over the burial spot, and they had been digging at it to get to the deer. A hole about 18 inches deep had been dug into the frozen (semi-frozen?) ground and the wovles and Buddy were able to get the deer pieces.
Buddy must have either arrived when the wolves were already there, or the wolves came while Buddy was there. The wolves protected their food source and killed Buddy as he was a threat to this food.
We do not believe they were stalking or hunting our dog, but it does not make it any easier to deal with or get over. It is still devastating and I am wracked with guilt and sadness over his death.
I also reported this to our local paper, The Minden Times, hoping to warn people to be cautious with their pets, and they reported it in their January 11/12 print and online edition.
Buddy had brought home deer pieces 4 times in the week before he was killed. Since his death, the Wolves (1 larger and 2 smaller ones) have been within 30 feet of our front and back doors every other day, except for a 4 day break once. This was determined by 3 different sets of fresh Wolf tracks each time. We also saw one of them at 9:45am, 10 ft from our front porch and I have a couple pictures of it.
They have zoned in on our property & our neighbour's 23 acres, they also have had the Wolf confront their small dog a month ago, 20 feet from their back door.
From everything I have read, wolves patrol their territory which is anywhere from 25 square kms to 100 square kms and usually it takes them a week to a couple of weeks to make their circuit. Obviously, these wolves have made our 2 properties their central area and are staying within very close range. We should not be seeing them or evidence of them this often.
They have become habituated to our properties and are not afraid to come close and to come often. I have two small dogs still, that I am keeping very close and I go out with them at all times, I am fearful of these wolves who are so comfortable at my home.
Please be careful with letting your dog roam your acreage, you may think the Wolves are respecting your dog's marking of his territory and that they will not come on your property, but you are wrong. Our dog also patrolled his property and marked his territory constantly, but the wolves still came.
I also have trail camera video & photos of the wolves and our dog (separate times) about 500 yards from our home on one of our trails last winter.
Please be more careful than we were..... our stupidity and naivety cost our dog his life.
I am so sorry to hear what happened to your dog, that is awful, but your warning to other pet owners will likely save some animals' lives, and I thank you for sending this report to us.

I hope you don't mind, but I moved your submission to have a page of it's own, as it will be seen by more readers here, than if it were just a comment on another page.