Applewood birds
by Gord
(Mississauga, Ontario, Canada)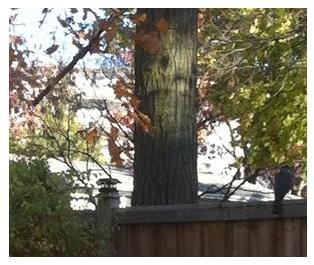 I live in Applewood in Mississauga, Ontario, surrounded by many large trees and have recently seen some large birds that I assume are birds of prey.

The one I saw on my gate must have been 18" tall with a rounded beak.

This other one I was able to get a quick "although not good" picture of.

It looked about 1 foot tall and as you can see has a black & white tail.

Do you have any idea what type of bird this is?

Thanks. Gord

Thanks for your report and picture. I don't know what kind of bird this is, but perhaps one of our readers may know.