Young bird in Paisley Ontario
by Matlene
(Paisley, Ontario, Canada)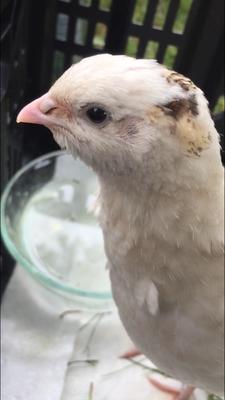 Can anyone help us to identify this juvenile bird?
We found it walking around our backyard on Sunday August 12.
It was very hungry, loved fresh corn kernels, and he's about the size of a softball.
Thanks for sending us your picture of this mystery bird.

I might be able to help you because I think this might be a chicken. Do you have any neighbours who breed poultry or raise hens for eggs?

We have had a flock of hens for 25 years and this bird looks like a chicken to me.

If you still have it, it may be laying eggs for you now, or he may be crowing every morning.

Please update us by sending info in the comments section, I'd be interested to know if you found where this came from.

It could also have been caught by a hawk, and managed to get away, and ended up in your yard.
Join in and write your own page! It's easy to do. How? Simply click here to return to Birds of Prey.