WIARTON
Ontario
The Gateway to the Bruce Peninsula
Wiarton is a small town of 2,300 people, located on the Bruce Peninsula, at the head of Colpoys Bay which is part of Georgian Bay, and is just 20 minutes drive from the resort of Sauble Beach.
From 1881 onwards, there had been a line of the Grand Trunk Railway running here.
Due to the popularity of the automobile, however, demand for rail travel diminished and in 1957 the line ceased carry passengers, although freight continued to be transported along these lines until 1968.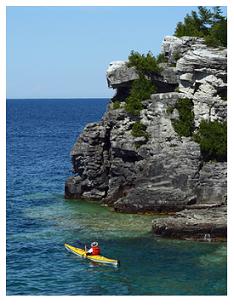 Formerly a great timber producing area, this town was well knownq for the manufacture of items from lumber, until the forests were depleted and the industry ground to a halt.
Early in 20th century there was a Federal Fish hatchery here, however, by the mid 1900's that industry was also dying.
Those who enjoy hiking and walking, will know of the Bruce Trail which runs along the Niagara Escarpment, through town on its way up the Bruce Peninsula to its end in Tobermory, Ontario.
This trail has wonderful views of the local scenery, especially the views of Georgian Bay.
There is some great Snowmobiling to be had in this area, and riders can enjoy the trails in the Grey Bruce area, where they can enjoy sledding around Tobermory and Sauble Beach.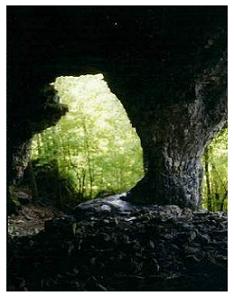 Our favourite activity in this area is to visit the Bruce's Caves Conservation Area and see the magnificent cave formations, which were formed over 7,000 years ago by the waters of the ancient Lake Algonquin which covered this area of Ontario after the recession of the last Ice Age.
There is also great fishing in the area and there are Fishing Derby's in the summer with Salmon and Trout being caught in the waters of Colpoys Bay.
During the winter months there are cross country skiing trails for all levels of skiers at the Bruce Ski Club and the Sauble Beach Ski Club.
Just about everyone in Ontario has heard of Wiarton Willie, the weather predicting Groundhog!
This rodent is likely the most famous resident of this town, and until 2003 resided at the Wiarton Hotel, but now he is housed in a special house located in front of the Public Library across from Bluewater Park.
Each February, the Wiarton Willie Festival is held here, with National and International press coverage!
Journalists wait anxiously to find out if this famous groundhog will or will not see his shadow on February 2nd each year.
Legend says that, if the Groundhog sees his shadow as he emerges from his burrow on February 2nd, then the area will have to endure six more weeks of winter - which, seeing as this is Canada, never is such a big surprise to us!
This festival dates back to 1956 when the original Willie began predicting the arrival of Spring, and has been an annual event ever since, with up to 10,000 people attending each year.
---
Wiarton Info ...
Information about the Bruce Peninsula including restaurants and accommodation
On 4 acres overlooking Colpoy's Bay, this waterside motel is one kilometer from Wiarton Airport, 2.2 km from downtown Wiarton and 4.8 km from Spirit Rock Conservation Area. Relaxed rooms come with mini-fridges, coffeemakers, cable TV and decks, as well as free WiFi. Upgraded rooms add 4-poster beds, fireplaces, whirlpool tubs and/or bay views. Condo-style 3-bedroom cottages are also available.
The Spirit Rock Outpost & Lodge
Surrounded by cedar trees, this family-run lodge with cabin tents is 1 km from downtown Wiarton and a 12-minute walk from Colpoy's Bay. Rooms include mini-fridges and microwaves. Upgraded rooms add pull-out futons, and some have coffeemakers. The 2 semi-permanent tents offer double beds, lanterns, and front porches with seating, as well as shared access to showers and bathrooms.