Turkey Vulture
by Bill Blurton
(St. Catharines, Ontario, Canada)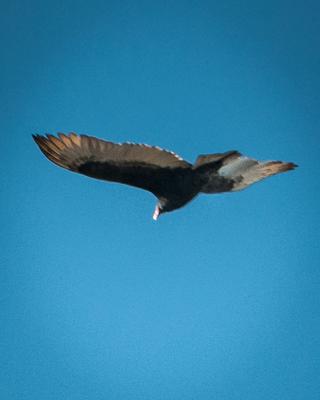 Ontario Turkey Vulture 1
I live in St. Catharines, Ontario, and was in the Malcolmson Conservation Area (Park) on Thursday April 4th, 2013 at approx 10:00am. The sun was shining and the sky a clear blue. The temperature was about 3-4 degrees.


I had been in the woods taking photos of birds and had already seen a couple of Cooper Hawks flying in the trees.
I came out of the woods and circling high in the sky about 1/4 mile away to the south was what I thought were a couple of Cooper Hawks and clicked away.
When I got home and put the photos into LR4 I realized that the dark shapes were not Hawks but Turkey Vultures.
I had never seen a Turkey Vulture before so this was indeed an exciting capture.
My only disappointment was that I couldn't get close to get a sharper clearer image.
Bill, your pictures are amazing, thank you so much for sending them to us. Where I live, in the London / St Thomas area, Turkey Vultures are common, but I have never been able to capture a good picture, such as yours!

Thank you for giving me permission to use this as my lead picture on our "Turkey Vultures" page, as it shows, so beautifully, the under-wing markings of this bird.