St Thomas-Tillsonburg
by Barb (your webmistress)
(discover-southern-ontario.com)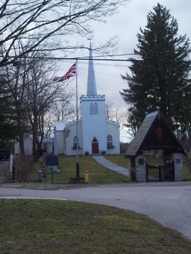 The Old English Church on Walnut Street, St Thomas
To get the ball rolling, I'll tell you about one of my favourite Sunday drives, which starts from my home-town of St Thomas - and I should warn you, it involves stopping at several Tea-Rooms, so make sure you're hungry when you leave!


St Thomas, Sparta, Port Bruce, Port Burwell, Vienna, Tillsonburg & Ingersoll

Distance - a little over 100 km.

If you are not familiar with this area, I suggest you drive to St Thomas and start there - the Old St Thomas Church on Walnut Street would be a good place to start, and is just in the area behind the statue of Jumbo at the west end of town, the statue of the famous Jumbo is also worth taking a look at.

I love the history of St Thomas, and it is interesting to spend a little while looking at the old gravestones in the Church yard.

When you're ready, head east on Walnut Street, then right onto Stanley Street, and then left onto Wellington Street - you will see a lovely example of Victorian architecture on your right - the Elgin County Courthouse.

Continue heading along Wellington Street (or take a look at the fine houses on the streets in this area - Rosebery Place is one of my favourites), and when you come to Fairview Avenue, turn right.

Go down Fairview Avenue for about 6 km, until you come to Fruit Ridge Line where you should turn left. As you go along this road, watch for the Quai du Vin winery on your right which has a lovely selection of wines for any occasion.

At the end of Fruit Ridge Line, turn right onto Quaker Road which will take you into the Village of Sparta - on your way you'll pass a house on your left which is built of round beach stones - I have never seen another one like it! You'll also see the old Quaker Meeting House on your right, which is still in use today.

The Sparta House Tea Room is on the right-hand corner, and this is where I suggest you stop for tea or coffee to refresh yourself! They have light lunches and pastries, and are licenced.

There are a number of interesting places to visit in the village - the studio of the artist Peter Robson, the Sparta Candles store, Antique Shops ..... take a little time to wander and then continue your journey south through the village on Quaker Line.

In about 2 kilometres you will come to Winter Wheat on your right - this is a great place to spend time if you like unique housewares or are looking for a special gift for someone. It is interesting to stroll around the grounds there.

When you leave here, continue south and follow the signs for Port Bruce as you turn left onto Dexter Line where there is great fishing, if you feel like spending some time dangling your line in the water from the pier.

There is also a playground here and several casual cafes where you can buy the burgers-and-fries type of food.

When you are ready, get back onto Dexter Line and head east where you will pick up Imperial Road and leave Port Bruce and follow signs for Port Burwell, turning onto Nova Scotia Line.

When you reach Port Burwell there is a Provincial Park with long sandy beaches, which you reach by going down Chatham Street. Or go to the main street of the village and get yourself an ice-cream at Scoops (you're likely ready for one now).

There is a historic Lighthouse in Port Burwell which one can visit and climb, for a small fee.

When you leave Port Burwell, follow highway 19 north, which heads for Tillsonburg, and takes you through the village of Vienna - which has links to the Edison family - there is a small Museum there that is interesting, so be sure to check that out.

Continue north on highway 19 which is called Plank Road here, and when you come to the village of Straffordville turn left along Heritage Line

continue along this road and you can either turn left and return to St Thomas along highway 3, or continue north along highway 19 which will take you through the town of Tillsonburg.

The Annandale National Historic Site is located here at 30 Tillson Avenue and is well worth a visit. We recently spent a happy half-hour feeding peanuts to the Red Squirrels in the grounds there.

As you go north along highway 19, if you have children, and the weather is hot, a visit to Lake Lisgar Water Park might be in order, so watch for signs on your right.

If you continue north, you will soon come an Antique Shop in the hamlet of Ostrander, or continue on to Coyle's Country Store on your right, which is another great place to shop for housewares and gifts - its at the corner of Airport Road.

When you carry on northward you are heading for Ingersoll and highway 401, where you can either return to London or wherever you came from, or you can take the time to check out the town of Ingersoll, Ontario, where you will find the Cheese & Agricultural Museum at 290 Harris Street. There is a picnic area, play ground and walking trails.

If you plan to visit the water park or Museums, please check to confirm that they are open on the day you plan to go.

By now, you will likely be ready to head home!