St Thomas Bald Eagles
by Daniel S Bennett
(St Thomas, Ontario, Canada)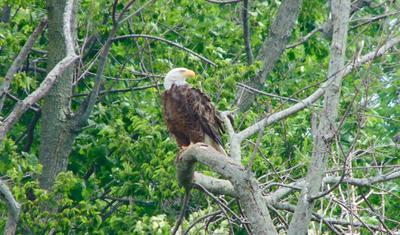 Back in June, my fiancee and I were driving along county road 52 Ron McNeil Line, near St Thomas, when we observed activity at the Bald Eagle's nest which is in a small wooded area.
The nest has been there for several years and each spring the Bald Eagles return, they do any necessary repairs to their nest, and lay their eggs and raise their young.
This year, I was able to get some pictures of them.
Thank you for sending us this report and pictures, Dan, I'm sure our readers will enjoy them.

Readers, if you visit this area and see the eagles, please remember not to get too close and don't disturb them.

Since this report, the nest has ben destroyed and the eagles have rebuilt nearby.