Red Tailed Hawk
by Latib
(London, Ontario, Canada)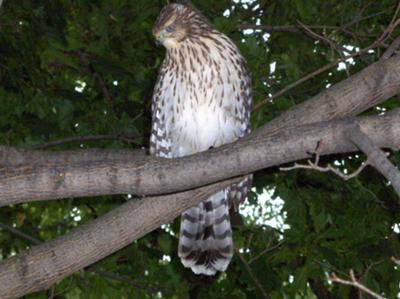 One of our readers from London, Ontario, sent us this report of a Hawk sighting - This little Red Tailed Hawk unfortunately hurt one of its wings whilst pursuing a Squirrel.

We called Animal Control but they were reluctant to attempt a recovery while the little guy was perched on the branch, but wanted us to call the moment it landed on the ground.

After approx 24-36 hours we found him on the ground - happy ending - Animal Control took him away to tend to his injuries.

I took approx 50 photos of him very close up - no zoom - I used my point and shoot - he kinda ignored me which suited me just fine - those talons were NOT meant for meet and greet !!

Thank you for sending us this report and your great pictures, I will also post this on our facebook page.