Red Tailed Hawk in my neighbourhood
by Daniel
(Toronto, Ontario, Canada)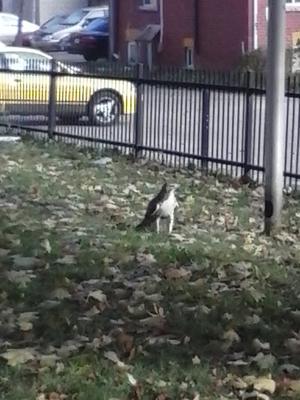 I live right in the downtown core of Toronto and notice pair of Red Tailed Hawks soaring in the sky almost everyday chasing the pigeons and sometimes squirrels.


They must be a resident pair that live very close by and I have noticed a few young Red Tailed Hawks in the area also, and very big nests in some of the trees in the back of where I live.
Sometimes they are so close to the ground, on the ground, in very low trees and perched on fences.
I have had the great opportunity of getting very close pictures on my cell phone and even with Pigeons in their claws and eating them.
I just love seeing this beautiful wildlife in this lovely city we call Toronto.
I also enjoy the other great people on here and the stories and pictures they post and I just love reading the other wonderful wildlife people are seeing here.
Thank you , Daniel, for sending us your report and these great pictures.

I am so glad you like our website - thank you for this submission and all your recent comments.

Getting pictures and reports from our readers is what keeps our website interesting and up-to-date.